If you are considering remodeling your kitchen or bathroom, you have most likely heard of the popular "modern farmhouse" design style. The style pays tribute to the United States' beginnings by pulling inspiration from the classic farmhouses that built our country years ago. These age-old design trends paired with modern twists inspired the Modern Farmhouse Style—a great style choice for your next kitchen or bathroom remodel.
What is Modern Farmhouse Style?
This home décor style combines the comfort of the classic farmhouse with the trends of modern design. Comfortable and chic, this style will set your home apart.
Modern farmhouse style often begins with a white or beige color as a base for design, paired with other neutral colors. Shades with a vintage or antique feel are perfect, maintaining a more neutral palette throughout.
White painted cabinets paired with darker countertops is a great way to achieve contrast, while ensuring your kitchen exudes a clean style. Wood, soapstone, or marble countertops are great choices to pair with your cabinet color-scheme.
You will often find open shelving and glass front cabinets utilized in the modern farmhouse to showcase the vintage details that finish off the room, such as white dishes, mason jars, or wooden bowls.
Incorporated into the style you will find natural textures and materials, often different types of wood or steel. Pieces that are distressed or have a weathered finish are a must! Using rustic wood as a focal point is a great way to bring a country feel to your home. Wooden beams, a classic wooden farmhouse table, or even a sliding barn door are gorgeous additions.
Oftentimes industrial-inspired pieces will be utilized—the inspiration stemming from the materials used in farming machinery. Details like metal signs or refurbished light fixtures are very popular.
Another important element in modern farmhouse style is big farmhouse sinks. This piece of the design stays true to the history of the typical American farmhouse where families would both cook and wash their babies in their deep sinks.
How Can I Bring the Modern Farmhouse Style to My Home?
The modern farmhouse style is warm and emphasizes comfort and causal living, while incorporating contemporary elements. Rustic elements from the age-old cozy American farmhouse aesthetic paired with the lines of contemporary design will bring a fresh take to your home.
When you're ready to remodel your kitchen or bathroom, Cabinet World will work with you from the very first step. We offer our customers an exclusive Personalized Design experience which consists of three phases to help you get the kitchen or bathroom you've been dreaming of. We design your project with you—not for you, because it's yours—not ours. Whether you are starting from scratch, or know the direction you want to go, our professional sales team will help you, from choosing the cabinetry to picking out fixtures such as cabinet hardware.
We have some great suggestions below for your home that will give you the modern farmhouse look that you will love just as much as we do!
These gorgeous kitchen / dining areas are three great examples of how you can make the farmhouse modern look your own by incorporating different elements into your personal space. Cabinet World has the designers and the capabilities to help you master this style.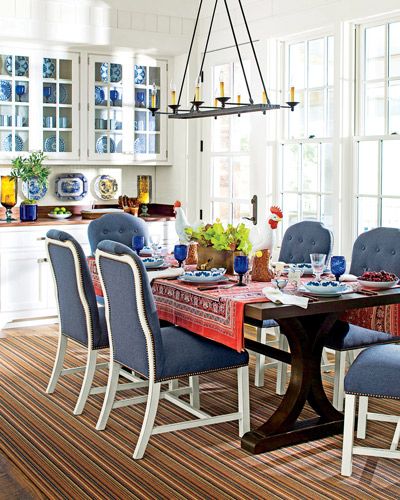 This red, white, and blue, all-American, dining area will have you feeling patriotic every time you sit down for a meal. This room encompasses the modern aspect of the farmhouse style using the following techniques: Vintage plate ware used for decoration, industrial style light fixture made from metal, combination of dark wood with bright white splash, emphasizing light pouring into the room, as well as farm-like decorations with the ceramic chickens and bandana-like tablecloth. We can see the glass front cabinets used both for storage and as a design element, allowing for the antique treasures inside to be brought into the design.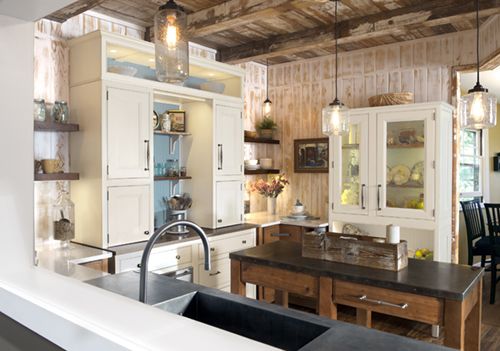 This kitchen is a great example of how the modern farmhouse style can take on a rustic approach. With the addition of certain rustic features, modern design elements meet a country feel. Incorporating details with a weathered finish—such as rough wood and peeling paint—is a simple and easy way to bring the country element into your room. In this kitchen, reclaimed wood covers the walls and ceiling, with small additions of wood throughout the design. The white cabinets contrast with the industrial-style countertops, contrasting the old and new. We can't forget about the famous farmhouse sink that is a staple to this design style. Industrial-style lighting is also used throughout the kitchen. The glass windows on the display cabinet showcase the antique accessories that fill them. Wicker baskets, mason jars, and other vintage accents complete this look.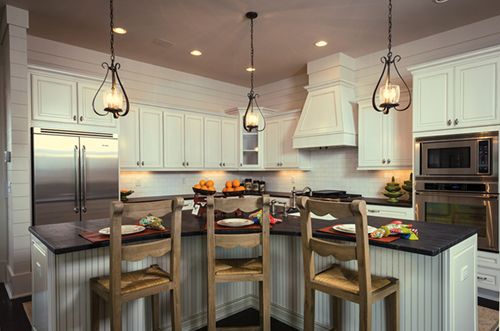 This third kitchen beautifully incorporates farmhouse elements within its design—industrial lighting, wood chairs that have a rustic feel to them, the farmhouse sink, modern lines in the white cabinets contrasted with the dark countertop, and little antique elements that maintain the neutral color scheme. Lines are used in a very strategically appealing way in this kitchen. Horizontal lines are used on the walls and vertical lines within the island design, appearing like paneling in a country home, yet the white paint finish modernizes the technique. Stainless steel appliances modernize the country feel of the kitchen design, maintaining the balance of old and new, ultimately resulting in a chic, yet comfortable modern farmhouse style kitchen.