Color can brighten up your kitchen and make it a more enjoyable place for you and your family to spend time. A great way to reflect your personality in your home, the options are endless for adding a certain hue to the kitchen. Whether your goal is to achieve pops of color throughout, or go for one big dose, now is the perfect time to find unique ways to bring a variety of shades into your home.
Adding color to your kitchen can seem like a daunting task. Maybe you're unsure what would match your current space, don't know how much is too much, or maybe you're not sure where to even begin. The design process can seem overwhelming, but trust us – it doesn't have to be. Our team at Cabinet World is here to help you along the way. As part of our exclusive Personalized Design experience at Cabinet World, our team of designers will work alongside you to achieve your goals.
Bright and bold-toned colors are eye-catching and can really showcase your personality in your home. On the other hand, muted colors and soft pastels can still make a big impact. Whatever your goals are, check out these creative ways to bring color into your space during your kitchen remodel.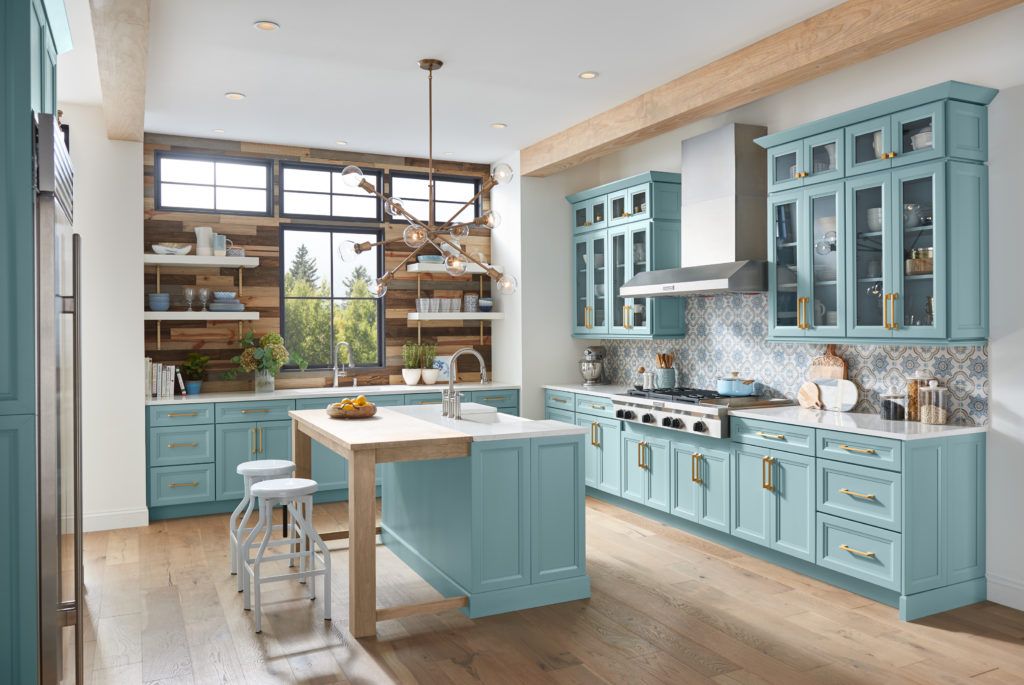 Mix It Up With Your Cabinets
Painted cabinets are on the rise. More homeowners are choosing to stray away from the traditional wood and earth tone cabinets and are going for a look that's more unique. We offer hundreds of options and textures in our cabinetry, so the possibilities are endless for taking creative steps. We also offer custom colors so we can find the hue that's perfect for you. Achieving color in your cabinets can be done in a variety of ways.
One option is to go with single-toned cabinets that feature one color throughout the cabinetry of your kitchen – maybe it's a bold Ruby Red or maybe it's a soft Aqua blue. Make sure to choose a hue that you'll be happy with for years to come. Balancing colored cabinets with neutral walls and open storage space is an effective way to achieve a colorful look that doesn't overwhelm your space.
Another option that is increasing in popularity is to select two-toned cabinets. Two-toned cabinets allow you to maintain a traditional, more neutral colored cabinet for one part of your space and pair it with a more colorful option for the other. Typically the lower cabinets rock the colorful hue while the upper ones are left off-white, white, or a natural wood finish. The high-contrast look of two-toned cabinets achieves a big pop of color without the full commitment of going with a single-toned cabinet design.
The hardware on your cabinets provides another chance for color to shine. Consider changing out your current hardware and bring in a colorful set of antique door knobs or handles to complete the look.

Try Glass Doors or Open Shelves
Cabinetry with glass doors is a classic look. Not only does it make your kitchen feel bigger by eliminating visual breaks, but it also presents an opportunity to showcase your treasures and their variety of colors and textures. Painting the back cabinet panel of glass-door cabinets is another unique option that will result in an instant brightening effect. Having your dishware set against a background color will create a dramatic contrast. Lights can be installed inside the cabinet to further the effect.
On the other hand, open shelving is a growing trend that offers a great chance to showcase your favorite shades also. With open shelves and space to admire what fills them, have some fun by choosing colorful cookware. Fill your shelves with all sorts of items to liven your kitchen and bring some personality to your space.
Either of these options will allow you to make your dishware a part of your kitchen design instead of hiding it.

Add a Unique Island
If your space permits, adding a kitchen island to your kitchen design not only increases your counter space and room for storage, it's also an opportunity to implement color. Our team of professional designers will evaluate your kitchen's measurements and determine the best layout for your lifestyle during our exclusive Personalized Design process. With a kitchen island, there are a few ways to make it pop. Selecting painted cabinets specifically for this area is one way to achieve a color variance. You could also select a countertop that's a different shade from the rest in your kitchen.
Several of our kitchen displays in our Kitchen & Design Centers in the Pittsburgh area were created in this style. Stop by to see it for yourself, and browse the variety of countertop options we offer.

Select a Backsplash with a Kick
Tiles for your kitchen backsplash come in almost every color, shape, and style imaginable. They offer another opportunity to personalize your kitchen design. Try pairing the backsplash with neutral-colored cabinetry and countertops to emphasize the contrast even more. Your imagination can run wild in our Kitchen & Bath Designer Centers in Cranberry Township, Canonsburg, and Center Township, where we have hundreds of backsplash options that you can browse. Upon your arrival, one of our professional designers will be assigned to you and can answer all of your questions and make suggestions.

All That and the Kitchen Sink
Your kitchen sink is a critical part of your kitchen but it may not come to your mind first when brainstorming the ways to add color to your kitchen. While there are the traditional tone offerings of white, stainless steel, or oil-rubbed bronze, these shades all play a part in your room's overall color scheme. You could also opt for a sink that's more unique, such as a copper sink. Any of these choices will complete your kitchen to make it uniquely yours.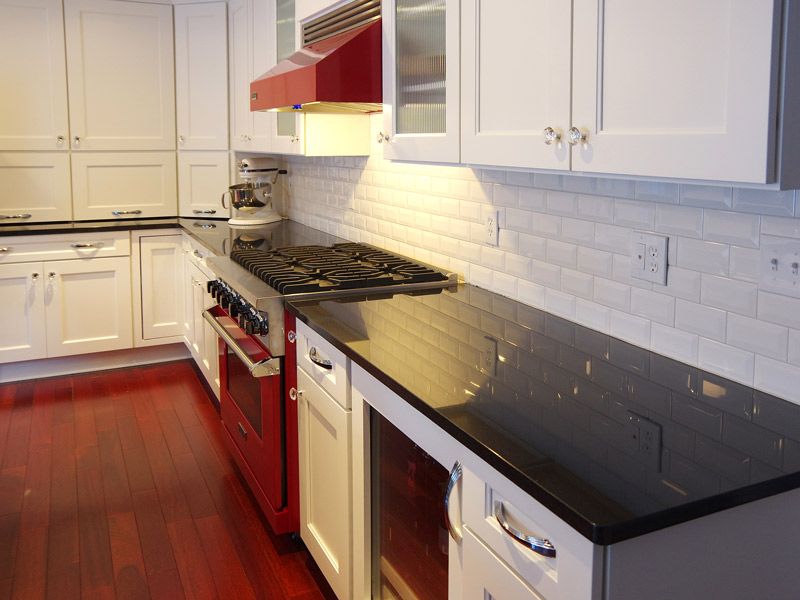 Bring in Colorful Kitchen Appliances
If you're ready for new appliances, either large or small, and want to make a bold statement – consider choosing a fun color. Who says you can't have a blue oven or a green fridge? More and more companies are coming out with different colored options for their appliances, making them an even more accessible option. Do you have something specific in mind? We're here to make it happen to achieve the look of your dreams. For example, when our customer wanted their kitchen to go retro, we selected a few red appliances to complete their look.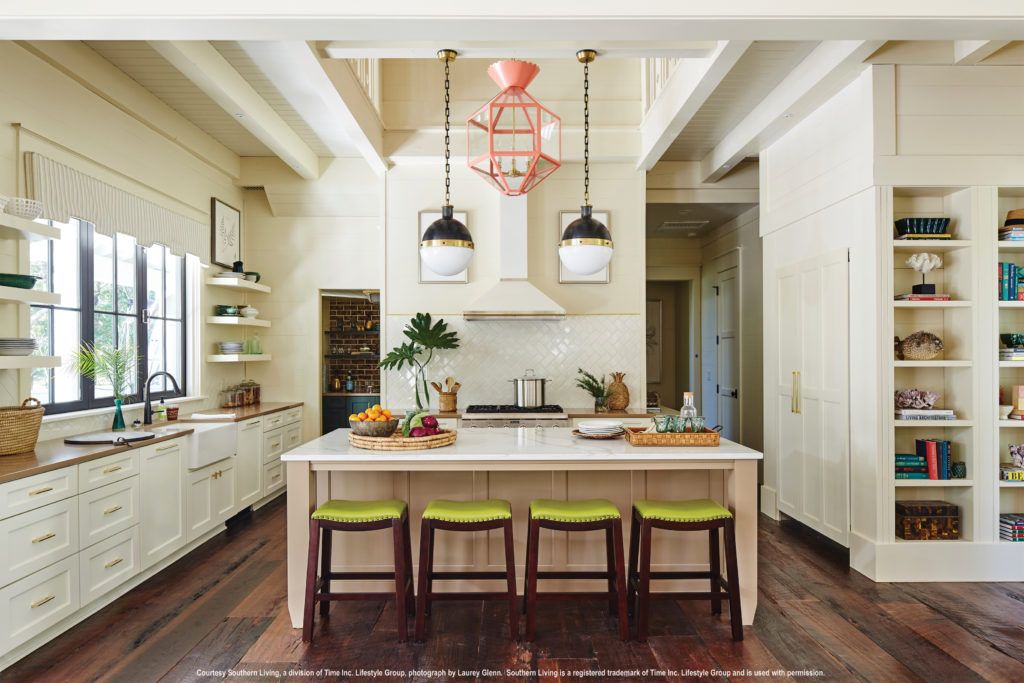 Turn Up the Lights
Lighting is a necessary element of your kitchen but that doesn't mean it can't be exciting. Explore different shapes, styles, materials, and colors to make a statement with your lighting fixtures. A colorful ceiling fixture brings eyesight to an area of the kitchen that doesn't usually get attention – a unique and creative design choice.
Take lighting to a whole new level by incorporating ambient lighting that changes colors from your typical white light to colors like purple and blue. If you're curious to learn more about incorporating and layering lighting in your kitchen, we discuss that further in Kitchen Renovations: How to Layer Lighting.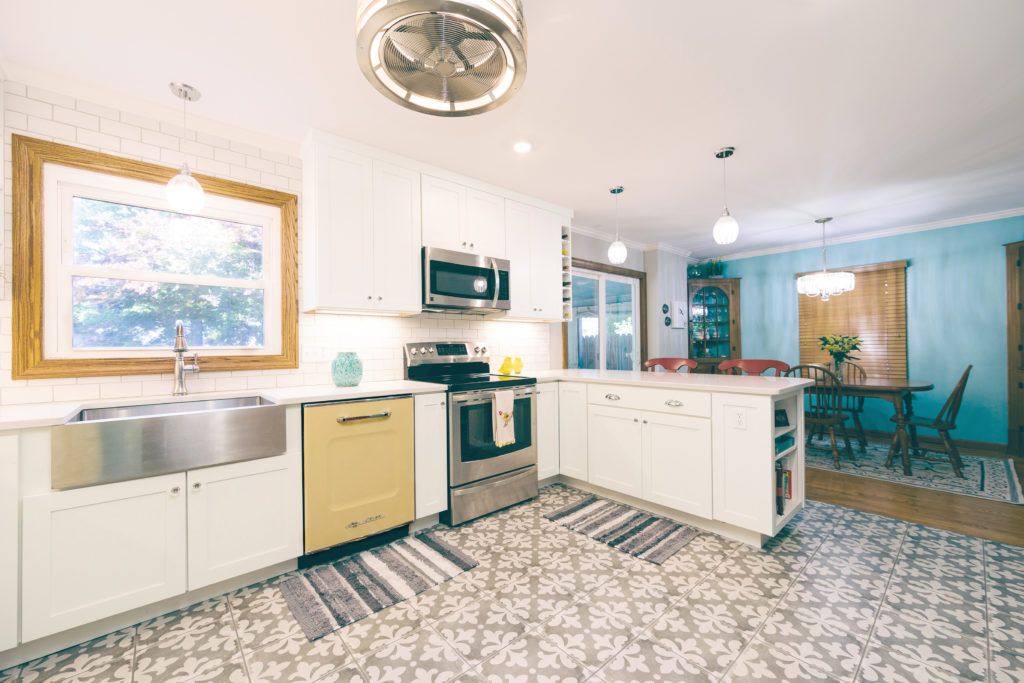 Dress up a Single Wall
Adding an accent wall can be transformational to the look of a room. A fresh new coat of paint on the wall can be finished in as little as one day and will leave a lasting impact. The color you choose is important for the aesthetic of your home. Not sure where to start? Our team knows that the kitchen is a place you and your family spend a lot of time, so our team of designers will provide their expertise and plenty of options for you to choose from. After all, we design your project with you—not for you, because it's yours—not ours.
Wallpaper on an accent wall is another great option. Be sure to consider wallpaper options that are kitchen-friendly such as vinyl or washable wallpapers as splashes and spills are inevitable.
Are you ready to add more color to your kitchen? Visit one of our three conveniently-located Kitchen & Bath Design Centers in the Pittsburgh area, or request a free consultation with us to learn about our kitchen design services. If you're wondering if your home is ready for more than just a pop of color and you're considering a full remodel, read our blog post Is it time to remodel your kitchen? If a kitchen remodel is the next step for your home, check out our answers to The FAQs of Kitchen Remodeling.