Home improvement projects always raise a lot of big questions. You might ask yourself: How much should I spend? What should I change? Do I really need to change anything at all? In addition, you might also want to ask us a few things. We've already answered the FAQ's of kitchen and bathroom remodeling, but there's always more to learn.
We saw just how much more there was to learn during our 2021 Pittsburgh Kitchen and Bath Show. This show was a live, virtual event that we hosted with Bath Fitter of Pittsburgh. We explained different facets of home improvement and got a chance to hear from our viewers, too.
During a special Q&A session of the 2021 Pittsburgh Kitchen and Bath Show, three big questions emerged:
What is it like to work with Cabinet World?
What kind of work does Cabinet World do?
Can I see examples of Cabinet World's work?
We're going to review how we answered each one of these during the Q&A session below. You can watch the full segment, (and others), on our Facebook page. Each video is stuffed with valuable information about the remodeling process, design, and so much more.
Even more insight is waiting for you in our Personalized Design experience. During this experience, one of our expert designers will visit your home to discuss your project goals and vision. You'll be able to talk about the area you'd like to improve in that very space. That way, you can show and tell our designer what you have in mind.
And for when we can't talk with you in person, we have a blog that's full of great information. Check out a few of our posts to learn about cabinetry styles when you're done reading here. Below you'll find a breakdown of three big questions that you may have for us at Cabinet World, and our answer for each one.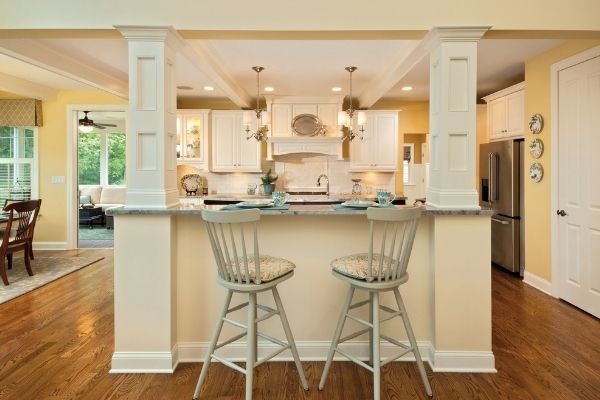 Question #1: What is it like to work with Cabinet World?
This big question sounds general, but it's not. While certain aspects of home improvement often look similar across the board, it's important to remember that every remodeler or remodeling company is different. Working with one won't be like working with another, and that difference will have a big impact on the ultimate quality of your project.
So, it's important to know what to expect from a given remodeler. At Cabinet World, we work with (not around) you. We also ease the burden of home improvement throughout the whole remodeling process.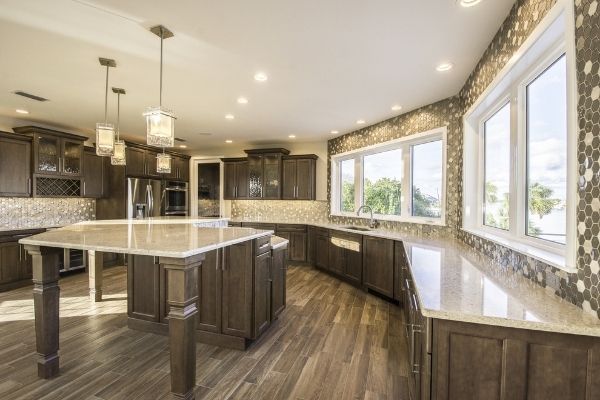 Cabinet World works with (not around) you
When you work with us, you are in control of the remodeling project. We understand that this is your home and not ours. We also see how important each and every room can be to homeowners, and so our team members make sure they are adjusting these spaces according to your unique taste.
One of our team members, Sam Lucci, explained how Cabinet World works with you during the 2021 Pittsburgh Kitchen and Bath Show:
Most kitchen designers have a preconceived notion of what a kitchen should be. What they do is they design their kitchen in your home, we want to give you your kitchen in your home… But we're giving you the opportunity to get what you want. We don't tell you what you want.
This is what we mean when we say that Cabinet World is going to work with (not around) you. The industry norm is for designers to design a space around their tastes – but we think that leaves out the most important factor, which is your taste, style, and need for functionality. So we listen to you, helping our customers find the design that they want.
One of the ways that we make sure your project reflects your expectations is through our Personalized Design experience. This is where one of our professional designers pays you a visit – right in your home. You and the designer can talk about your goals for a given area while you're standing in it. The Personalized Design experience is the perfect opportunity to show and tell us all about your dream kitchen, bathroom, etc. And once we see your vision, we're ready to help you make it a reality.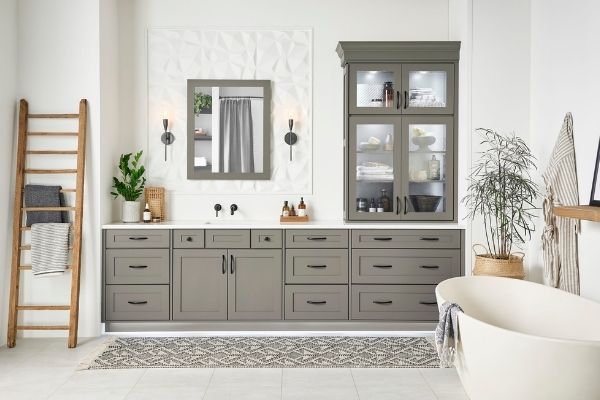 Cabinet World eases the burden
Sure, making a dream real is hard work. But working with Cabinet World makes it that much easier. We have the expertise and experience to help you with the tedious, difficult, and/or stressful aspects of home improvement.
For example: a major source of stress during any remodel are the details. There are many factors that go into any given project. Some may be small and others quite big, but all together they form a complex web of options, obstacles, etc. Facing that web alone can be pretty daunting and may lead to the feeling of being overwhelmed. That's where Cabinet World comes in.
With nearly 50 years of professional experience in the industry, we know how to navigate the whole remodeling process, from start to finish. We'll guide you through any areas you'd like help with, from managing a project budget to staying within legal boundaries.
"We'll steer you," said Sam, "make sure that it's up to code."
We're here to help you manage the plethora of aesthetic choices that go into home improvement projects. You can ask us about stylistic options in the comfort of your home or in one of our Pittsburgh area Kitchen & Bath Design Centers.
The advantage of visiting our Kitchen & Bath Design Centers is the chance to see our materials, colors, and finishes in person. Looking at them closely can help you better determine the best feel and fit for your kitchen or bathroom. Plus, our team members will be there to explain the benefits of different certain styles and brands versus another.
Let's take an example from the 2021 Pittsburgh Kitchen and Bath Show. During our Q&A segment, Sam compared different materials that are often used for cabinetry.
Cabinet materials – medium density fiberboard and more
Sam compared traditional materials, such as maple or poplar, to another material that is becoming increasingly popularity: medium density fiberboard.
What's that?
Medium density fiberboard (MDF) is a combination of wood fibers and adhesive materials, such as resin and wax. Boards are molded under high temperatures and pressure and when they're done, MDF products are smooth, durable, and more water resistant than plywood.
That's MDF.
The qualities of MDF plays into the aesthetics of a given room. For one thing, their smooth surface makes them ideal canvases.
Natural wood cabinet doors, such as maple or popular, expand and contract over time. When they are painted, you may start to notice lines in the paint as the wood moves. With MDF, the material won't expand or contract, so the paint lines aren't an issue. Sam also said, "MDF is less expensive than wood, so it's becoming [popular]."
It's important to know the pros and cons of materials such as MDF, because they influence both the practical and aesthetic quality of your cabinets.  Our cabinetry is American-made with the best materials to optimize the look, feel, and function. To find the right material for your kitchen or bathroom, we encourage you to visit one of our three Kitchen & Bath Design Centers in the Pittsburgh area.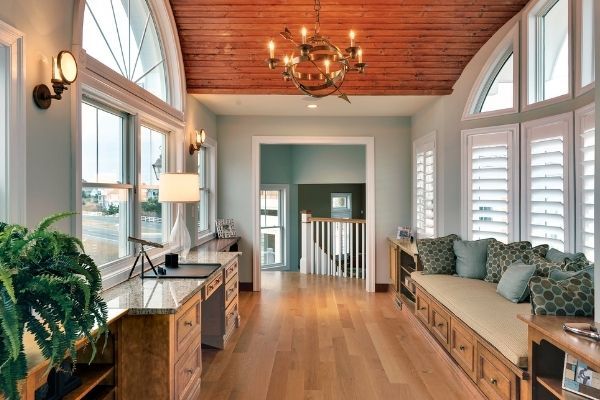 Question #2: What kind of work does Cabinet World do?
The answer to this big question will vary from remodeler to remodeler. In the home improvement industry, some companies and individuals are more specialized than others. A lot of our work at Cabinet World involves kitchen and bathroom remodeling. These rooms are a popular choice for anyone looking to improve their home – and for good reason.
Kitchen remodels have the benefit of (potentially) increasing your home's value. In fact, homeowners recover around 80% of what they paid for a minor kitchen remodel on average. Major kitchen remodels have a similar return on investment (ROI) of around 60%, on average.
In addition, upgrading kitchen appliances can lead to more efficient use of energy and water in your home, which may decrease the expense of utilities and save you even more money.
Bathroom remodels are a similar story. Not only could getting new appliances save you money on your next bill, but the average ROI for a bathroom remodel is around 70%.
There are also other benefits besides financial ones. Bathroom remodels can seriously improve your experience in this room which, in turn, can improve your whole day.
We've said before that the bathroom is an important room in any home. It's one of the first places you go in the morning, and one of the last you visit at night. As a result, the quality of this room has a major impact on your day, which is why it's so amazing to have a bathroom that exceeds even your own expectations.
It's hard to overstate the improvement that a bathroom remodel can make to the experience of this room. Bath Fitter of Pittsburgh explains how much a few improvements can do in their blog post, An Amazing Transformation to Your Bath.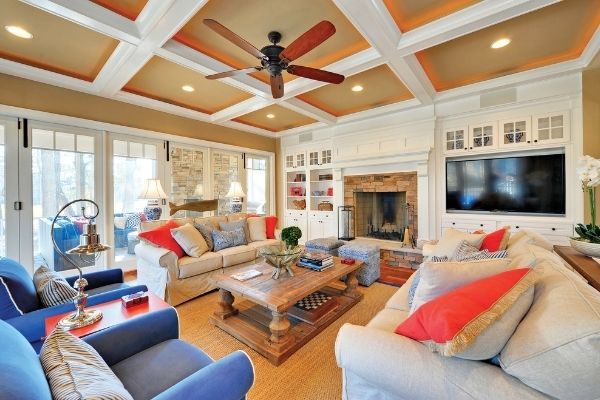 Pick a room, any room, for cabinets
All that being said, kitchens and bathrooms aren't the only rooms in the house that need cabinetry. Sam explained that Cabinet World does work outside of these popular rooms as well, depending on what the homeowner wants.
For example, we can help you set up a bar for your home. "We do probably three or four bars a month now…" began Sam before going into further detail:
There are basement bars, first floor bars – and, of course, there's all the different styles that are available in kitchen counters available for the basement bar. Same with countertops, any countertop that you find is also available. So yeah, we definitely we love to do those.
"Those are fun projects," Sam concluded. Whatever space you would like to improve – be it in your kitchen, bathroom, or elsewhere – Cabinet World is here to help. We have an excellent selection of cabinetry and a hard-working team of professionals to see your project through.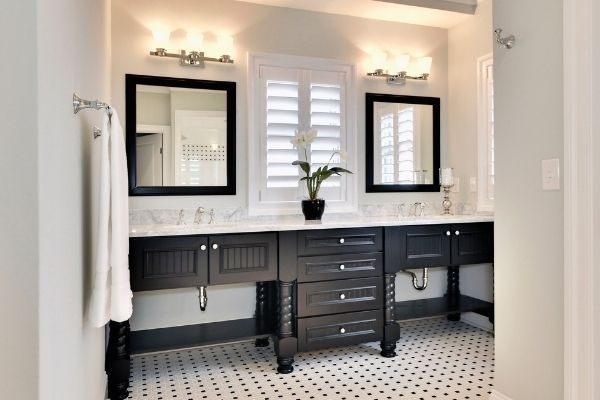 Question #3: Can I see examples of Cabinet World's work?
We love to show homeowners the excellent work of our hard-working team members. Generally, there are two ways that you can see a remodeler's product or example of previous work: through pictures/samples and by visiting a showroom. At Cabinet World, we offer both.
For pictures of our cabinetry and examples of our previous work, head over to our online gallery. There, you'll find a wide collection of cabinet types, styles, and sizes to look at, as well as entire rooms that have been transformed by our team of experts. We'd also love for you to see our go-to brands. The products we use from Wellborn Cabinetry, Candlelight Cabinetry, and others are reliable, American-made, and a great addition to any home.
When you're finished viewing our products online, you can make your way to one of our Kitchen & Bath Design Centers in the Pittsburgh area. Our team members will meet you there and walk you through your different options in materials, design, and more.
You can also talk with us about our products over the phone or online. From there, it's easy to schedule a free consultation or an appointment for your Personalized Design experience. Either option will give you a chance to learn even more about Cabinet World, our team, and our work.
If you have any more questions besides the big three that we just answered, feel free to ask them while you talk with one of our team members. Whether you meet us in one of our Kitchen & Bath Design Centers, over the phone, or online, we're ready to help you find the information you need.
And if you enjoyed this breakdown of our Q&A segment from the 2021 Pittsburgh Kitchen and Bath Show, then you'll want to read our last review of a previous segment: The Personalized Design experience.
Hosting the 2021 Pittsburgh Kitchen and Bath Show with Bath Fitter of Pittsburgh was a lot of fun, and we can't wait to see you again! Don't forget to follow us on Facebook and Instagram for updates about upcoming virtual events.