Your kitchen is a hub for your family's activities morning, day, and night. You may find you gather more in the space during certain times of the year too. Holidays, birthdays, anniversaries, parties…the kitchen is a place to make memories. It's important to ensure that your kitchen is equipped to handle the needs of your household, no matter its size.
Making your kitchen fit your lifestyle is an investment that will be long-standing. Having protections for young children is a great feature for your family, as well as a selling point if you decide to move, and it'll be ready if the grand kids come around in years to come. However, a kitchen remodel that considers your family's needs doesn't just mean families with young kids. Personalizing your home to meet your family's needs is something that will look unique to every space.
Before you begin your kitchen remodel, our team of professional designers will seriously consider how you use your current space during our exclusive Personalized Design experience. We will ask questions such as – Do you have children or grandchildren? Do the children prepare their own snacks or meals? How often do you cook? What type of cooking do you do the most? How many family members typically cook in the kitchen at one time? Do you host large gatherings and cook for these events? Asking questions like these helps us to plan how to best make your kitchen friendly to your lifestyle.
Before you begin your Personalized Design experience with us, read on to learn some of our best tips for designing a family-friendly kitchen space.

Bring in an Island with Seating
Designing your kitchen to have an island is one of the best ways to achieve a family-friendly and livable space. A kitchen island adds extra counter space and storage opportunities. Storage is a must in the kitchen, no matter the size of your household. Islands provide another area for drawers, pull out shelves, and cabinet space.
Kitchen islands can also provide room to have an additional burner or sink, or have appliances like microwaves and dishwashers installed into them. Bringing in a prep sink, a stove top or a small beverage refrigerator can make your kitchen more user-friendly and accessible for all ages.
If you wish to add more seating in your kitchen for your guests or family members, a kitchen island can be a way to implement that goal. They create natural gathering places. Adding a few tall bar stools or chairs makes for a convenient place for the family to have a quick breakfast, snack, or a more casual dinner. The extra space can be used for working from home, completing homework, helping out with meal preparation or drying dishes.
Have questions about how a kitchen island would work in your home? Check out our team's thoughts on What You Should Know About Kitchen Islands.

Include Ample Lighting
Lighting in the kitchen is an easy thing to overlook but it's an important part of your kitchen design. Ample lighting is key for a space that the family is going to be spending a lot of time in. Lighting is important to each area of the kitchen based on what's being accomplished. That may sound complicated, but our kitchen design experts are well versed in ensuring your kitchen has the correct amount of the different types of lights you'll need. This important step is included within our Personalized Design experience.
For areas where tasks are being accomplished, task lighting should be brought in. Task lighting is exactly as it sounds: lighting that is designed for a task. Task lighting is going to vary between every home based on the family's needs. Sufficient lighting over the kitchen island, for example, is important for a family who likes to complete work or homework at their kitchen island.
Under cabinet lighting is another good option for task lighting. That type of lighting gives extra brightness for when you're completing cooking tasks such as reading recipes, slicing vegetables, or measuring ingredients.
Having sufficient lighting in all areas of the kitchen is imperative for families. With sharp kitchen tools, burners, and hot foods being prepared in the kitchen, it's necessary to have enough light to know where things are.
For more tips about bringing the right lighting to your kitchen, take a look at our blog article about How to Layer Lighting in the kitchen.

Install Soft-Close Cabinet Doors
For the little fingers that could get pinched or slammed in cabinet doors, a great solution is to install soft-close cabinet doors. Safety is only one benefit of this option for your kitchen.
Soft-close hinges are also good for reducing the level of wear and tear on your cabinet doors. With a gentle close, there is less stress placed on the cabinet, extending the life of your cabinetry which in turn saves you time and money.
Peace and quiet may be something that's uncommon in your home, so every place to find a little more silence counts. Soft-close hinges mean that you won't be hearing the loud slams of cabinet doors. Particularly with children who use excess force to close cabinets, this is a perfect feature.
While soft-close cabinet doors are smart for families with young children, they are also a feature that will extend its value for years to come as a high-end upgrade. The peace and quiet from these doors are terms commonly associated with luxury. Soft-close hinges are not only attractive, but they provide an ultra-modern look that will maintain value for families of any age.

Add Storage Space
You can never have enough storage in your kitchen. From pots and pans to pantry items, having enough space is a top concern for many families. We will design your kitchen accordingly to ensure that everything has a place. Cabinetry storage solutions can be added to your kitchen cabinetry, kitchen island, and even in a pantry space.
With our Personalized Design experience, our team will work with you to showcase all the great options for your family to increase storage space. Corner storage, utensil drawers, spice racks and more, we will find the best solutions for your kitchen. Cabinets with drawers that fully extend make it easy to reach items. For many families, children have designated drawers that are easier to access and contain foods approved by parents. These types of things are important considerations for your design. Your kitchen will be unique and personalized to your family's needs. Check out our Creative Storage solutions for more ideas.

Introduce a Double-Sink
A double-sink in your kitchen is going to be the most family-friendly type of sink for your space for a variety of reasons.
The bigger the family, the more dirty dishes there are. Many homes today have dishwashers, but there will always be those pots and pans that need to be cleaned by hand. Washing in one bowl of the sink and keeping a drying rack in the second where washed items can air-dry is an excellent choice.
Keeping things organized in the sink is crucial. With a double-sink, families can stack dirty dishes and utensils on one side while the other is used for food preparation.
Using the garbage disposal is also easier with a double-bowl sink. The garbage disposal is typically installed in the smaller bowl, so it's still accessible even if the other is full of water or unwashed dishes.

Consider Microwave Placement
An easily accessible microwave is important for many families. A microwave placed above the stove is difficult to reach and can be a safety hazard when handling hot or heavy dishes. In your kitchen's design, the microwave can be placed in alternative areas. Whether on the counter, on a lower cabinet shelf, or installed in the cabinetry, there are a variety of options for placement based on the needs of the family.

Switch to a Pull-Out Trash Can
The kitchen garbage can be an eyesore within a space. Pull-out trash cans hide the trash from the space, as well as keep it out of reach for children or pets.
Pets may be tempted to get into exposed garbage if they smell bits and pieces of food. A hidden trash can removes the risk of your pets rummaging through and keeps the smells and sight of food away from the furry members of the family. For suggestions on how to incorporate your pets into your kitchen, take a look at our blog post Creating a Pet-Friendly Area in Your Kitchen.
The pull-out trash can storage solution has other benefits as well. It often has spaces for two bins – one for recycling and one for trash. This can be a terrific feature for teaching your kids how to recycle and making the process easy for them to do.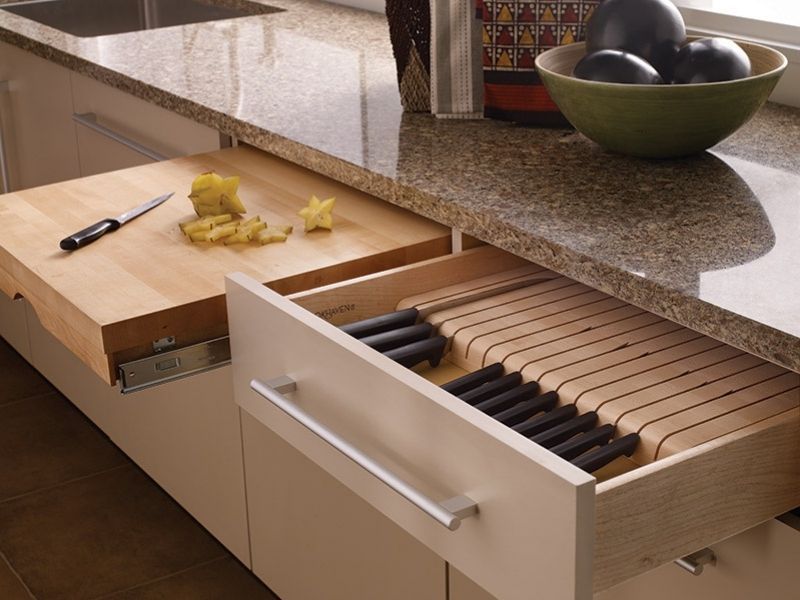 Build in a Knife Drawer
Keeping knives in a safe location is extremely important for household safety. Knives on the counter can be easily grabbed or knocked over. A smart alternative is a knife drawer. These sharp objects will be tucked away safely in their own drawer, giving you peace of mind. This solution also may mean more counter space for you as it's an alternative to the knife block that sits on many kitchen counters.

Ensure Proper Ventilation
Having good and safe air quality in your home is always important. It's important to consider the best way to incorporate a proper ventilation system in your kitchen. But never fear – this is another factor considered during our Personalized Design experience.
The health of your family is the most important thing. Failing to incorporate an adequate ventilation system can result in dust mites, damaging condensation, and dangerous gases. Having proper ventilation will promote a healthier living environment for all members of the family.
Are you considering a kitchen remodel to make your home equipped to your family's needs? Start your journey with a visit to one of our three conveniently-located Kitchen & Bath Design Centers in the Pittsburgh area. You can also request a free consultation with us to learn about our kitchen design services. Our team of experts will help you with your kitchen design from project start to completion.
In the meantime, check out the FAQs of Kitchen Remodeling, learn how to budget your kitchen remodel, and be wowed by five custom-built updates that can add value and function to your kitchen.