When it comes to choosing custom cabinets for your new kitchen design, the options to choose from are endless. You can select customizations from the cabinet colors and finishes to hardware, and most importantly – cabinetry style. Are you hoping your kitchen cabinets will compliment your vision for a modern space, or are you hoping a more traditional look will shine through? No matter your style, our team of professional designers will help you find the perfect cabinet choice.
Selecting kitchen cabinets doesn't have to be complicated. At Cabinet World, we specialize in Personalized Design and pride ourselves on being able to provide our customers with the style and function they want. However, not everyone knows exactly what they want out of a new kitchen design. That's where our team of professionals come in to explain the options. We will work closely with you to find the right solution for your taste, lifestyle and budget.
At Cabinet World, we carry top, American-made kitchen cabinet brands including Wellborn Cabinetry, Candlelight Cabinetry, Wood-Mode, Brookhaven by Wood-Mode, Kountry Wood, and Showplace Cabinetry.
Cabinet World has been making home improvement dreams come true since 1972. In that time we have seen home decor styles evolve, change and sometimes come full-circle. What's your cabinetry style? Take a look below.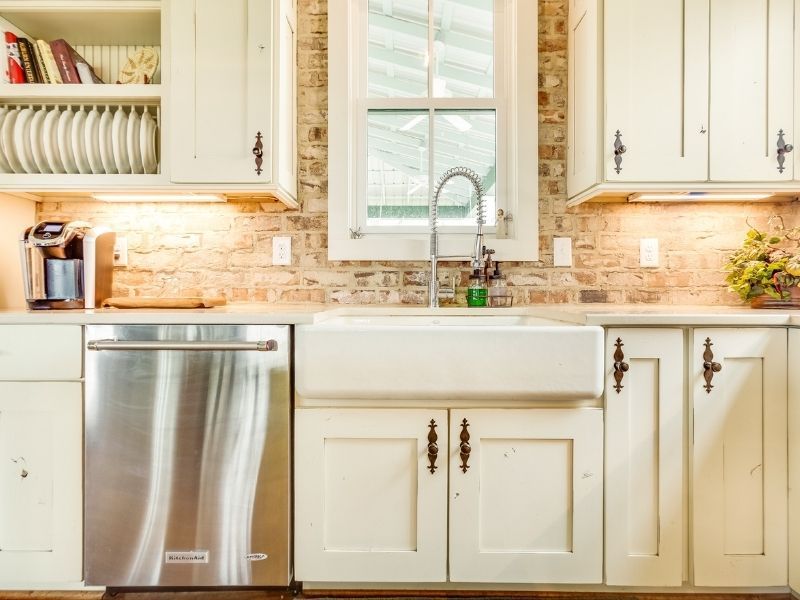 Shaker Cabinets
Shaker cabinets are a popular choice for many because they go well with so many different styles. Shaker cabinets bring a classic and simple look to either a traditional or modern kitchen design.
Shaker style cabinets consist of five pieces of flat panel with the fifth piece being a recessed center panel. This design style favors a simple and functional aesthetic with its clean lines.
The origin of the "Shaker" name for these cabinets goes all the way back to 18th century England and a religious sect who made durable furniture in solid finishes who were originally called "Shaking Quakers."
A trademark of shaker cabinets is that they're made from sturdy wood materials, typically high-quality local American woods from the United States. Examples include durable woods like cherry, maple, hickory and quartersawn oak.
Shaker cabinets are a gorgeous choice that offer a high style look while being durable and long-lasting. And if your dream kitchen is all things contemporary, shaker cabinets still have a place there too, despite their traditional origin.
You'll see shaker cabinets often left with a natural wood finish or with a wood stain. For modern kitchens it's popular to see a white or gray paint on shaker cabinets paired with white or light granite countertops, stainless steel appliances, and modern kitchen hardware.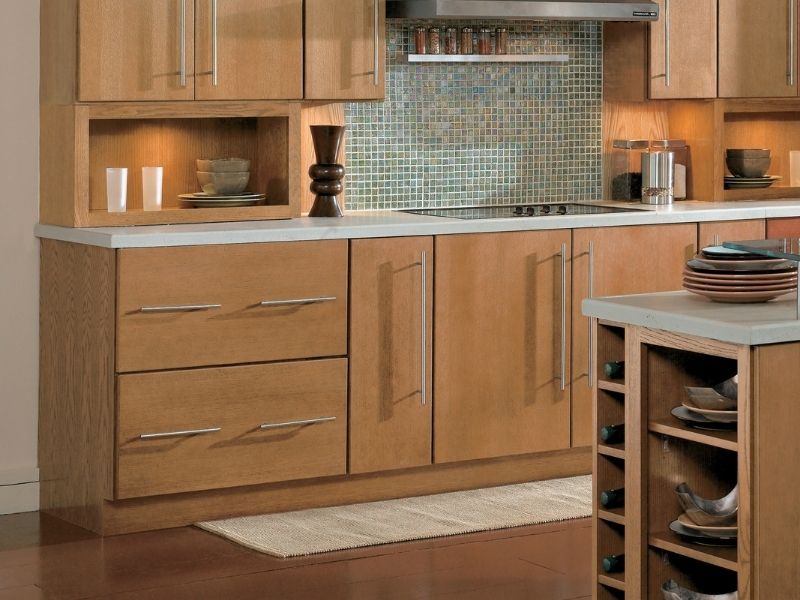 Slab or Flat Panel
Slab cabinet doors are on the rise. This cabinet style lends a modern look to any kitchen right away, frequently found in mid-century kitchen designs.
A slab cabinet door comes in a single piece with no frame. It's simply a solid slab of hardwood or MDF (Medium Density Fiberboard), reflecting its name.
This style choice can serve to be modern and sleek, or simply plain and practical to achieve a utilitarianism design. Depending on your needs and ideas, our team will talk through what cabinet style options are best for your dream kitchen during our Personalized Design experience.
Slab cabinet finishes most typically have a natural wood finish or are found in bold colors like red or black with a laminate finish.
Slab doors offer the great benefit of being easy to clean. With no nooks and crannies for dust to bound up in, slab doors can be wiped down easily with a damp cloth.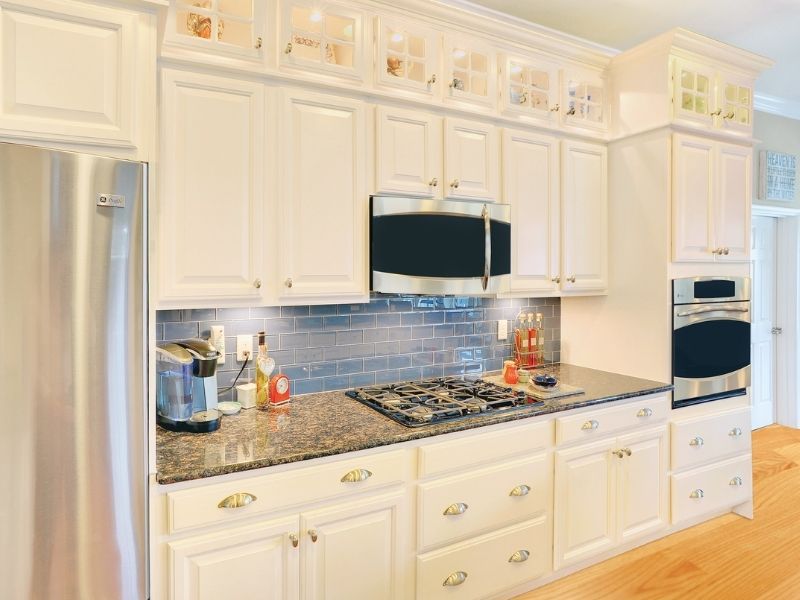 Raised
Raised panel doors achieve a more traditional look in the kitchen. The middle section of this cabinet style's door is raised, which creates a groove between the door's frame and the center panel. The groove works to achieve visual contrast that defines every panel of the door with highlights and shadows. Raised panel doors appear to have a lot of depth from the shadows created.
Raised panel cabinets are a timeless and versatile choice for your home.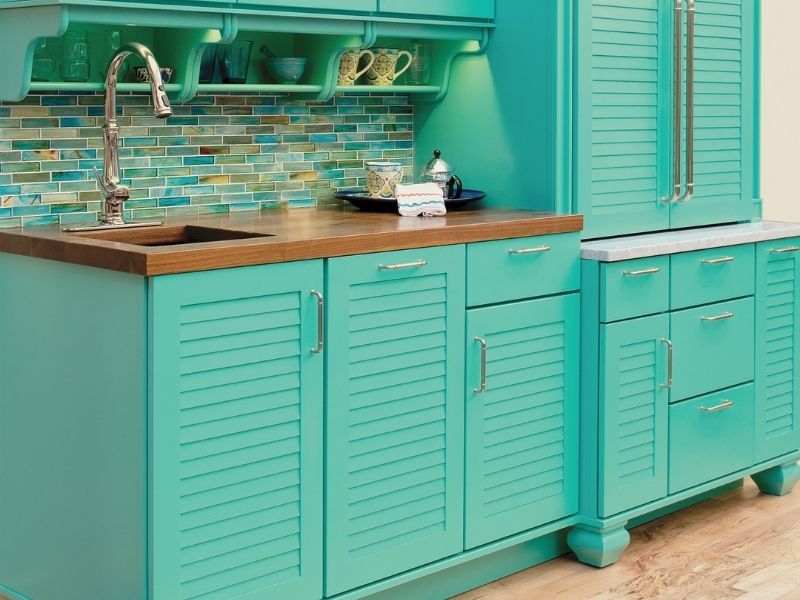 Louvered
This fun and eye-catching cabinet style comes with horizontal wooden slats that brings a different look to kitchen cabinetry.
Louvered cabinets are great for areas in or around the kitchen that require ventilation because most louvered doors have space between the slats. Examples may be a kitchen pantry, laundry room or cabinets located near a radiator.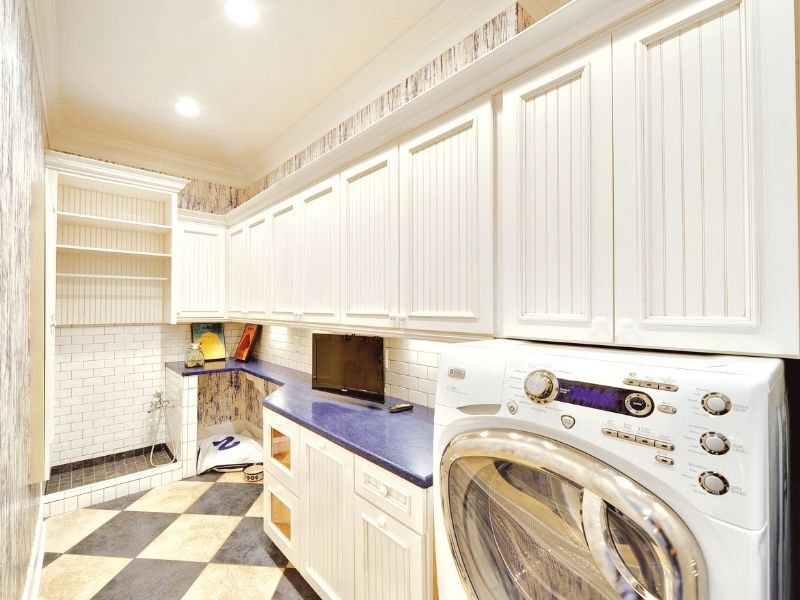 Beadboard
Beadboard doors are another unique cabinetry style option for a kitchen design. These cabinets feature rows of vertical planks with ridges between them known as "beads." This style choice brings a textured and dynamic look.
The beadboard style is most commonly found on kitchen cabinets, but also on kitchen islands as well. The subtle addition of a pattern and texture can make a big difference in a space.
Beadboard cabinets are often found in country and cottage style kitchens, as well as beach-inspired kitchen interiors.
One thing that's important to note is that beadboard cabinets can be harder to clean and upkeep because of the cracks and crevasses throughout them.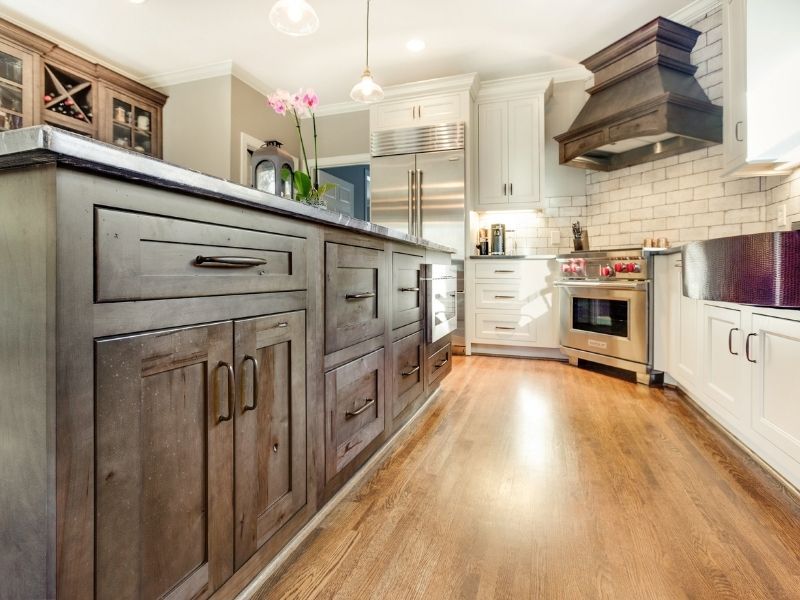 Inset Doors
Just as their name hints, inset cabinet doors are set into the cabinet frame with only minimal spacing or gaps between the cabinets and the frame as opposed to outside the frame like typical cabinet doors. Inset doors are constructed very precisely to nest perfectly inside the frame and open and close properly. A handle or knob is needed to open these doors because the door is flat within the frame.
This door style offers a smooth and clean appearance for your kitchen. Inset doors offer a large range of additional modifications like color, finish, moldings, and embellishments. You'll be able to choose cabinets that are exactly what you're looking for and match your kitchen style just right.
If you're looking for that dream-come-true experience, Cabinet World has the professional designers, skilled craftsman, and expert installers to complete your project on time and within your budget. You'll appreciate the communication and personal attention you receive before, during, and long after your project is completed. Visit one of our Design Centers or request your free consultation today!
Are you wondering if it's time to remodel your kitchen and not sure where to get started? Browse through our designs to be inspired by what others have done before. You can also read up on the FAQ's of Kitchen Remodeling or become familiar with these 10 Common Kitchen Remodeling Myths. If budget is a concern, here's a guide on how to set one up. If you're ready to dive right in, request your free consultation now to start the process.