A family bathroom has to be many things for many people all at once. This key room in the house has to handle the needs of your family now, as well as the needs of guests and any more family members that may be to come. Undergoing a bathroom remodel to meet your current and upcoming needs is a long-standing investment that will serve your family well.
In a room that gets a lot of traffic, a lot of attention is necessary to ensure your bathroom design makes the most of your space. Just because your family bathroom might be filled with rubber duckies and toy boats for the next few years doesn't mean that an elegant and luxurious look can't be achieved. Our team of professional designers at Cabinet World will help you achieve a bath space that can both handle the chaos as well as function as a place of relaxation.
The most well-designed bathroom is one that fits you and your family's lifestyle. Each household is unique, and therefore the house must be too. With our Personalized Design experience, our team of designers at Cabinet World will work with you step by step through a bathroom remodel, ensuring that your needs will be met in your new space.
Whether you're looking for a bathroom remodel with young kids in mind, teenagers, or maybe even parents moving in with you at an older age, there are plenty of options for how to make your family bathroom more functional and livable for everyone.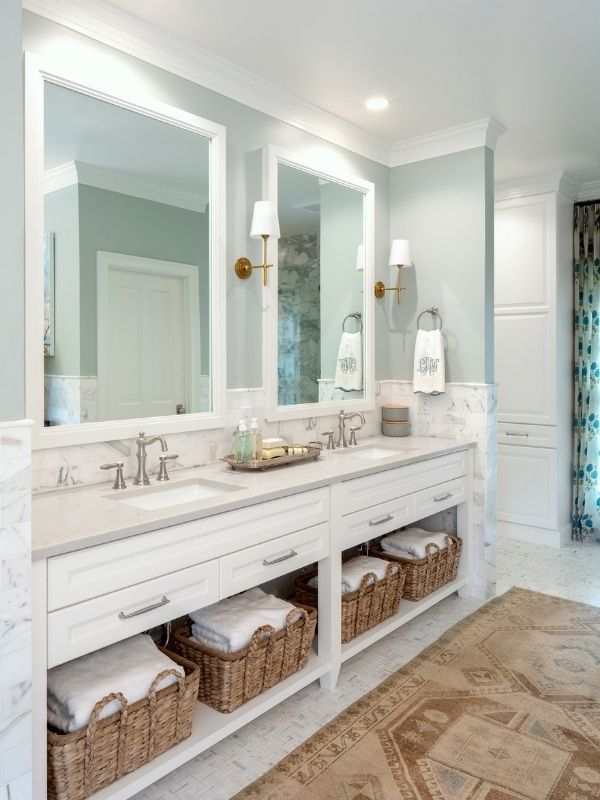 1. Have a Mix of Storage
Storage is always going to be a top consideration for the family bathroom. In high-traffic family zones, it can easily feel like there's not any room for more storage. A lot of people believe the issue of having too little space in the bathroom is because there are too many occupants, but that isn't always the case. More often, the trouble of finding storage space lies not in people, but things. We store so much in the bathroom – toiletries, cosmetics, jewelry, linens, medicine, and cleaning supplies, just to name a few. All of those things take up space that should be used by you and your family or guests. A messy, crowded bathroom can be avoided by combining a mixture of different types of storage.
Tower cabinets that stretch from floor to ceiling are a great way to keep things in their rightful place. Kid-friendly items such as fresh towels and bath toys can be kept in the lower area, making them easy to access for young children. Other items that could be potential safety hazards when found in the hands of little ones, such as medicines and toiletries, can be stored in the higher-levels.
You can make the most of your new cabinets and shelving by better organizing your items. Baskets and storage cubes fit well in cabinets and on shelves and they can be a great tactic for keeping things out of the way. Families may even choose to allocate a basket per member to make tidying up and organization even easier. This will minimize your unused space and maximize your storage capacity.
Aside from baskets and storage cubes, there are built-in storage options that can make organizing and tidying your bathroom easier.
Built-In Laundry Hamper
Anything that can make the chore of laundry easier is something that many families are eager to try. Building a pull-out linen laundry hamper into the shelving of a bathroom where it's accessible to all family members is a great solution to keep dirty laundry off the floor. Even if your family has younger children who aren't able to help with the laundry yet, encouraging good habits of organization from an early age will pay off in the years to come. These hampers tuck away, avoiding eyesores for when guests come to visit.
If you're worried about the odors of laundry enclosed in the cabinet – we have a solution. These built-in laundry hampers contain ventilation, making sure that the smells stay away. Our team of professionals will sit down with you and talk about great solutions like this that will make life and cleanliness in the family bathroom just a little bit easier.
Bathroom Vanity Storage
Vanities also have tons of storage possibilities, of which we will go into further detail below. Drawers, cabinets, or open shelves below the sink offer extra space to tuck away the bottles and brushes that can create clutter. A cabinet behind the mirror and adding floating shelves are other good options.
Consider where you'd like to store your extra towels, toiletries, cleaning supplies and more – our team will take a look at your space and find the best spots to maximize storage space and ensure everything has a place. Read up on other solutions in our blog article that takes a look at how to make the most of your bathroom storage.
If you don't have any cabinets in the bathroom at all, now is the perfect time to have quality, space-efficient cabinetry installed. For more information on purchasing high quality cabinets that are affordable, don't hesitate to give us a call or pay a visit to one of our Pittsburgh-area Kitchen & Bathroom Design Centers. In the meantime, why not check out our bathroom gallery for some cabinet inspiration? There are a multitude of designs that are both elegant and space efficient.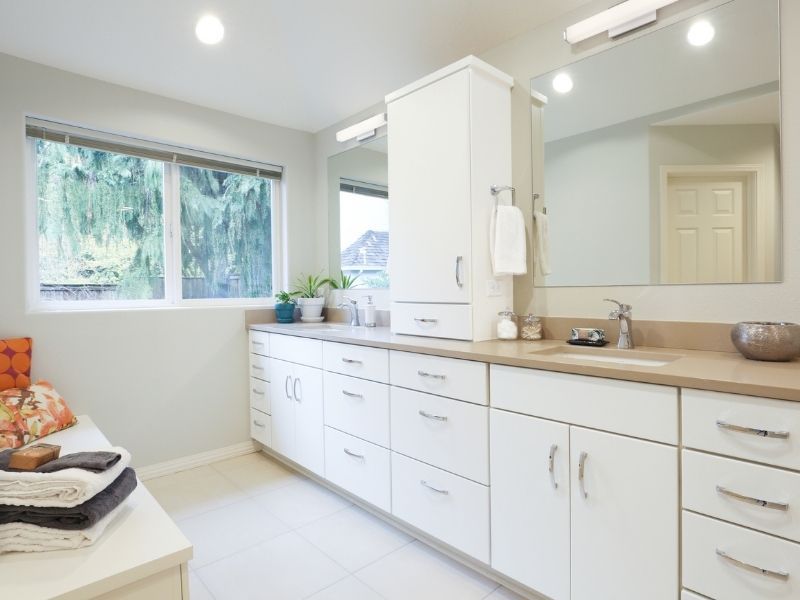 2. Install a Double Vanity
If your space permits, a double vanity is the way to go. Vanities not only bring an increase of storage space but also create an environment where multiple people can groom themselves at the same time. For the early mornings before work and school where it seems like everyone needs to be in the bathroom before rushing out the door, a double basin sink permits more than one person to brush their teeth or wash their face.
Having a double vanity also means double the mirrors. You can't have enough mirrors, especially for a house that already is or will be full of teenagers one day. Think about how many people will be using your bathroom at the same time and who requires mirror space. With a double vanity, having two mirrors hanging above your space is both stylish and functional for everyone to get their mirror-time in.
The vanity provides an opportunity to include extra storage space into your bathroom design as well. Vanities can hide bathroom eyesores like small bathroom garbage cans or extra toilet paper. Open shelving within the vanity can also hold baskets and storage bins as discussed above.
Another way a vanity can help make your bathroom more efficient is by containing and organizing your hair tools. A built-in hair appliance drawer is a pull-out cabinetry solution that includes spaces for hair straighteners, curling irons, blow dryers, hairbrushes, and more. These storage spaces are heat resistant, meaning you don't have to worry about letting hot tools cool on the counter after use (which is always a hazard, particularly for a family with young kids). A hair appliance drawer stores your hair appliances safely and efficiently.
Your vanity is a focal point in your bathroom. Not sure where to start? Check out our blog post, Choosing the Right Bathroom Vanity for some helpful tips.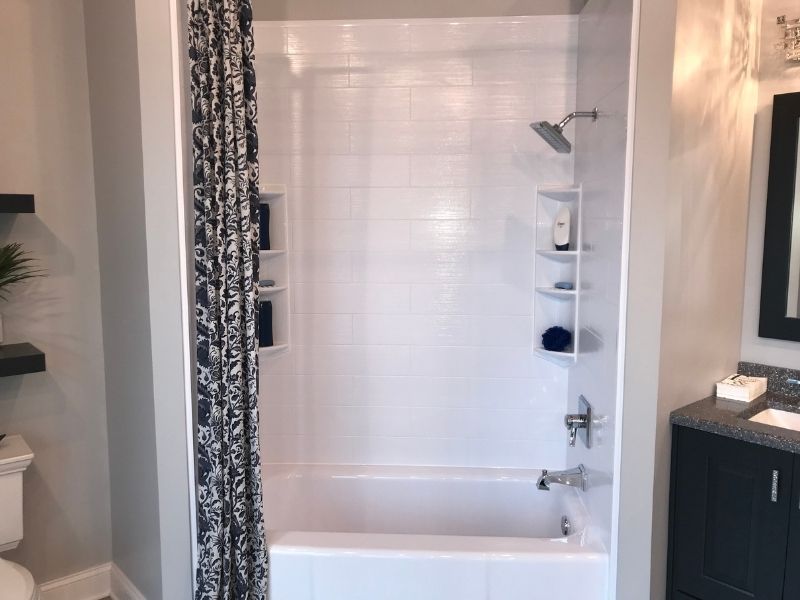 3. Tub-Shower Combination
Having a tub-shower combination is an important feature for a family bathroom, especially for families with young children. Even if your household doesn't prefer baths, having a bathtub ensures that young families are among potential buyers for your home if you plan to sell in the future.
Think about how your family uses your space. A tub-shower combo works for both the young and old in your home. Are there young children who need to be bathed in the tub? Are there older kids who prefer to shower? Adults who love a bubble bath? Consider how the needs of your space will vary over the years. Having a combination tub-shower ensures that everyone's preferences are met.
If your space permits having a separate bathtub and shower, your bathroom can rock both features simultaneously.
Our partners at Bath Fitter of Pittsburgh can complete your new tub installation in as little as one day. You can choose from a variety of tub and wall patterns and colors, so the style will flow with your overall bathroom design. They also offer a wide selection of shower head styles, corner shelves, towel racks, grab bars, and seats. No matter what your needs are, Bath Fitter of Pittsburgh has a beautiful solution for you. With complete installation included, working with Bath Fitter of Pittsburgh is easy and the needs of your family will be met in style.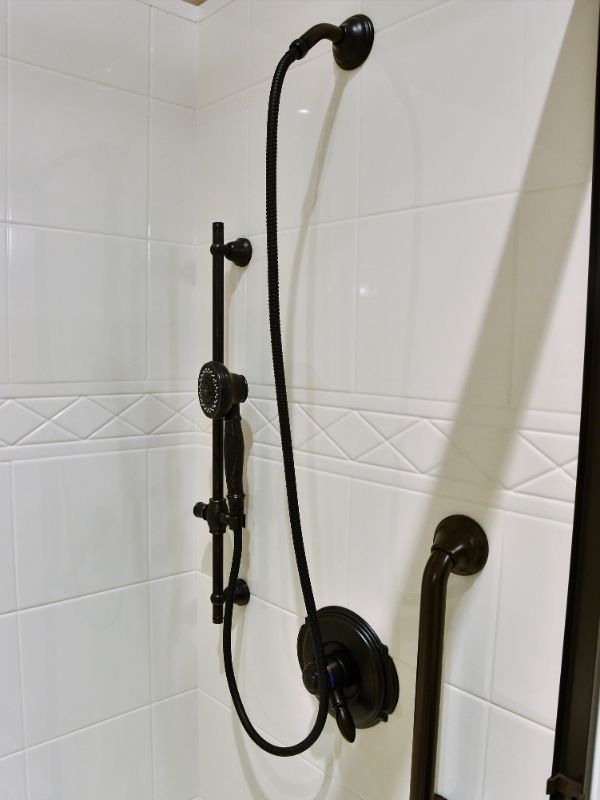 4. Have a Retractable Shower Head
A retractable shower head is a solution that will come in handy for the long haul. In a tub where small children bathe, having a hand-held shower head makes cleaning more convenient and simpler to do.
While the shower head may not immediately come to mind as a part of the bathroom design for aging in place, it plays a big role for the adults in the home as well. As your needs change, having a removable and adjustable shower head will be beneficial. It will help you move the water to fit your needs and ensure cleanliness. If you're looking for more aging in place bathroom design ideas, check out our latest blog article: Bathroom Design for Aging in Place.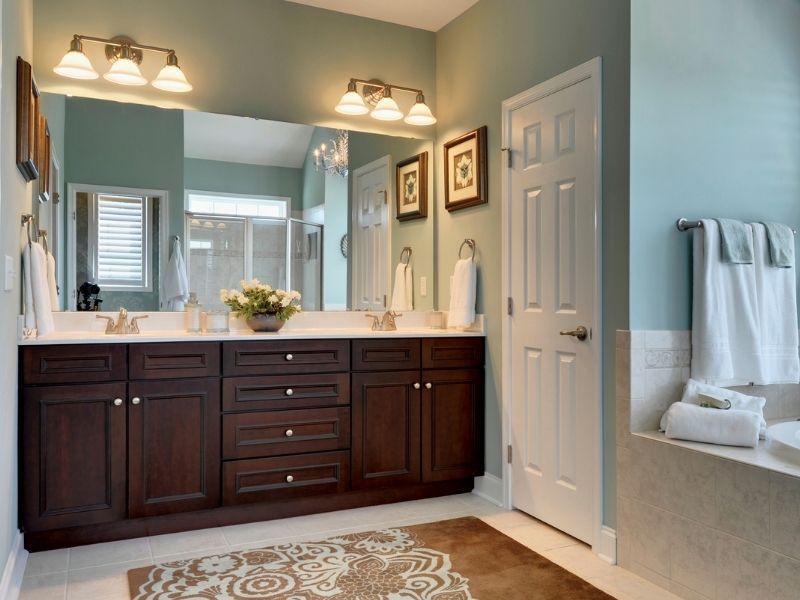 5. Bring in Sufficient Lighting
Sufficient lighting in the bathroom brings the space together. Different layers of lighting in your bathroom achieves a variety of looks depending on the activity.
Good task lighting needs to be installed over the mirror and sink where commonplace activities like putting on makeup, shaving and personal care take place.
It's nice to have the option of a lower level light in the bathroom, especially for early mornings or winding down in the evening. A dimmer lets you choose the illumination you want based on what's going on. The overhead light can shine brightly when required and turned down to a more gentle light for evening baths or restroom trips during the night.
We delve into this even further in our blog post, How to Personalize the Lighting in Your Bathroom.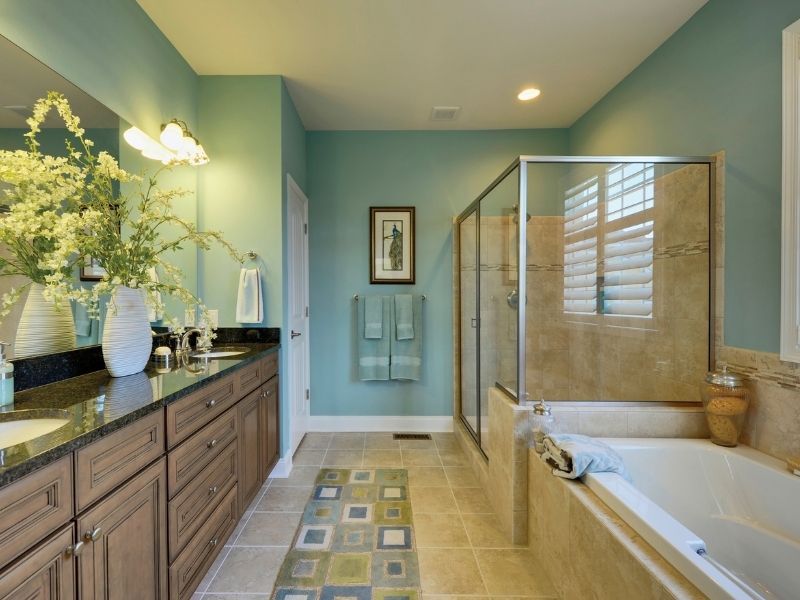 6. Ensure Hanging Space
Nobody wants to be tripping over wet towels. Make sure you install plenty of hooks in your bathroom. Towel bars are great, but not every bathroom has the space for them. With Bath Fitter of Pittsburgh, you can place your towel rack within your shower to free up wall space. It's important to put your hooks or towel bars at the right height so they are easy for children to reach and clean up after themselves to keep the bathroom tidy. Keeping wall hooks near the shower or sink will bring the greatest benefit to your space.
Pegs can also be installed on the bathroom wall for hanging things like jewelry. A spot near the mirror would do nicely for something like this.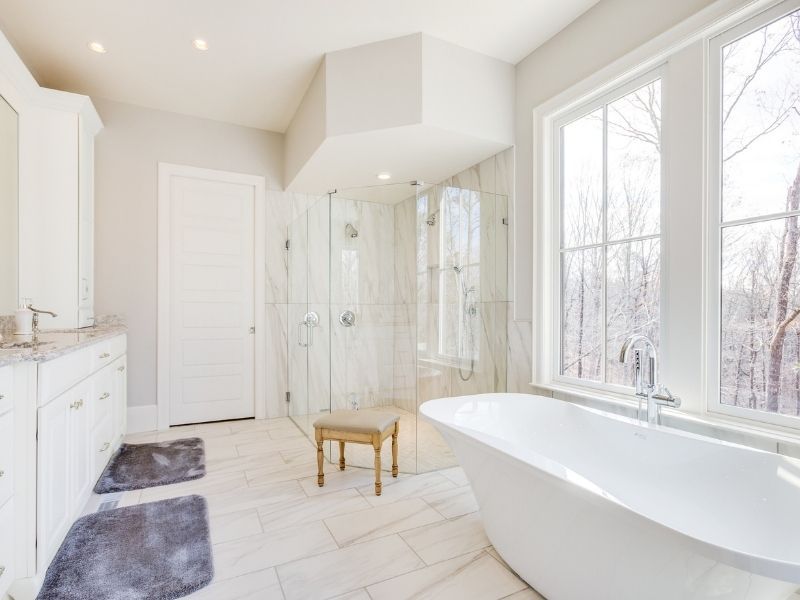 7. Be Cautious of Slippery Floors
Stray away from floors that tend to be slippery when wet while you're planning your bathroom remodel. Plenty of great water-resistant and easy to mop choices are out there and our team of experts will help you find what will work best for your family. You can visit one of our three Kitchen & Bath Design Centers in the Pittsburgh area to see the great options for yourself!
With young children, it's even more important to consider puddles and messes that may result in slippery surfaces and dangers in the bathroom.
Rugs are always a good solution to keep traction on the bathroom floor and some cushion underneath your feet. A shower mat outside of the tub, rugs in front of bathroom mirrors, and toilet rugs are good options for the family bath.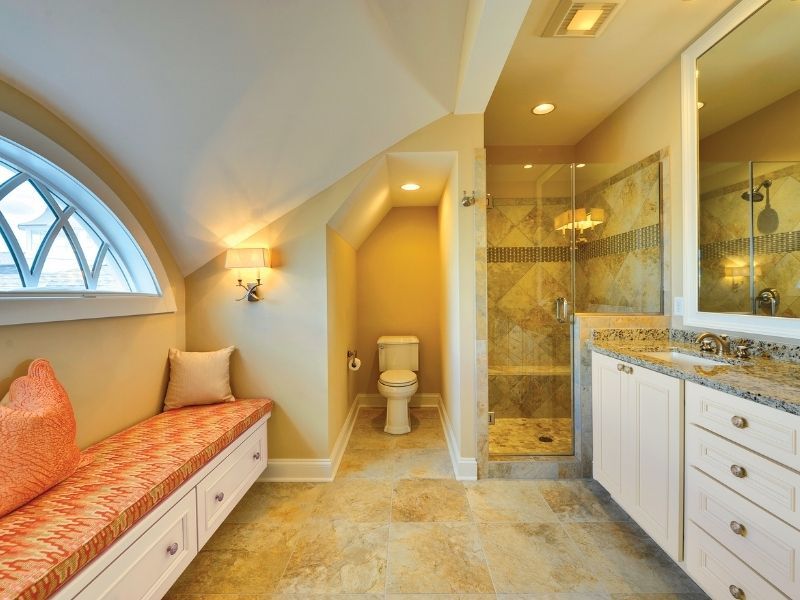 8. Add a Seat
Whether it's for the kids sitting down while they're brushing their teeth or parents supervising at bath time, sitting on the toilet lid works, but it's not a very comfortable option. Adding a stool or seat in your bathroom is a practical solution that can add some extra style and comfort to your bathroom. If your bathroom is a bit larger, another option is to install a custom bench seat.
Tell us about It!
Thinking about using one of these ideas? Wait! Get a 'Before' pic of your bathroom first. Then, once your bathroom reaches the 'After' stage, snap a photo again. Post both to Facebook or Instagram and tag Cabinet World PA to let us see it! We can't wait to have a look at your great storage ideas and creative transformations of space!
Are you considering a remodel of your family bathroom? Start your journey with a visit to one of our three conveniently-located Kitchen & Bath Design Centers in the Pittsburgh area. You can also request a free consultation with us to learn about our bathroom design services. Our team of experts will help you with your bathroom design from project start to completion.
In the meantime, check out 10 Things to Know Before a Bathroom Remodel, the 11 Bathroom Remodeling FAQs, and make sure you Don't Fall for These 11 Bathroom Remodeling Myths. A family bathroom is a space where everyone will be spending a lot of time. You could try one of these 6 Ways to Add Personality to Your Bathroom to make your space feel even more like home.