The phrase "Location, location, location" doesn't just apply to real estate. This popular mantra can be applied to your next kitchen remodel, as well. Location is the key to kitchen layout, or the overall positioning of elements in the room. Layout, in turn, will influence the usability and accessibility of your kitchen, making it an important consideration during home improvement projects. To get the layout of your kitchen right, you'll want to avoid common kitchen layout mistakes.
Keep reading to learn the four common kitchen layout mistakes and how to avoid them. When you're done, you can get even more information about kitchen design through our one-of-a-kind Personalized Design experience.
During the experience, (which no other company in the industry provides), one of our expert designers pays you a home visit to help you plan a kitchen remodel that's perfect for you. This gives you the opportunity to explain your remodeling goals in the very room you'd like to remodel, and it allows our designers to give homeowners custom solutions for their home.
The Personalized Design experience is a great way to get ready for your kitchen remodel. Now, be sure to check out these how to avoid these four common kitchen layout mistakes.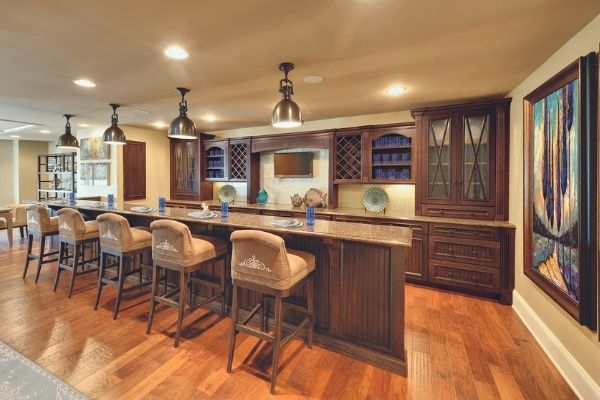 Kitchen Layout Mistake #1: Poor Placement
Placement is the foundation of layout. Be it kitchen layout, living room layout, or even home layout – this important element of design depends largely on where you place different pieces of the room. Placing a feature of the room where it does not belong or where it will get in the way is a common layout mistake that's sure to hurt your experience in the space.
On the other hand, arranging everything within a given space to compliment the way you use it will enhance the spend your time in that area. So, making sure that kitchen fixtures are not poorly placed is key to avoiding this kitchen layout mistake.
Kitchen layout is based mainly on the arrangement of items in these three categories: appliances, cabinets, and lighting. Taking a look at each one will reveal more specific details about how to avoid our first kitchen layout mistake.
Kitchen Appliances
Because appliances are natural hubs of activity in the kitchen (whether you're cooking, cleaning, or preparing food), their location in this room will influence how accessible the space is. You'll want to arrange the fridge, sink, stove, and more in a way that gives each appliance enough working space and keeps the room organized. On the other hand, a common kitchen layout mistake is to poorly place appliances so that these hubs of activity become the sites of family traffic jams.
Another common kitchen layout mistake that you can avoid involves the placement of appliances in groups.
The grouping of different kitchen appliances is also known as the "work triangle." We took a closer look at the work triangle when we discussed Mastering the Three Zones of Kitchen Storage. In short, each appliance is often used for one set of tasks more than it is used for others, and it's best to place appliances that are suited to similar tasks closer to each other than to appliances that serve different tasks.
For example, homeowners use the stove more often when cooking food than when preparing it. The same applies to the microwave, toaster, etc., while other appliances are better suited to cleaning or preparing activities, such as the sink or the fridge.
By placing kitchen appliances according to the work triangle, you can prevent kitchen-related tasks from overlapping or becoming disorganized.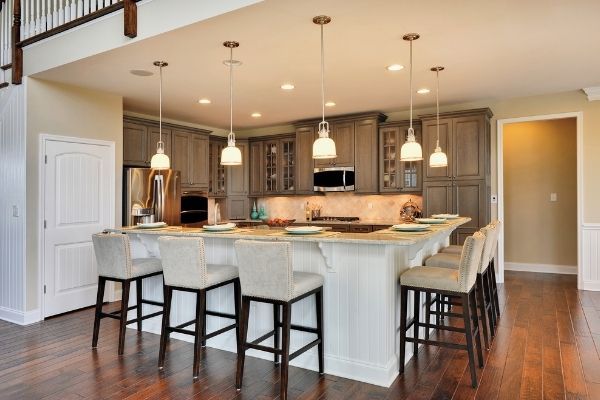 Kitchen Lighting
Having good illumination in the kitchen boosts safety and efficiency. Being able to see clearly will help you complete the intricate tasks of cutting, measuring, etc. like a pro. As a result, it's ideal to for your kitchen layout to include adequately bright, well-placed lights. Poor placement of illumination is a common kitchen layout mistake you'll want to avoid during a remodeling project.
To avoid poor placement, make sure that your kitchen lights are close enough to workspaces to light up the area – without obstructing your task. The perfect placement for your kitchen lights will allow you to both see clearly and move freely.
One way to make sure that you have the right amount of illumination for the whole room is to layer your lighting. Installing more than one source of ambient, task, and accent light will help you fine-tune this important part of kitchen layout.
Our designers can help you find the right kitchen layout that will give you both enough light and enough room to work. The Cabinet World team has the experience to find the perfect lighting arrangement for your kitchen layout, and they're ready to get started when you contact us online, over the phone, or at one of our Pittsburgh Kitchen and Bath Design Centers.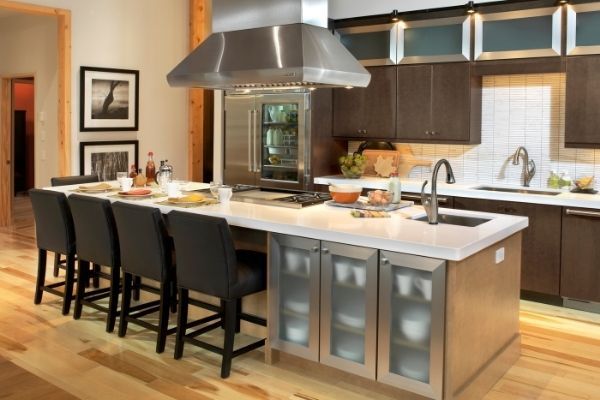 Kitchen Layout Mistake #2: Disastrous Dimensions
For the best kitchen layout, you want to avoid the common mistake of disastrous dimensions. This mistake happens when the key features of your kitchen – from the appliances to the storage units – aren't sized to optimize your experience in this room.
Dimensions play a big part of your ability to use and enjoy the kitchen, because space is a limited commodity. Rooms only have so much, well, room to give, and dedicating space to one item or area will reduce the space that is available for others.
Disastrous dimensions take space from important areas, such as walkways and food preparation hubs. The right sizes for counterspace, kitchen islands, and cabinets will maximize the efficiency of your kitchen layout.
Kitchen Cabinets
Kitchen cabinets are often your main resource for kitchen storage, making them an important consideration of layout during kitchen remodels. The dimensions of your cabinetry should give you enough space to keep all the items you need close at hand, without taking too much space away from your work areas.
Our high-quality, American-made cabinets that we sell here at Cabinet World are designed to give you the best storage solution possible in your kitchen. These products come in many sizes and shapes, allowing you to have a unique, creative storage solution.
You can visit our online kitchen gallery to see some of the different cabinets that we can deliver to your home, help you install, and/or install for you. If you like what you see, feel free to schedule a free consultation to learn more about getting high-quality, American-made cabinets for your kitchen.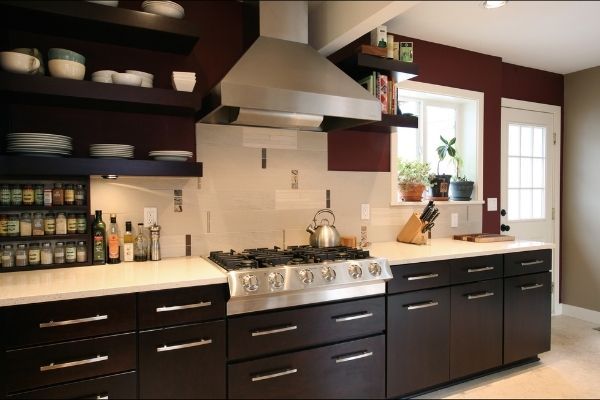 Kitchen Counterspace
Counters serve as the main surface for preparing food, and they often double as storage for small appliances, too. This kitchen fixture is certainly useful and versatile, so your kitchen layout should include enough counterspace to take full advantage of it.
Including enough counterspace means having kitchen counters that have the width, length, and overhead clearance to meet your needs. Installing counters that are just the right size – not too small and not too large – will make working in the kitchen that much better.
As a general rule, a counter with good dimensions will be 24 inches wide, 150 inches long, and 15 inches below any fixtures on the wall. Of course, the needs of every homeowner is unique to them. During your next kitchen remodel, we can help you choose kitchen counters with the right dimensions for you.
When you work with Cabinet World, we understand that you have unique goals for your kitchen, which is why we never tell our customers to accept a generic kitchen remodel. Each project that we complete is tailored to the homeowner through our system of Personalized Design.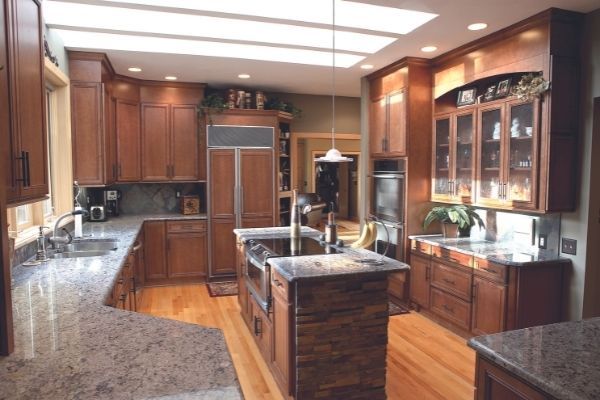 Kitchen Island
Kitchen islands can increase the room's storage capacity, seating areas, counterspace, and more, making them a popular addition to this area of the home. Islands work best when you consider the aspects of Designing a Kitchen Island and avoid the common kitchen layout mistake of disastrous dimensions.
The open space of a kitchen is a bit like an open puzzle board, and kitchen islands are the final puzzle piece. Finding the right kitchen island for you is just as important as finding the right puzzle piece. Getting an island that is too large could limit the space available for moving around in your kitchen. An island that is too small, on the other hand, doesn't allow the room to reach its full potential.
The dimensions of the right kitchen island for you will depend on the size and shape of your kitchen, though a good rule of thumb suggest keeping 42 inches of free space between the island and the counter. Read our Guide to the 6 Types of Kitchen Islands to learn more about island designs that could work in your kitchen.
You can also contact us for even more information about this classic feature of the kitchen. We'll fill you in on What You Should Know About Kitchen Islands when you contact us online, over the phone, or at one of our Pittsburgh Kitchen and Bath Design Centers.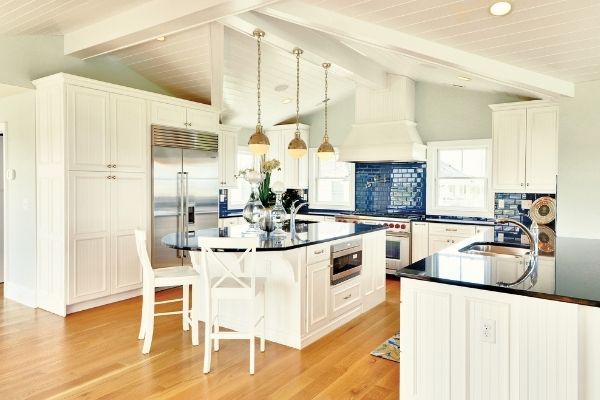 Kitchen Layout Mistake #3: Scarce Circulation
When it comes to kitchen layout, common mistakes can build on each other. Both poor placement and disastrous dimensions come to a head in this common kitchen layout mistake: scarce circulation. Out-of-place or out-of-proportion fixtures can reduce the room's ability to handle flow.
Be it airflow or the dynamic flow of people moving through the kitchen, circulation allows the kitchen to operate with harmony. Scare circulation, on the other hand, can create a stressful and potentially unhealthy environment. Avoid this common kitchen layout mistake by paying careful attention to ventilation and thoroughfare during your next kitchen remodel.
Kitchen Ventilation
Ventilation is essential for any room, but especially the kitchen. Sufficient ventilation ensures that fresh air gets into your cooking spaces, which can become uncomfortable if they get too steamy and warm. At the same time, air circulation prevents the usual smells of good cooking from becoming overpowering.
In addition, having enough airflow can prevent the buildup of grime and grease on surfaces near the stove, as it removes oily steam and other evaporated materials from the area. Ventilation also increases the safety of your kitchen as it reduces airborne odors and grime. By replacing the particle-laden atmosphere with fresh air, proper ventilation allows you to breath clean air as you work in the kitchen.
So, proper ventilation increases the comfort, cleanliness, and safety of your kitchen. During your next kitchen remodel, we can help you avoid the common kitchen layout mistake of scarce circulation. Our designers can help align your current kitchen to the proper residential codes and guide you through important circulation considerations.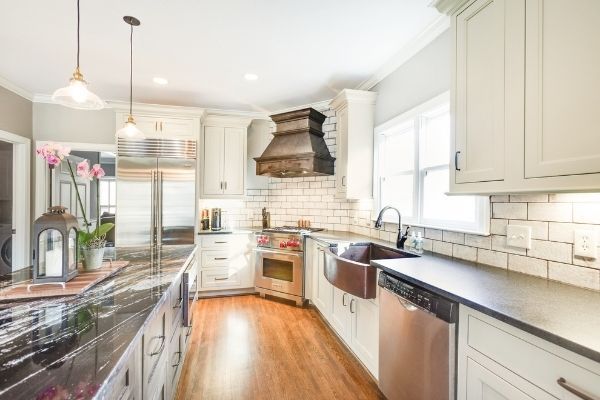 Kitchen Thoroughfare
Circulation is key to a good working experience in this room. Having "too many cooks in the kitchen" won't be a problem if you avoid the common kitchen layout mistake of scarce circulation. With the right design, you can have a kitchen that accommodates multiple people at once.
A kitchen layout that allows for thoroughfare leaves enough space for walkways around the counters, island, etc. It doesn't place any appliances or cabinets where they might obstruct circulation, either, which means that they don't block entryways or other hotspots of activity.
For more tips about designing your kitchen with enough room for thoroughfare, check out the 10 Ways to Make a Small Kitchen Look Larger.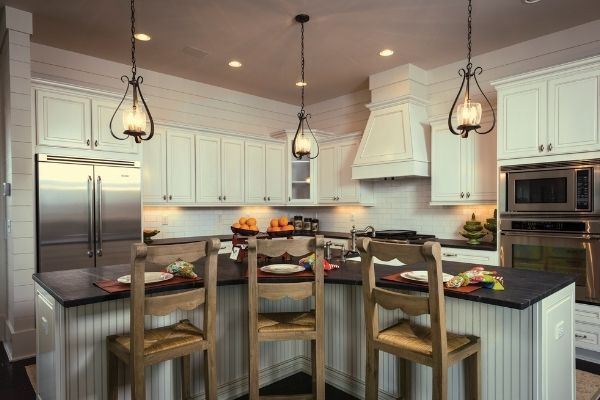 Kitchen Layout Mistake #4: Misleading Myths
While it isn't all "in your head," the fourth, common kitchen layout mistake certainly is. The source of this mistake is the understandable error of believing a few myths about kitchen layout.
In general, kitchen remodeling myths can cause a lot of problems during remodeling and home improvement projects. To address that problem, we compiled and debunked the ten most common kitchen remodeling myths.
Now, we're going to analyze and debunk two myths that are specifically about kitchen layout: aesthetics over functionality and the necessity of a new kitchen layout.
Aesthetics Over Functionality
One of the most exciting parts about completing a kitchen remodel is getting to design a new kitchen that looks absolutely amazing. By incorporating color in your kitchen, choosing a backsplash, and finding What's Hot in Kitchen Design, you can make a kitchen that will wow the neighborhood.
However, if you find yourself getting a little carried away in the aesthetic side of a kitchen remodel, watch out that you don't fall for this layout myth. Prioritizing aesthetics over functionality is a common kitchen layout mistake that you'll want to avoid during your next kitchen remodel. Instead of basing layout mainly on the way it looks, balance style with usefulness for the best outcome.
Our designers have years of professional experience balancing aesthetics and functionality, which means they can help you do the same during your next remodeling project. Whether you want help designing your kitchen layout from start to finish or advice along the way, we can take care of your home improvement needs.
The Necessity of a New Kitchen Layout
While redesigning your kitchen layout during a remodeling project can do wonders for this room, it isn't always necessary. You can often times improve your kitchen while working around the layout that you already have.
It's entirely possible to change the kitchen in major ways without adjusting the layout. Not only that – even small or surface level changes can make a big difference. So, while you always have the option to a redesign the layout of your kitchen when you work with Cabinet World, you can always choose to leave it as it is. We listen to you, your wants, and your needs, so that the end product of your next kitchen remodel is the kitchen of your dreams.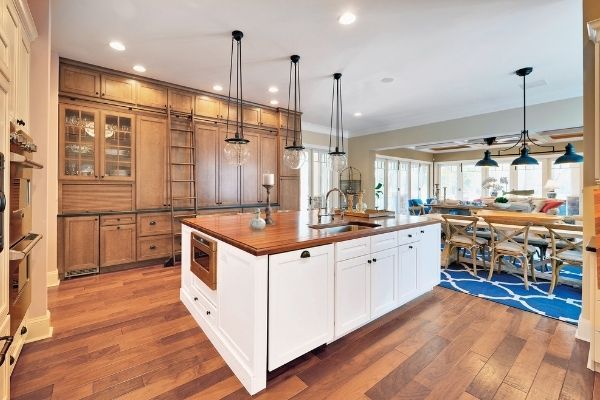 Looking for Kitchen Layout Inspiration?
If you're looking for inspiration to design your kitchen layout, check out our Facebook and Instagram pages to see photos of our work. On our social media, you'll find plenty of design ideas that showcase the best of both style and functionality.
You can also find more inspiration in our blog. Read What's Your Cabinetry Style? for some aesthetic advice, or 5 Custom-Built Updates That Add Function and Value to Your Kitchen for some practical information about features you can add to your new kitchen.