We're nearly halfway into 2021 and the kitchen trends we predicted are as strong as ever this year. During the 2021 Pittsburgh Kitchen and Bath Show, some of our designers touched more on the subject of what's hot this year, what our clients have been loving, and our design team's favorites. Check out our team members Brian Malon, Bekah Schaaf, and Sam Lucci IV had to say about these kitchen design pieces.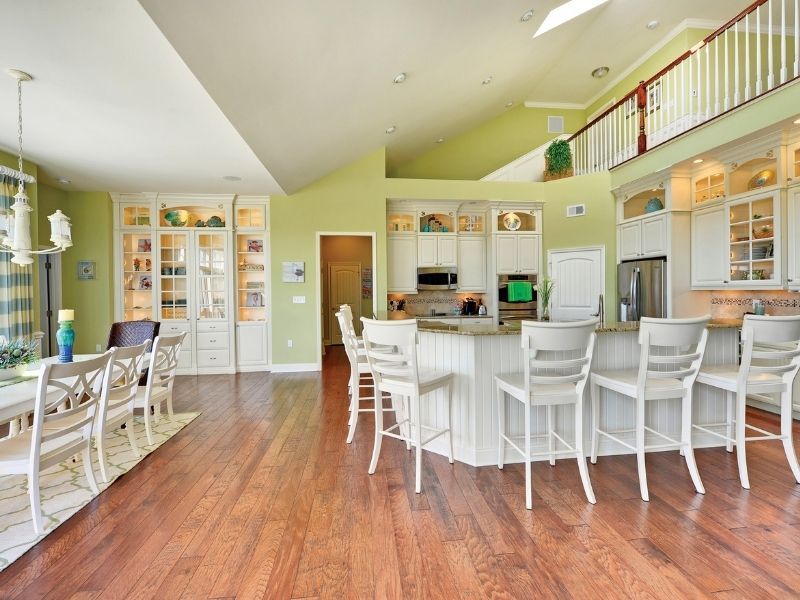 Kitchen Layout
A trend that we've seen at Cabinet World is taking smaller, more compact and compartmentalized rooms and making them bigger. We are seeing walls between traditional dining areas and kitchens being taken out to create a nice large kitchen area. These spaces sometimes still have a dining area or they may just be an open concept with a big kitchen island for dining. Large islands have been a big request from our clients lately. They offer good seating, lots of storage, and smart functions. These open areas create a space where you can still watch TV too. TVs are hot for kitchens. Many of our clients want to be able to look into the living room, watch your kids playing or watching TV there, and still talk and keep an eye on the meal prep. These open areas are a trend we're seeing grow in popularity.
Related to open kitchens, we are seeing open concepts in homes everywhere these days. People want things to be open and airy in their spaces, especially in the kitchen. As designers, we pay a lot of attention to the flow of your kitchen. There's a triangle zone that homeowners will use their kitchen in, creating a more pleasant experience in the space. With professional designers at Cabinet World, you're in good shape. You don't have to worry about the kitchen layout when our team comes in.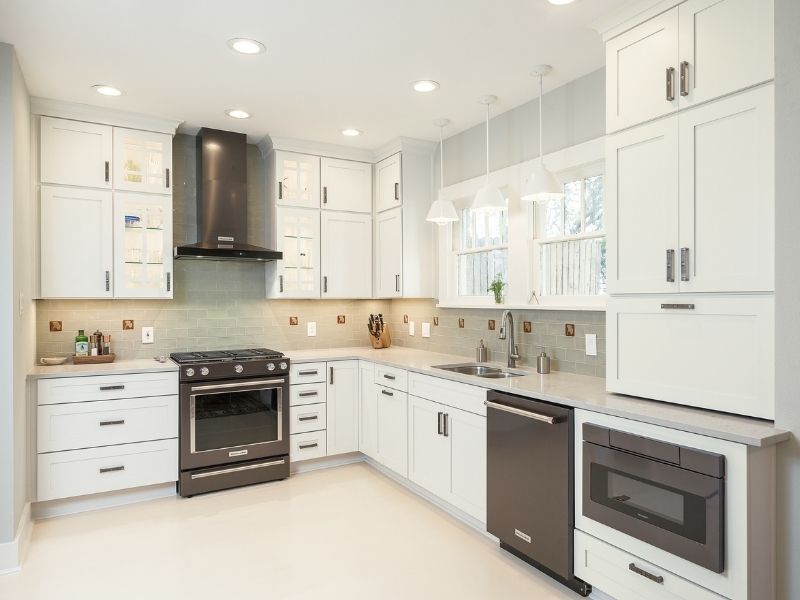 Kitchen Cabinetry
In terms of kitchen cabinets and colors, we're seeing a few colors stay consistent and some new colors come in when it comes to painted cabinets.
Kitchen Cabinet Color Trends
When asked about what cabinet color will stay in style over the years, our designers quickly answered "White!" without hesitation. White cabinetry is a timeless color that pairs well with anything. Whether you're looking to add warm tones, cool tones, or grays blacks to your space, white cabinetry will work for you. Your backsplash and countertop options are also open to so many options when you go with white.
In early 2020, one of our cabinetry suppliers, Wellborn Cabinetry, told us that 80% of what they produced was painted cabinets, and 80% of those painted cabinets were white. That means that 64% of what Wellborn produced was white cabinetry. Kitchens with white cabinets aren't going anywhere.
We're also seeing gray tones make a large impact and blue coming in and even green tones. For more ideas, take a look at these 10 Alternatives to White Kitchens.
Two-toned kitchens are also big right now and we're seeing a surge in demand for them this year. A two-toned kitchen features two different colors or styles of cabinetry. Achieving the two-toned look can be done in a variety of different ways
A popular implementation of two-toned cabinets is creating a focal point that's a contrasting or complimentary color or design from the rest of your cabinets. Oftentimes, this focal point is the kitchen island. Set it apart by choosing a fun cabinet color or mix it up by going darker to contrast with a lighter hue in your main cabinets.
Another way to use two-toned cabinets is to have the top and bottom cabinets be different colors, stains, or styles. Cabinets paired in this way allow you to maintain a traditional, more neutral colored cabinet for one part of your space and pair it with a more colorful option for the other. Typically the lower cabinets rock the colorful hue while the upper ones are left off-white, white, or a natural wood finish. A natural wood palette in a space can be diversified by having a portion of the cabinets painted a certain color. The high-contrast look between the two cabinets achieves a pop of color without the full commitment of going with a single-toned cabinet design. Another tactic is to contrast finishes. A more modern, dark brown cabinet scheme can pair nicely with stainless steel cabinets, for example.
Popular Kitchen Cabinet Door Styles
When it comes to cabinet door styles, Shaker style doors are the hottest door right now. If you aren't sure what a Shaker door looks like, our designers use the trick of calling it the "picture frame door" as it looks like a frame with a photo in it. These doors consist of five pieces of flat panel with the fifth piece being a recessed center panel. This design style favors a simple and functional aesthetic with its clean lines. The most popular combination that our clients request from our Cabinet World designers is Shaker cabinets painted white. To learn more about cabinet styles, check out our blog post What's Your Cabinetry Style?
With stained cabinets, the traditional warm tones are here to stay. Warm toned kitchen stains are very popular and look great with a variety of styles. We're also seeing gray stains and brownish gray stains make an appearance. These gray-brown stains accomplish a farmhouse look that many people are going for.
At Cabinet World, we source all American-made cabinetry. Our incredible brands include Wellborn Cabinetry, Candlelight Cabinetry, KountryWood Cabinetry, Showplace Cabinetry, Wood Mode, and Brookhaven by Woodmode. Our cabinets are made all over the United States. We source from the eastern part of the country all the way to South Dakota; Ashland, Alabama; Kramer, Pennsylvania and Buffalo, New York. Read more about our incredible cabinetry brands here.
There are countless cabinetry options available to our clients. Start by reading up on How to Select Kitchen Cabinets for a guide to the cabinetry selection process.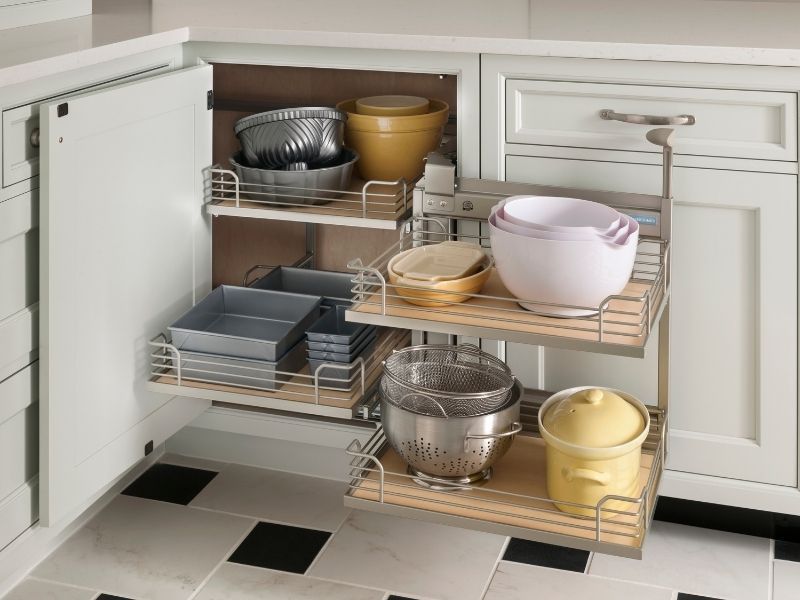 Cabinetry Storage Solutions
Now when it comes to what goes inside the cabinetry, we've got lots of cabinetry storage solutions that bring an increase in efficiency and organization to the kitchen. These storage solutions and accessories are all placed strategically in your space based on how you use your kitchen. During our Personalized Design experience, our designers will evaluate how you cook, how you prep, and how you move in your space. Their designs will be based on how to make using your kitchen most efficient for you and your household. That's the benefit of our Personalized Design experience – we see how you use your kitchen and design accordingly.
A very popular cabinet accessory that our designers and clients love is a pullout trash cabinet. With a pullout trash bin installed in your lower cabinets or your kitchen island, trash can be tucked out of eyesight while still being easy to access. Many kitchens offer space for two bins, leaving room for one trash bin and a second for recycling. These are a great option if you're thinking about a kitchen remodel. You know your waste is put away and you don't have to see it sitting out by your counter or refrigerator when you walk into your brand new kitchen.
Vertical spice racks and spice drawers are another must have in your kitchen. These nifty additions can be placed right next to the stovetop to make cooking as easy and efficient as possible. Spice cabinets come in all different sizes based on how you use your kitchen and what your storage needs are.
When it comes to storing pots and pans, there are a few great options that you can choose, based on preference. Many people love incorporating deep drawers for pots and pans to be stacked and stored in. These drawers often go in right next to the range for easy access.
Rollout drawers are the other way you can go. These cabinets have two cabinet doors that open and shelves that roll out toward you where you can store pots and pans that are easy to access. The main benefit of these drawers is that they offer less stress on your body. You don't have to bend down and reach back into your cabinets to get what you're looking for.
Another fun trend that takes advantage of often unused space is the installation of toe kick doors. These are long horizontal cabinet drawers that are installed below your lower cabinets. They pop open when your toe taps the door. This space offers room for storing things like cookie pans, pizza pans, serving plates and more. These drawers are deeper than they may look to the eye so a lot of good stuff can be stored in there. When you first look at the kitchen you won't even know the drawers are there.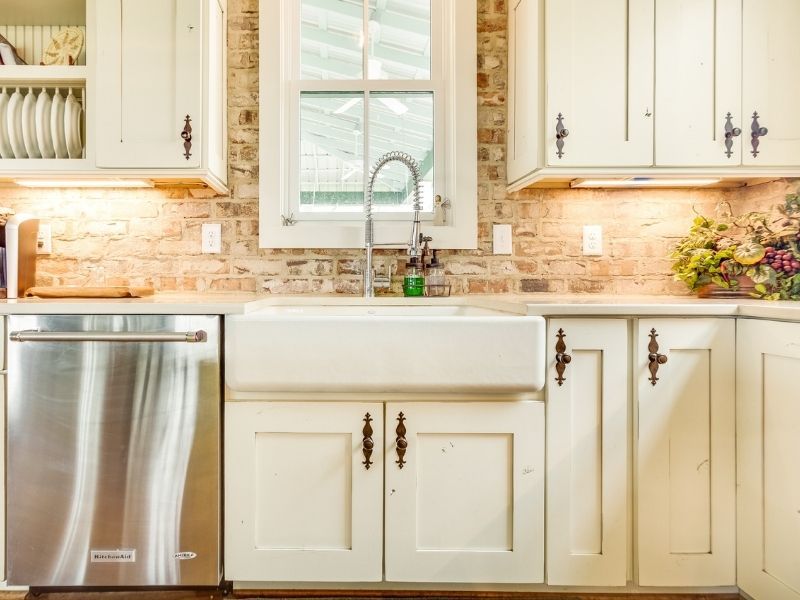 Kitchen Sinks
Your kitchen sink is a critical piece of your space. It's used many times on a daily basis, so choosing the right sink for your needs is important. We know that small things can make a big impact in the cooking space. The kitchen sink has previously taken a back seat in the world of design, but has now moved up on the scale of importance in overall design.
From single basin or double basin choices, a detachable faucet for ease in cleaning dishes, to twist knobs or handles, there are plenty of features that can be chosen based on your needs and preferences.
Our clients love the farmhouse and apron sinks that have been going strong style-wise for years now. Many clients are drawn to porcelain cast iron sinks which matches well with many different kitchen styles. Traditional stainless steel sinks are also practical and in-style in kitchens everywhere.
A choice that many of our designers love is a silgranit sink. This material doesn't scratch and comes in a variety of different colors for a different option.
With faucets, we're seeing lots of demand for kitchen sinks with a gooseneck hose that pulls down. With the single unit faucet and sprayer, it's easier to wash around the faucet area and more efficient for use.
A fun twist to the trends this year is bringing some color to the kitchen through your sink. Consider a copper, bronze, or even a strong blue or red sink to bring a boldness to an area of your kitchen that typically doesn't get a lot of attention.
We saw brass make a big comeback in 2018, and now mixed metals are coming in with force. Mixed metals offer more personality to a space that otherwise has a more uniform color palette.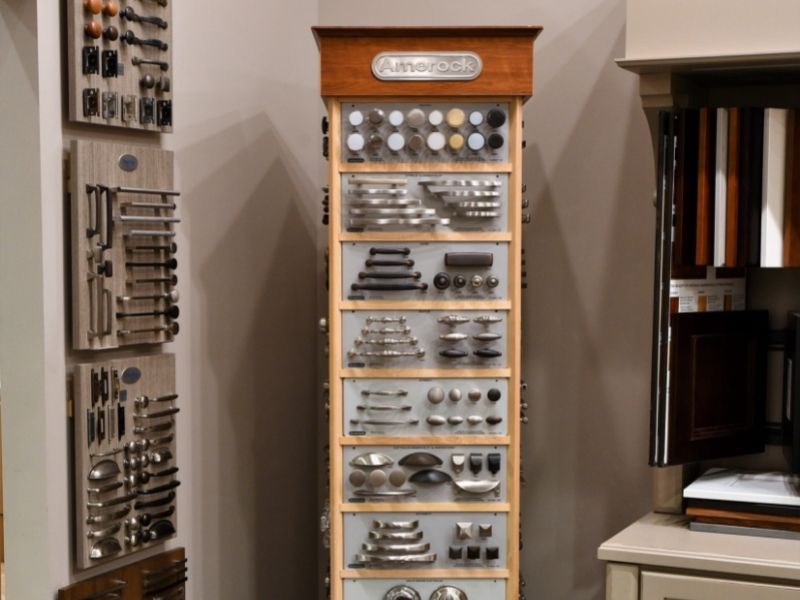 Hardware & Accessories
Hardware is like jewelry so it's very individualized and everyone's preferences are different. The great thing about hardware is that the options are endless. The great aspect of Personalized Design is that our designers will visit your home and get a feel of what your tastes are, what you like, what will best suit your needs. When you take the next step to visit the showroom and you start to pick everything out, our designers work to match things with the decor of your home and what styles will suit your needs best.
As far as kitchen accessories and faucet colors go, matte black is very popular and works well with many different design styles. Brass and gold tones are back again and look great particularly with cool tone kitchens and blue hues.
If you're going for a taller cabinet, a small knob might get a bit lost on your cabinet. So we're seeing larger handles come in style for tall cabinets. Smaller, round knobs are still in style and a practical option for kitchens. If you're looking to bring in some fun color or design to your kitchen, your cabinet hardware is a great way to add a sprinkle of color or pattern.
Appliances from many of our Cabinet World vendors are also offering options that match well with different types of hardware and faucets to create a cohesive look throughout the kitchen.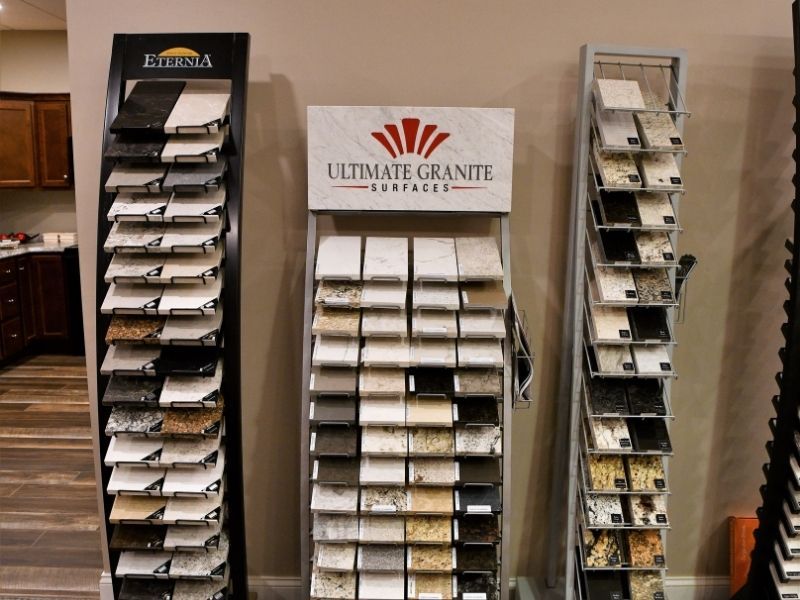 Countertops
Countertops are a big decision and an important choice for your space as you'll be using them daily for prep, cleaning, cooking, and more. We're still seeing stone, quartz, and granite stay consistent and going strong in kitchens. 
Butcher blocks are a popular choice for kitchen islands to create variety in the space. Butcher blocks can be created so that you're actually able to cut and prepare food on them, or you can order them with a finish so they just serve as a decorative piece.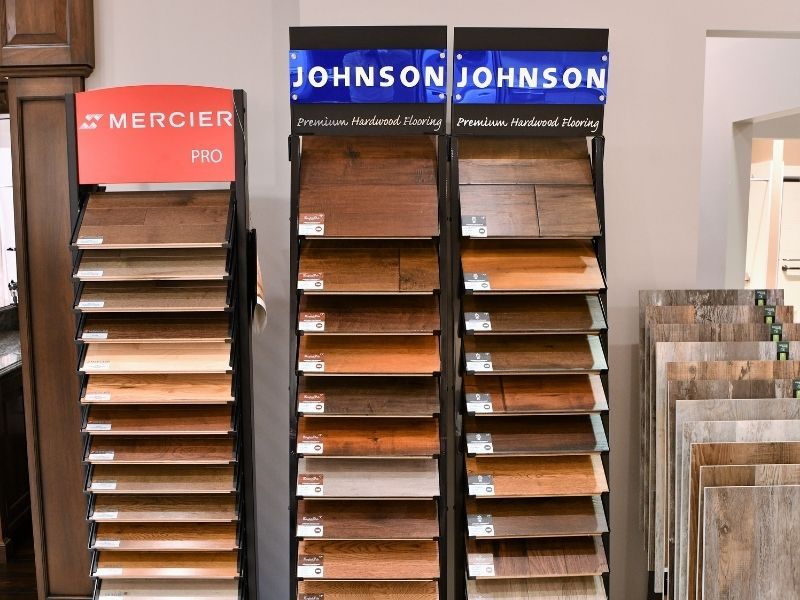 Flooring
Luxury vinyl planking and luxury vinyl tile are flooring options that are very popular and work well in both kitchens and bathrooms. These flooring options are 100% waterproof, super durable, and have a lifetime residential warranty in most cases and a 50-year commercial warranty.
Luxury vinyl is soft on your legs and is nice to stand on as opposed to tile which can be a bit harder on your legs and knees. This type of flooring also isn't as cold in the winter. Even our designers who work in the industry said they find themselves questioning if some flooring is luxury vinyl or real wood – that's how beautiful this flooring looks in your home.
Tile is always going to be in as well, especially white and marble looking tile right now. Of course, hardwood is always a solid option that will always be in style.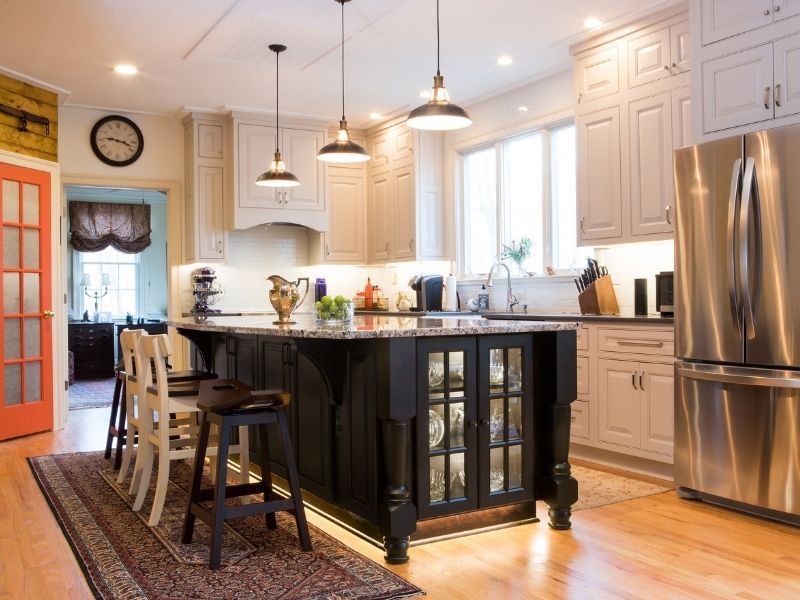 Lighting
Kitchen lighting is next and it's one of our designers favorite tools for taking a new kitchen design to the next level. It's amazing what lighting can do in your space. Sometimes we get so used to flipping on a single switch that clients don't realize the neat places lights can be added throughout a space based on style and need.
Something we're doing in tons of kitchens is adding recessed lights to brighten kitchens overall. Many clients choose to incorporate a few light switches with recessed lights so you have the option to light the overall space, or just parts of it as needed.
Lights added underneath your cabinets are great for adding more task lighting. Task lighting is exactly as it sounds: lighting that is designed for a task. Kitchen task lighting can include pendant lights over an island, or under cabinet lights for countertop tasks, such as preparing food. We'll help you determine what kind of task lighting will be the best fit for your space.
Sometimes people also add lighting all the way around the bottom of their lower cabinets to offer a dim glow in the kitchen area during the evenings.
Lights can be added to the insides of drawers in your space as well. If visibility is harder for someone who may be planning to age in place in their kitchen, drawer lighting could be a great choice for them.
Above islands, pendant lights are still popular stylistically. For kitchens that have shorter ceilings or taller ceilings, our designers will help you find a choice that is not only stylish but functional in your space.
We frequently recommended adding dimmers to your lights, especially in the kitchen for adjusting the lights as the day goes on. This way you have adequate lighting when you need it and dimmers when you'd like.
There's so much you can do when it comes to layering lighting in your kitchen, read more about the subject here. As far as your whole kitchen goes, bringing in white cabinets is another effective way to brighten the whole space.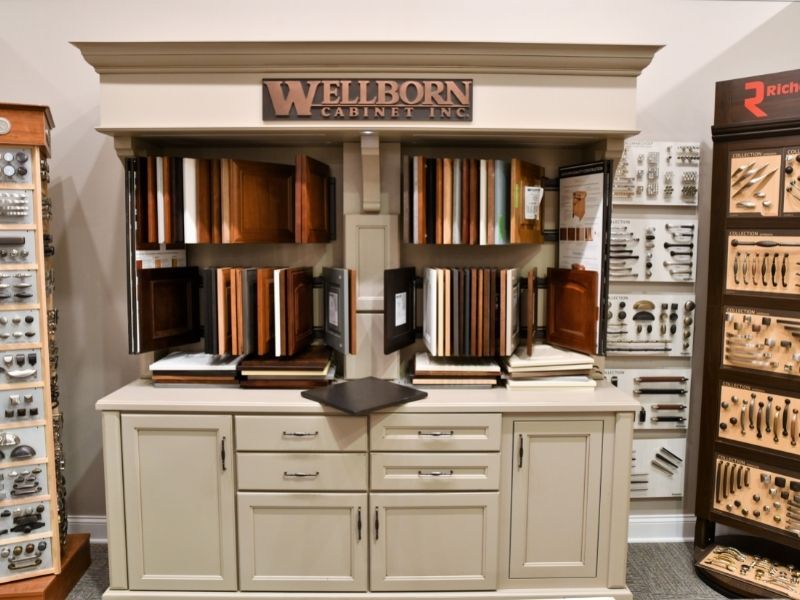 Ready to Get Started?
The In-Home Consultation
You may be wondering if it's possible for a designer to come into your home and let you know what needs updated. We absolutely can do this, we do it every day.  The benefit of our Cabinet World Personalized Design experience is getting to meet with our clients in their own homes to get a better idea of what will work well in the space.
Our experience includes in-home visits to figure out how you live in your space, understand what you're looking for better, and get an idea of what can work in your kitchen. This evaluation becomes a package of things which our team then puts altogether in a kitchen design. We offer personalized suggestions based on our expertise. We ask you what you want to do in your kitchen, we don't tell you.
When it comes to kitchen remodel, Cabinet World can handle everything from start to finish. With our Personalized Design experience, our designers are working with you from step one all the way through contractors completing your installation and remodel. Some of our clients prefer to do a little bit of the work, and that's great too! Our team is happy to meet you where you're comfortable, from simply buying the product and installing yourself to our professional contractors taking care of everything.
For those who are looking to buy just the product, our team will come out to your space and measure the room to be sure you're getting exactly what you need. We also ensure that family members and the team who's planning to install are equipped with the skills to do so – we don't let you fail. Our contracting team will make sure that you know what it takes to get the cabinets installed correctly and looking great.
Browse Our Thousands of Samples
Oftentimes the easiest way to get an idea of what you like and what will look best in your space is by visiting a showroom and seeing what's available.
Our Cranberry Township and Cannonsburg showrooms are open for stop-ins or appointments. Take a look at our hours here. Our gorgeous showrooms offer thousands of samples that you can look through for everything from cabinets to countertops to appliances. If you see something you like, you can sign it out and actually bring samples to your very own home! When you're working with our designers, we encourage you to borrow samples to help as a comparison when it comes to picking flooring and countertops, for example. You may want to just stop into one of our showrooms just to look around and browse. Many customers end up being at the showrooms for a couple hours because of how much there is to look at and to take in.
Another great option is to check out the different manufacturers that Cabinet World works with to their offerings. The Cabinet World Facebook and Instagram pages also feature photos of Cabinet World work and cabinetry options available to our customers. If you'd prefer to get some ideas before coming in, browse online at some options and our designers would love to hear your thoughts. If you're totally unsure, that's okay too! Our design team is happy to meet you where you are.
Are you wondering if it's time to remodel your kitchen and not sure where to get started? Browse through our designs to be inspired by what others have done before. You can also read up on the FAQs of Kitchen Remodeling or become familiar with these 10 Common Kitchen Remodel Myths. If budget is a concern, here's a guide on how to set one up. If you're ready to dive right in, request your free consultation now to start the process.