Throughout the past year, it has become clear that we're spending a lot more time in our homes. It is evident, now more than ever, that the kitchen really is the heart of the home.
Working from home is on the rise which means you're likely going to be spending even more time in your kitchen than you may have before, and this space in your house should reflect your lifestyle accordingly.
From both functional and stylistic viewpoints, we have taken a look at the kitchen trends expected to be on the rise in 2021.
Take a look and see what updates you might be interested in making in your own home. During our Personalized Design experience, our team of designers at Cabinet World will work with you step by step through a kitchen remodel, ensuring that your needs will be met in your new space and leaving you with a stylish, updated kitchen.

Two-Toned Kitchens
Your kitchen cabinets are a key focal point in the design of your space. With countless options, choosing colors and styles can appear as overwhelming, but that's where we come in.
Do you want to bring in both open shelving and closed cabinets but aren't sure how to mix the two? Are you envisioning going bold with a color but are uncertain of what tone would look best in your home? Whatever your cabinet questions are, our team is here to offer suggestions and walk you through a process that can otherwise seem a bit daunting.
Two-toned kitchens is a design choice that we're seeing a surge in demand for. What is a two-toned kitchen? It features two different colors or styles of cabinetry. Achieving the two-toned look can be done in a variety of different ways
A popular implementation of two-toned cabinets is creating a focal point that's a contrasting or complimentary color or design from the rest of your cabinets. Oftentimes, this focal point is the kitchen island. Set it apart by choosing a fun cabinet color or mix it up by going darker to contrast with a lighter hue in your main cabinets.
Another way to use two-toned cabinets is to have the top and bottom cabinets be different colors, stains, or styles. Cabinets paired in this way allow you to maintain a traditional, more neutral colored cabinet for one part of your space and pair it with a more colorful option for the other. Typically the lower cabinets rock the colorful hue while the upper ones are left off-white, white, or a natural wood finish. A natural wood palette in a space can be diversified by having a portion of the cabinets painted a certain color. The high-contrast look between the two cabinets achieves a pop of color without the full commitment of going with a single-toned cabinet design.
A two-toned contrast doesn't have to mean bringing color into your kitchen, though. Another tactic is to contrast finishes. A more modern, dark brown cabinet scheme can pair nicely with stainless steel cabinets, for example.
Two-toned kitchens create visual interest, contrast, and color diversity in a kitchen. Pairing hues and materials together is something our team will walk you through during our Personalized Design experience, ensuring that the cabinet options you choose will look perfect for your home. We will consider factors like use, wall color, flooring, etc. to find the perfect match.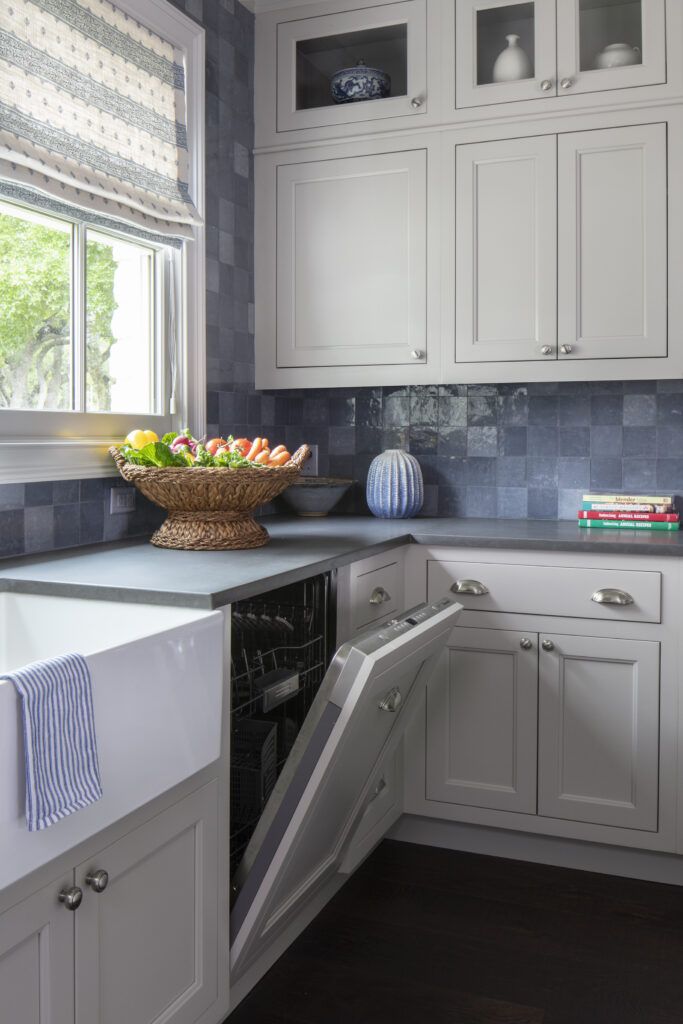 Concealed Appliances
While 2021 may bring lots of new devices and updated technology in kitchens everywhere, that doesn't mean that we want them showing in our kitchens. In fact, discreet kitchen storage has already been implemented in many homes and the demand is predicted to increase. Whether it's your fridge or dishwasher, or every appliance in the kitchen itself, we offer a large range of cabinet options that can achieve the goal of concealing your kitchen appliances while still maintaining their functionality and ease of use.
Concealing your appliances can be done in a few ways. Your fridge or dishwasher can be concealed by installing cabinet doors on them that match the rest of your cabinets. These pieces of your kitchen will blend in with the rest of the design, creating a cohesive all-in-one look and reducing visual clutter.
You can also hide appliances that are as small as your toaster and coffee maker. Tucking these smaller appliances away can decrease clutter, increase counter space, and create a cleaner look. Counter-top appliances like your coffee maker and blender can be stored in a countertop level cabinet that offers easy access.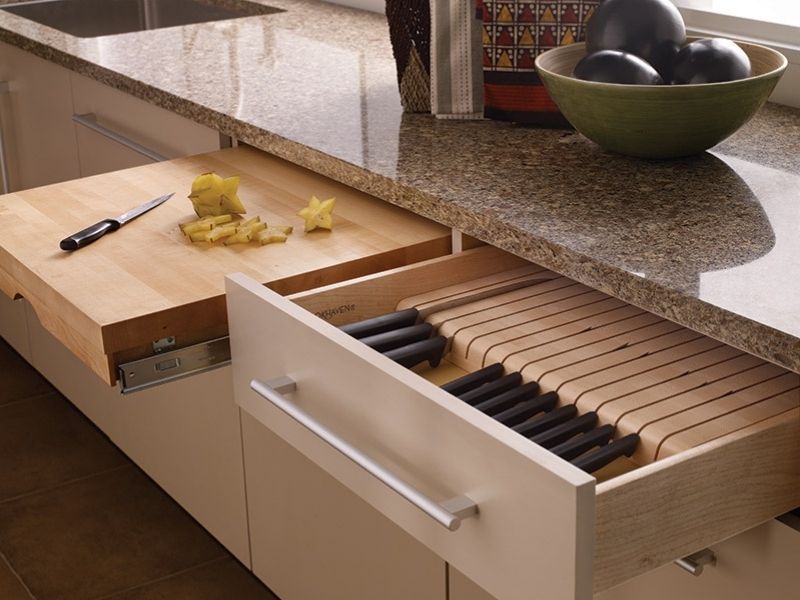 Smart & Personalized Storage
Smart storage is a solution for your kitchen that will make all the difference. There are so many great storage solutions out there. No two kitchens look the same, especially when it comes to storage. Everyone's needs are unique to their household.
From cutlery drawers to spice racks, dish drawers and more, there are so many options to make storage more effective and efficient in your kitchen.
It is easy for kitchens to overflow with clutter, but our creative storage solutions can keep that under control! This practical and easy-to-incorporate trend will reduce clutter and open your space, making it both functional and stylish.
As part of our Personalized Design experience, our team will take a look at your space during our home visit and sit down with you to discuss what your needs are. Based on that, we will suggest what types of storage are best to include in your kitchen.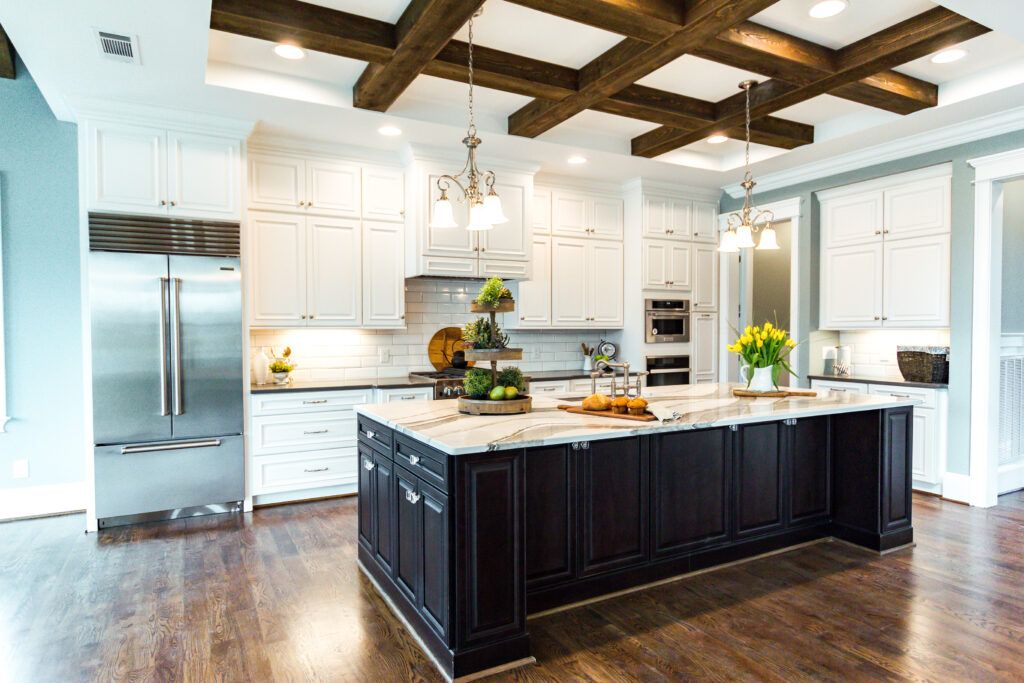 Natural Wood Finishes
You can't go wrong when it comes to incorporating wood finishes in your home, especially in the kitchen. This trend has been around for several years and is going strong into the new year.
Wood pieces and tones bring natural beauty, pairing well with a variety of design styles. You can go big with natural-toned cabinets, wood kitchen island or chairs, or simply by adding natural wood accents to your countertop or walls.
The Modern Farmhouse look has been popular for a few years and is continuing to maintain its standing. Some people are straying away from all-wood cabinets in pursuit of a more modern look, but are still looking for ways to bring the material into their space. Warm wood accents brought in will balance neutral-hue cabinets and colors to achieve the farmhouse look in a contemporary way. Wood adds a rustic touch and when paired with more current cabinet styles and accessories, it achieves a sought-after look.
If you're interested in learning more about farmhouse design that has a modern twist, read our blog post that delves into The Modern Farmhouse style.
Bring comfort and warmth to your kitchen by adding in some wood details in the new year.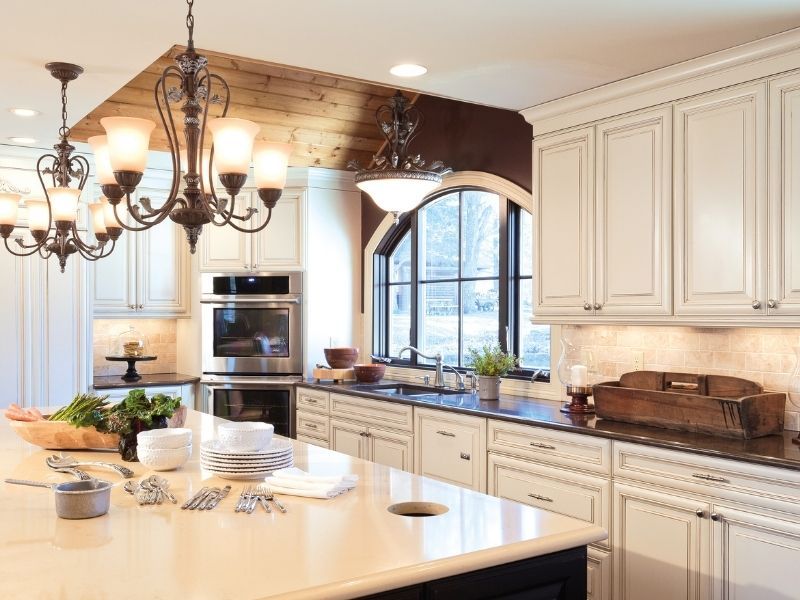 Warm Earth Tones
Earth tones in general are a major design trend for 2021. Major paint brands have chosen their 2021 colors of the year to be reflective of the recent trend to spend more time at home. Color trends are moving toward creating homes that exude feelings of relaxation and comfort.
Serene blues, sage greens, creamy yellows, soft neutrals, and dreamy pastels create a calm base. But we're also seeing trends for brighter colors to make their way into designs to offer cheerfulness. A balance is created between calm hues and color pops, which we'll discuss further below.
Pops of Color
More and more people are choosing to bring pops of color to their kitchens. Pops of color in the kitchen represents pops of personality, something we always love to see in kitchen designs. You and your family will spend countless hours in the kitchen, so making it unique to you makes all the difference.
The great thing about bringing color into your kitchen is that it's an effective design tactic without major commitment. A fresh color of paint on the walls is an easy and affordable option that makes a big impact. Painting a wall is an option that is more low commitment and can be easily updated should you tire of it.
Whether it's some colorful dishware displayed on an open shelf, accessorizing with patterns and colors in mind, or a full kitchen remodel, bringing color to the kitchen is a task that can be done in many different ways. Kitchens are full of color opportunities.
Not sure where to begin in your own space? Take a look at our blog post, How to Incorporate Color in Your Kitchen for more ideas and inspiration. Our design team will be happy to offer tips and tricks for completing the kitchen you're dreaming of.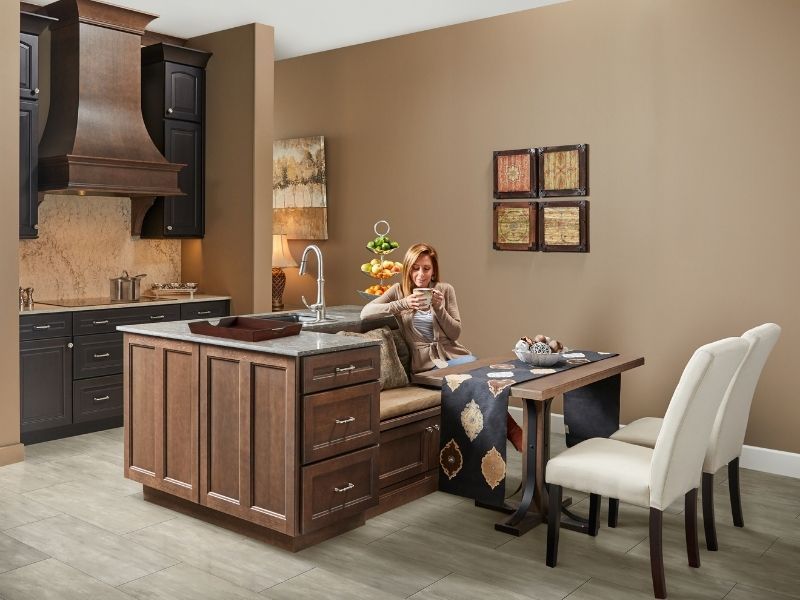 Dining Islands
These days, kitchen islands are a must have. We are big fans of the benefits they bring to a kitchen like extra storage, additional preparation space, and more. Check out our blog post What You Should Know about Kitchen Islands where we dig deeper into the subject.
We're sure you've heard of kitchen islands, but have you heard of dining islands? Dining islands are islands that specifically have a seating area attached to them. Dining islands often look like a table attached to the island, sometimes at a varying height level to separate it from the main base of the island.
Multi-level islands are big right now. Playing with varying height levels offers more options for seating and food prep.
A dining island will look different for every home. The size, style, and number of seats will be determined by the amount of space in your kitchen. There are many options, so you'll be sure to find something that will best suit the needs of your family. Our team will work alongside you to determine how a dining area may be able to be incorporated into your space.
Not only are dining islands stylish, but they're practical. There are an abundance of benefits to having extra seating in your kitchen. A table in the common area of your home fosters togetherness for families by creating a multi-functional space that can be used for family dinners, quick breakfasts, doing homework, hosting guests, or just hanging out.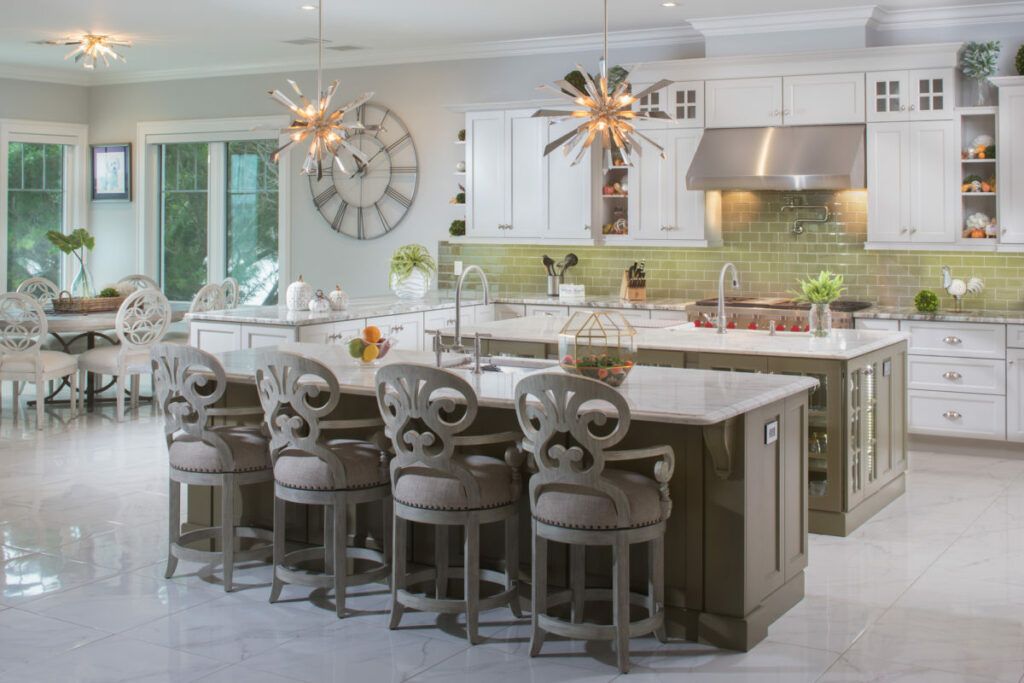 Double Islands
Islands are amazing as they are, and twice as amazing when they come in two! Double islands are a dream – they bring double the extra storage, double the extra prep space, and so much more. This kitchen feature is all the rage for 2021.
With the move towards larger kitchens in open floor plan homes, the kitchen island has become an essential piece of kitchen design. When space is no object, a pair of islands offers double the luxuries.
Because space is a key factor when it comes to double islands, our team will take a look at your kitchen during the home visit portion of our Personalized Design process. We'll then be able to talk about what kitchen island options are right for your needs and your space.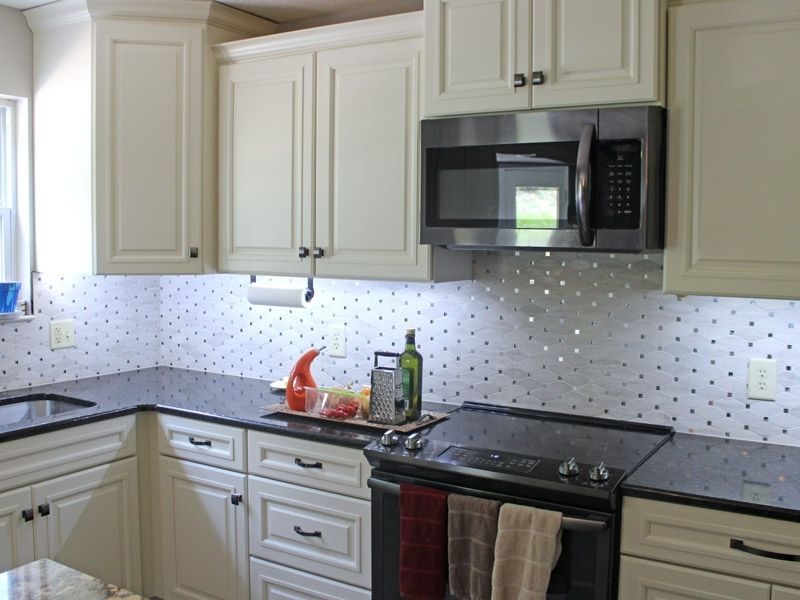 Bold Backsplash Statement Walls
Take your kitchen to a new level with a backsplash revamp. A popular way to freshen up kitchen design is to change out traditional backsplashes and create a backsplash statement wall.
Tiles for your kitchen backsplash come in almost every color, shape, and style imaginable. They offer another opportunity to personalize your kitchen design. Try pairing the backsplash with neutral-colored cabinetry and countertops to emphasize the contrast even more. Your imagination can run wild in our Kitchen & Bath Designer Centers in Cranberry Township, Canonsburg, and Center Township, where we have hundreds of backsplash options that you can browse. Upon your arrival, one of our professional designers will be assigned to you and can answer all of your questions and make suggestions.
Update your backsplash with color and personality to bring instant character to your kitchen. If personality is something you're looking to add more of, you'll want to read our blog post, 7 Ways to Add Personality to Your Kitchen.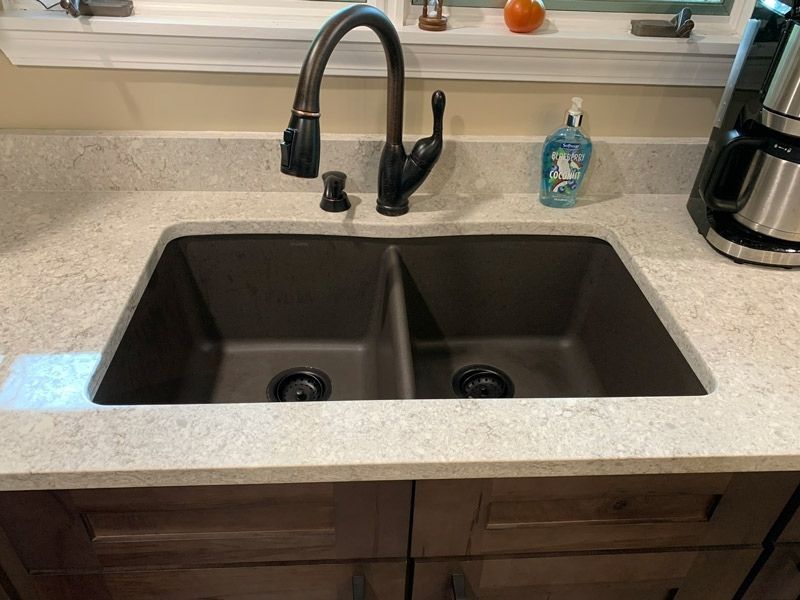 Fashionable Faucets
Adding a splash of uniqueness to your space can be achieved in a way that many may not consider – a fashionable faucet. Your kitchen sink is a critical piece of your space. It's used many times on a daily basis, so choosing the right sink for your needs is important. We know that small things can make a big impact in the cooking space.
Kitchen taps are now available in a wide variety of colors and finishes and sinks are right behind them. While these elements have previously taken a back seat in the world of design, sinks have moved up on the scale of importance in overall design. They can be functional while making a statement.
From single basin or double basin choices, a detachable faucet for ease in cleaning dishes, to twist knobs or handles, there are plenty of features that can be chosen based on your needs and preferences.
A fun twist to the trends this year is bringing some color to the kitchen through your sink. Consider a copper, bronze, or even a strong blue or red sink to bring a boldness to an area of your kitchen that typically doesn't get a lot of attention.
We saw brass make a big comeback in 2018, and now mixed metals are coming in with force. Mixed metals offer more personality to a space that otherwise has a more uniform color palette.
Handleless Cabinets
A sleek and modern choice for kitchens that's growing in 2021 is cabinets without handles. This minimalist choice creates clean lines and a clean look.
Push-open and close door cabinet options means it's now possible to say goodbye to cabinet handles in both upper and lower cabinets. If you're going for a more free-flowing design with a seamless look, going for handleless cabinets will successfully create a contemporary look in your kitchen.
New year, new kitchen! The beginning of the year is a great time to budget, envision, and plan for your kitchen remodel. If you are planning a kitchen remodel for your home, be sure to check out our guide of How to Budget Your Kitchen Remodel, look at our tips about How to Create a Family Friendly Kitchen, and learn about The FAQs of Kitchen Remodeling. If you're looking to learn more about if your home is ready for a remodel, take a look at our answers in Is it time to remodel your kitchen?
Tell us about It!
If you end up going with any of these 2021 kitchen trends, we'd love to see it! Get a 'Before' pic of your kitchen first. Then, once your kitchen reaches the 'After' stage, snap a photo again. Post both to Facebook or Instagram and tag Cabinet World PA to let us see it! We can't wait to have a look at your kitchen transformation.