Though kitchen flooring is often the last thing to be installed during a remodeling project, it's far from the least important. Flooring can have a major impact on the style and functionality of your kitchen. Changes to the color, material, and pattern of your kitchen flooring all influence kitchen design. As a result, you'll want to know how to choose the best kitchen flooring for your home.
Choosing the best kitchen flooring for your home comes down to your personal tastes and preferences. The right selection for you may not be the same as it is for a different homeowner, which is why a custom design for your kitchen remodel is best.
You can get a customized kitchen remodel when you work with Cabinet World. We offer something that no other company in the industry provides: the Personalized Design experience. As part of this experience, you'll be able to meet with one of our professional interior designers face to face. Cabinet World designers have the experience to help you choose the best kitchen flooring and so much more.
Start your Personalized Design experience by making an appointment over the phone, online, or at one of our Pittsburgh Kitchen and Bath Design Centers. In the meantime, keep reading to learn how to choose the best kitchen flooring for your home.

Consider How You Use Your Kitchen
As you choose the best kitchen flooring for your home, you'll want to consider how you use your kitchen. Your cooking style is unique to you, and so is the way you work, eat, and clean in the kitchen. For the best experience in the kitchen, you'll want the room to be tailored just as uniquely to you.
So, consider how you use your kitchen, especially as it relates to your kitchen flooring. Kitchen flooring mainly overlaps with the way you use your kitchen in terms of its feel and maintenance requirements. You'll want to account for both as you choose the best kitchen flooring for you.
The Feel of Kitchen Flooring
Certain materials, such as hardwood and vinyl, feel slightly soft and springy. Others, such as stone and marble, are harder to the touch. The differences in feel between various flooring materials can influence your experience in the kitchen – for better or worse. Whether hard or soft materials are the right choice in your kitchen depends on the way that you use it.
If you can remember times when your feet or knees began to ache as you prepared a meal in the kitchen, you may want to opt for a softer flooring material. Hardwood, vinyl, etc. will absorb some of the impact of your steps and lesson the force put on your joints. Softer kitchen flooring materials are therefore an excellent choice if you want to prioritize comfort in your kitchen.
On the other hand, a harder material can work well for homeowners who do not emphasize these comfort concerns. Many choose stone, marble, etc. for their kitchen due to the aesthetic appeal and durability of these materials.
The best feel of kitchen flooring for your kitchen is therefore totally up to you. If you want to focus on comfort, try choosing a type of kitchen flooring which is soft and gentle on joints. When comfort is not your main consideration, feel free to pick from both hard and soft materials.
Kitchen Flooring Maintenance
Maintenance also comes into play as you choose the best kitchen flooring for you and your home. Different types of flooring tend to require different levels of care to make sure they look new and stay in good condition.
For example, stone flooring is typically installed with the aid of grout, a mortar made out of water, cement, sand, and other materials. While the makeup of grout keeps the stone tiles securely in place, its rough surface can collect dust and dirt if it is not cleaned well.
Laminate, by contrast, is sealed with a clear, protective layer atop its surface. This extra protection makes is easier to clean and no hassle to maintain.
Consider how you use your kitchen to determine the right maintenance level for your kitchen flooring. Having pets, a busy lifestyle, or a large family can be reason to choose a low-maintenance material. At the same time, of course, you can always choose a different sort of material if you anticipate being able to care for it.
When it comes to kitchen flooring maintenance, the best choice for your home is ultimately the flooring which best suits the way you use your kitchen – because that's the flooring you'll love the most.
At Cabinet World, we can help you find the best kitchen flooring for you at a competitive price – so that you and your wallet can love the result. To learn more about the way Cabinet World can help you with your next kitchen remodeling project, contact us online, over the phone, or at one of our Pittsburgh Kitchen and Bath Design Centers.

Observe Kitchen Flooring Styles
Kitchen flooring comes in many styles and designs. There's also a wide variety of colors, shades, and hues available in all kitchen flooring materials. So many options may feel overwhelming at first, but don't worry – through the Personalized Design experience, those options can work in your favor. Having a wide selection of colors, patterns, and shapes to choose from means you can tailor your kitchen flooring to your aesthetic tastes.
Kitchen Flooring Textures
Depending on the kind of material you select, your new kitchen flooring will have its own unique texture and feel. For example, hardwood floors are often textured with soft grooves to give the room a homey feeling. This quality of hardwood flooring makes it an excellent choice for the farmhouse design of kitchen remodeling.
Even so, hardwood flooring is available in many other textures – as are different materials. Whether your new kitchen flooring is smooth, slightly grooved, or distressed is completely up to you. At Cabinet World, we can match you with the perfect flooring texture for your aesthetic taste and practical needs.

Kitchen Flooring Colors
There are a variety of colors available for kitchen flooring – even for natural materials such as stone and wood. It's good to consider which color will look best in your kitchen, as the tone of your kitchen flooring can say a lot to your guests. Now is your chance to let your fashion shine (and impress the neighborhood while you're at it).
Hues of kitchen flooring generally fall into three separate categories:
Light Colors
Warm and Dark Colors
Bold Colors
If we have a closer look at each of these categories, we'll start to understand which is best for you and your home.
Light Colors for Kitchen Flooring
Light colors look exactly how they sound. This color palette is filled with white, tan, and other lightly colored tones which give kitchens a crisp feeling.
Light colors can also make your kitchen appear bigger, which is an added bonus for aesthetic design. If you want to learn more about making your kitchen seem bigger without moving any walls, check out these 10 Ways to Make a Small Kitchen Look Larger.
Just be careful not confuse light colors with bright colors, such as a vibrant red or yellow. While a bright color palette can make your kitchen pop, they will not have the same effect as light or more muted colors. So, if you like the look of light colors, remember: stick to whites, off-whites, and/or colors that have been muted.
If you want to incorporate colors into your kitchen that make it appear vibrant and even exciting, consider choosing a kitchen flooring with bold colors. We'll talk more about that category of colors in a moment.
Warm and Dark Colors for Kitchen Flooring
Warm and dark colors, unlike their lighter counterparts, are characterized by rich tones. Examples of warm and dark colors for kitchen flooring include many types of hardwood, from oak to stained maple and more. You could also opt for rich brown, black, or amber hues of stone or another material to achieve the same cozy feeling that warm and dark colors provide.
That homey atmosphere of warm and dark kitchen flooring colors makes them a great choice if you're wondering How to Add Warmth to a Modern Kitchen. That said, many homeowners go for bold colors to accent their modern kitchens.
At Cabinet World, we understand that the style best suited for your kitchen is the one that reflects your taste and even your personality. Consider your aesthetic and practical preference during your next kitchen remodel, and we can bring you the kitchen of your dreams.
Bold Colors for Kitchen Flooring
Bold colors make your kitchen flooring a total fashion statement. Going bold with the color of your kitchen flooring means displaying your uniquely awesome fashion sense through a palette of bright greens, lemon yellow, etc. Whatever color(s) you decide, they'll make your kitchen flooring the center of wowed attention if you choose to go bold.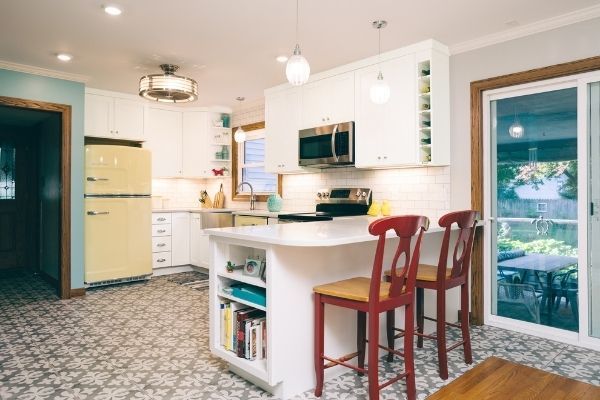 Kitchen Flooring Patterns
In addition to choosing a color palette you love, you can personalize your kitchen with a flooring pattern. The pattern of your kitchen flooring is the shape of each tile and how they fit together when placed on the kitchen floor.
While preparing for you next kitchen remodel, consider using some of the following kitchen flooring patterns. You can use these common patterns as an exact template during your next kitchen remodel or use their design just for inspiration.

Grid
A grid pattern of kitchen flooring is made of perfectly aligned columns and rows of tiles. Each tile is usually square or rectangular, and they all fit together to create, well, a grid.
This pattern of kitchen flooring is a great option for simple designs. Grids are relatively easy to install (as compared to more complex patters) and they give the room a straightforward look. In addition, the grid pattern for kitchen flooring often makes the room look more expansive.

Brickwork
The brickwork pattern of kitchen flooring is similar to a grid. However, where all the tiles in a grid are meticulously and perfectly aligned on all sides, the brickwork pattern gets a little more creative. Each row of rectangular tiles is still aligned horizontally. However, vertical columns creep diagonally to the right/left.
This mixture of organized rows and slanted columns make a brickwork kitchen floor look very similar to an actual brick wall.
The simultaneously common and trendy look of brickwork kitchen flooring allows it to draw some attention without completely stealing the show from the rest of your kitchen. So, if you want kitchen flooring that neatly compliments the rest of the room, a brickwork pattern could work for you.
You can ask one of our professional designers about a brickwork pattern in your kitchen during our Personalized Design experience, which no other company in the industry offers.

Herringbone
The herringbone pattern of kitchen flooring is characterized by rectangular tiles that alternate between horizontal and vertical orientation. Every other tile is positioned to lay lengthwise on the kitchen floor and the others lay widthwise, connecting at right-degree angles like a bunch of letter L's spread out across the floor.
The herringbone pattern of kitchen flooring, much like brickwork, is an attractive choice that adds style to the room without distracting from other aesthetic features. Unfortunately, the herringbone pattern can also be harder to install thanks to the increased complexity of its design.
Thankfully, the added challenge which can come with the herringbone pattern of kitchen flooring isn't a problem if you work with Cabinet World. Our team members have the experience, training, and expertise to complete your kitchen flooring according to this design or any other that you choose.

Diamond
This pattern is similar to the grid design for kitchen flooring. The main difference is that the tiles of a diamond pattern are aligned corner-to-corner, instead of side-by-side.
The subtle difference in placement between a grid and diamond pattern of kitchen flooring gives floors with a diamond pattern a more elegant and detailed look. Without distracting the eyes of kitchen occupants, this pattern enhances the style of the rest of the room.
Other
Thanks to the flexibility of modern flooring production, you can get nearly any pattern of kitchen flooring that you can imagine. This includes hexagonal, checkered, and even custom designs. The wide variety of available selections means that you can find the perfect kitchen flooring pattern of your dreams.
Easily find the pattern of kitchen flooring that you're looking for with Cabinet World. With nearly 50 years in the business, we know all the tips and tricks that will help you find a new kitchen flooring that's just right for you.

Compare Kitchen Flooring Materials
The material with which a given kitchen flooring is made will influence how it works in your kitchen. The longevity, feel, and quality of your new kitchen flooring will in large part trace back the material that you chose.
We're here to help you navigate the pros and cons of the many types of material available. Below, you'll find a quick guide to some of the most common kitchen flooring materials. You can get even more information about kitchen flooring materials when you contact us online, over the phone, or at one of our Pittsburgh Kitchen & Bath Design Centers.
Linoleum, Laminate, and Vinyl
All three of these materials – laminate, linoleum, and vinyl – are synthetic, meaning that they are made from a mixture of plastics and/or other materials. This aspect of linoleum, laminate, and vinyl allow for customization on an impressive scale.
The design of a laminate tile, for example, is made by sealing an actual picture onto the base of the tile. This process of design allows for any variety of colors, designs, and patterns. As a result, there are many different options for laminate flooring available.
Laminate flooring is also made to keep out moisture and keep up appearances with relatively low maintenance. In addition, this kitchen flooring material is resilient, meaning that it softens the blow of footsteps and even falling dishes.
Linoleum also works well for heavy footsteps, since its durability allows this material to stand up to frequent traffic. Like laminate, linoleum is available in a variety of colors, and it is water resistant. Unfortunately, linoleum can be susceptible to staining, but this can be mitigated if you choose a linoleum flooring that has a protective coating.
Vinyl has the advantage of being both waterproof and stainproof. As a result, this material is easy to clean, so that is stays looking and feeling new for a long time. The feel of vinyl is especially noteworthy. Soft underfoot, vinyl kitchen floors make tasks that require standing a lot more comfortable.
Hardwood
Hardwood is comfortable underfoot, as well. Plus, it is known for its durability and long-lasting character. If made with a protective coating, hardwood is even water resistant and easy to maintain. Even unprotected hardwood can retain its quality if sanded and refinished when it has begun to age. These factors make hardwood an excellent choice for any kitchen – and maybe the perfect choice in yours.
Let us know what kind of kitchen flooring you want during your next kitchen remodel – whether it's hardwood, laminate, or something else – and we'll make sure to bring you the product you want at price you love.
Ceramic and Porcelain
Ceramic and porcelain, like hardwood, are natural materials. Made from primarily clay, both ceramic and porcelain are durable and able to endure for a long time. In addition, both are heat resistant and – if made with a protective coating – water resistant.
The main weakness of ceramic and porcelain is their hard surface, which can become hard, cold, and slippery. Thankfully, some tiles are designed to be slip-resistant, and the other downsides of ceramic and porcelain are easily overcome with throw-rugs and slippers.
Ceramic and porcelain flooring can add beauty to the kitchen, however, they may not be the best selection for homeowners who want to prioritize comfort above appearances.
Stone and Marble
Stone and marble have instant appeal when added to the kitchen. For that reason, they could even increase your home's value if installed as part of a real-estate savvy kitchen remodel.
Marble, especially, tends to attract buyers – or simply impress your friends and family. Though marble flooring can chip and so requires a higher level of maintenance, its classic, elegant aesthetic is sure to catch the eye of anyone entering your kitchen.
Stone tends to be more durable than marble, but just as beautiful. There are many colors to choose from when you opt for a stone kitchen floor. Plus, since every piece of stone is unique, so is every stone tile. While this characteristic of stone kitchen flooring makes it difficult to give the room a uniform look, the inherent variety of stone flooring makes it fun and stylish.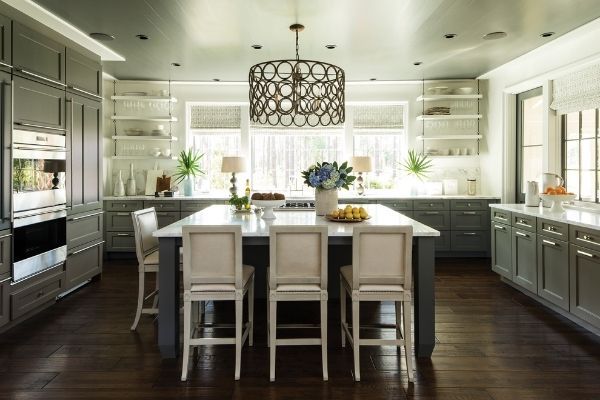 Your New Floor, Your New Kitchen
You can get the style and material of kitchen flooring that you want when you work with us at Cabinet World. You can even get a new kitchen if you choose to complete a full kitchen remodel with us. Every homeowner's style of cooking and working in the kitchen is unique, so your kitchen should be equally unique to match and compliment you.
If you want to look for a kitchen flooring that will work for you and your home, you'll want to stop by one of our Pittsburgh Kitchen and Bath Design Centers, where we have many samples of what we can use in kitchen remodels. We have many options for you to choose from as you prepare for your next kitchen remodel.
You can also take a look at our online gallery or follow us on Facebook and Instagram for more example of our work.
While you're browsing social media, why not use one of the links below to share this blog post with your friends? You can also check out some of our other blog posts, such as Layout Considerations for Kitchen Design and Creative Storage Solutions for the Kitchen.