The kitchen is a natural gathering place, with its reputation for home-cooking and an atmosphere that so often feels warm and inviting. Plus, who can resist following the sweet aromas that drift from the kitchen into the rest of the house? Given these hallmark characteristics of the kitchen, you can expect to find guests congregating there during your next get-together, cook-out, or night-in, which is why you'll want to check out these five tips to get your kitchen ready for entertaining.
We've complied the best advice that will help you get your kitchen ready by remodeling it. Home improvement is a great way to make a room that much better, and we're always excited to help homeowners bring their dream design to life.
One way we can help you get your kitchen ready for entertaining is through our Personalized Design experience. During this experience, which no other remodeling company in the industry provides, we send one of our professional designers to your home. That way, you can show and tell them what you would like for your next kitchen remodel – in the very space where the remodel will happen.
The Personalized Design experience is also a great opportunity to ask a professional designer for remodeling advice. If you ask them how to get your kitchen ready for entertaining, they will give you some pointers based on your specific home. Of course, you can also keep reading for five general tips that will help you prepare for entertaining in the kitchen.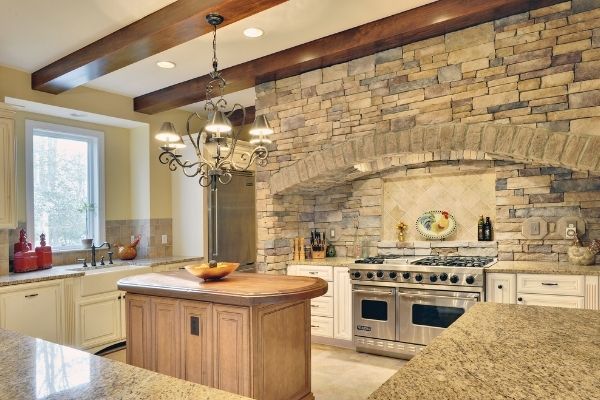 Entertaining Tip #1 – Consider Your Entertaining Style
No two homeowners are alike, and everyone's style of entertaining will be a little different. That means you need a kitchen which is personalized to fit the way you cook, serve, and welcome people into your home.
Let's look at a couple of examples to see how this works.
Say that your entertaining strength lies in outdoor cooking. You can grill a mouth-watering BBQ dinner with plenty of sides in under 10 minutes, using under 10 ingredients. Believe us – we were counting.
If that's you, then your entertaining style is different from a homeowner who prefers indoor cooking.
Say that you enjoy the bustle of balancing a stir-fry on the stove, a cake in the oven, a salad waiting to be tossed on the counter, and homemade iced tea chilling in the fridge. If there's such a thing as juggling a 10-course meal, we know that you can do it with class.
Yet for each of these entertaining styles, you'll need a different sort of kitchen to help you out. A kitchen that has convenient access to an outside patio will easily compliment the homeowner who excels at outdoor cooking. On the other hand, you'll want to focus on indoor-related factors if you plan to entertain inside, such as your kitchen's connection to other rooms.
If you get these two entertaining styles mixed up, you could find yourself with a kitchen that impedes your ability to host, rather than enhancing it.
We'll take your entertaining style into consideration during our Personalized Design experience. Our designers have the expertise to help you create a kitchen that will compliment your entertaining style – and never cramp it. Are you interested to learn more about how Cabinet World can help you get your kitchen ready for entertaining? When you're done reading these five tips, give us a call for a free consultation, contact us online, or visit us at one of our Pittsburgh Kitchen & Bath Design Centers.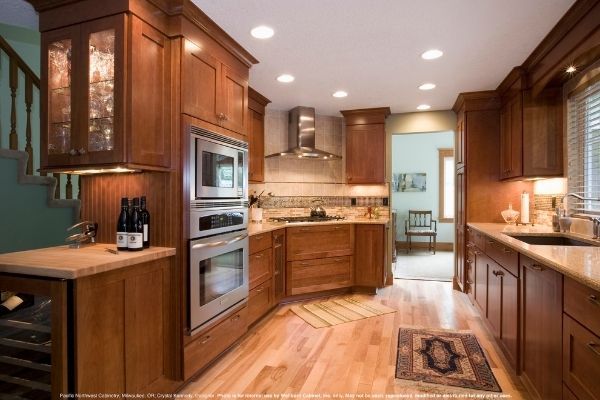 Entertaining Tip #2 – Map the Area
In addition to your entertaining style, you'll want to consider kitchen layout as you get this room ready for entertaining. The size, flow, and accessibility of your kitchen all become very important as more and more people gather in that space.
It's best to avoid any layout design that will contain or limit movement. Open areas always feel more welcoming than cramped ones. Plus, a tight kitchen will make it more difficult for you to prepare food for your guests (at least without bumping into them, at any rate).
Having an open layout in your kitchen doesn't mean that you need to make the room extremely big. Supersizing the kitchen can lead to its own challenges, since cooking is often easier when all of your tools and ingredients are close by. Thankfully, there are ways to make your kitchen feel more spacious without expanding the whole room.
Making a kitchen feel larger involves multiple factors, from lighting to wall color and more. For the purposes of entertaining in your kitchen, we can focus mainly on two.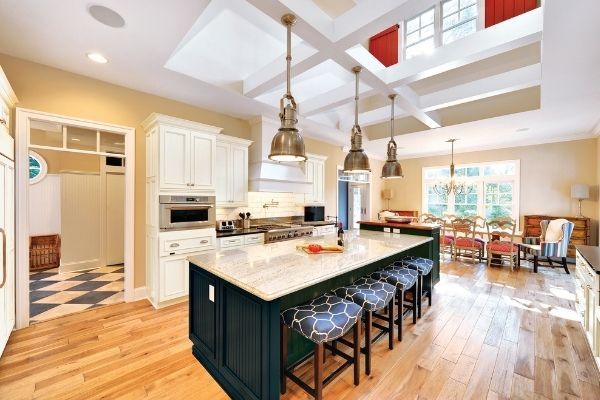 Entertaining in an Open Kitchen: Make it Boundless
If you want to capture the feeling of an open kitchen, consider connecting it to the rest of your home by removing one or more walls. Breaking down a few of the boundaries around your kitchen will free you and your guests to move in and through the room with ease.
Plus, making your kitchen boundless can make entertaining easier in other ways. If you decide to move the action to the living room, for example, you won't have to worry about congestion as everyone exits the kitchen. More importantly: you'll have no trouble taking a load of yummy snacks with you.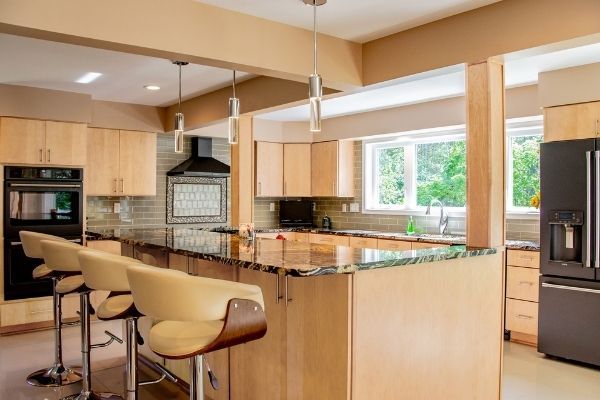 Entertaining in an Open Kitchen: Tap Into the Outdoors
Tapping into the outdoors builds on the same principle as making your kitchen boundless for entertaining. It maximizes that open feeling you want for entertaining and creates a fun, relaxed atmosphere for guests.
Depending on where your kitchen is located, you can connect it to the outdoors in a number of ways. You might install a new window, add a sliding glass door, or simply connect your kitchen to a room that already has outdoor access by removing an interior wall.
Tapping into the outdoors isn't required for entertaining guests in the kitchen. However, when you design the layout of your kitchen in a way that takes advantage of the open air outside, you've just taken your entertainment game to a whole new level.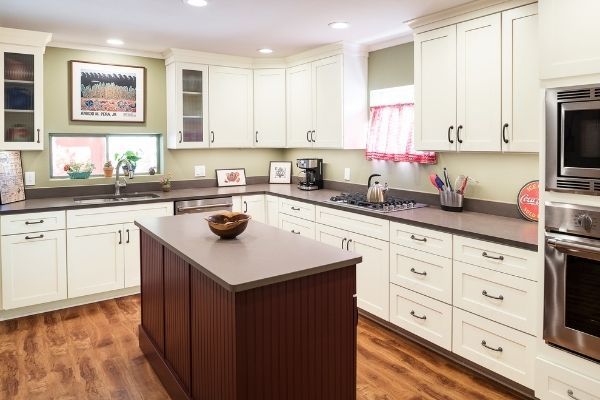 Entertaining Tip #3 – Build Your World
Now that you've laid the groundwork of your kitchen, it's time to make sure that its other features are ready for entertaining guests. A good place to start is with your counterspace.
It's important to have sufficient counterspace for preparing food and for gathering to share a quick snack. In general, you should always have enough space to ensure you don't feel crowded in your own kitchen.
If you need a little more counterspace to start entertaining, you could try installing a kitchen island. This classic kitchen feature makes for a great place to put additional seating, an extra sink – you name it. Plus, having an island will give you more counterspace for preparing and even serving food.
Kitchen islands come in all sorts of designs, shapes, and sizes, so you can find one that will work in your kitchen. It's ideal to have an island that doesn't impede traffic, but still offers enough surface area to be useful.
You can check out A Guide to the 6 Types of Kitchen Islands to learn What You Should Know About Kitchen Islands. If you're considering Designing a Kitchen Island, let us know. We'd love to help you create the perfect island for your kitchen.
We can also get you the best cabinets around. Our American-made brands – such as Wellborn and Showplace Cabinetry – are of the highest quality and perfect for any entertaining need.
Getting your cabinetry right is key to getting your kitchen ready for entertaining. Installing great cabinets during your next kitchen remodel means getting the best kitchen storage solutions. That, in turn, means having everything ready and in its place for the party.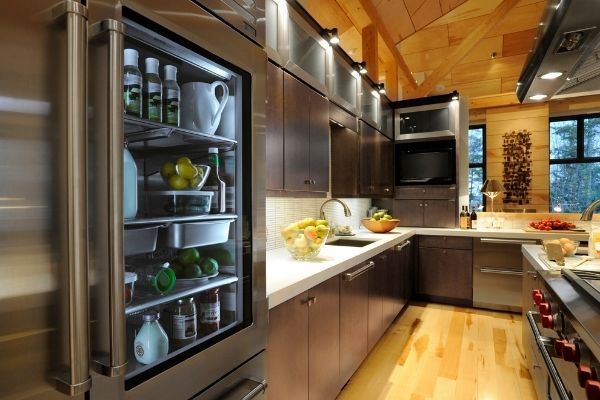 Entertaining Tip #4 – Choose your appliances
Choosing and arranging your appliances is very helpful for getting your kitchen ready for entertaining. You'll want your fridge, dishwasher, oven, etc. to be optimized for welcoming guests into the heart of your home.
So, consider the aesthetic and practical condition of your current set of appliances.
Is your fridge easily accessible? This will be important if you plan to incorporate self-service into your future parties.
Do you have a coffee pot or espresso maker? If you plan to have friends over for coffee or tea, it's important to have the right tools.
In addition, you should also consider the arrangement and aesthetics of your kitchen appliances – especially the larger ones. It's a good idea to make sure that your fridge door won't impede the entry way, for example, or that your cabinets don't block or stifle any lights.
If you want to learn more about arranging the features of your kitchen for optimal use, you'll want to read Mastering the Three Zones of Kitchen Storage.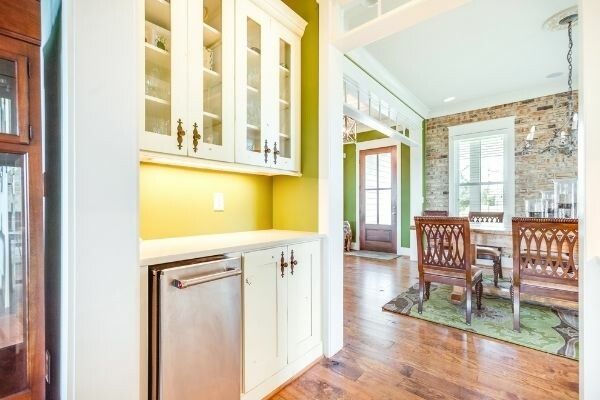 Entertaining Tip #5 – Have Fun With Flare
Finally, a helpful tip to keep in mind is to let yourself have a little fun. Kitchen remodels have gotten a reputation over the years for being stressful and frustrating – but that isn't how your next home improvement project has to be.
When you work with Cabinet World, we give you The Remodeling Process, Made Easy. We ease the burden often associated with kitchen remodels, so that you have the best experience possible. If you want to learn more about how we make the remodeling process for you, not against you, feel free to visit one of our Pittsburgh Kitchen and Bath Design Centers. You can also give us a call for a free consultation or contact us online.
In the meantime, reduce home improvement stress by remembering this: remodeling your kitchen – whether it's to get ready for entertaining or for any other reason – is a unique opportunity. Have some fun designing the coolest kitchen in town! You'll be able to wow your guests when you start entertaining in your newly remodeled home.
Some ways that you can add flare to your kitchen include incorporating color in the room and getting creative with the lighting.
You can even combine color and your kitchen's illumination through decorative accent lights. Some accent lights are designed to line countertops or cabinets, which give the kitchen a fun, modern look.
If you want to try a more rustic look, why not try The Modern Farmhouse?
Our designers can help you create whatever look you're going for in your kitchen. Showcase your style by working with Cabinet World. We always give you the kitchen you want.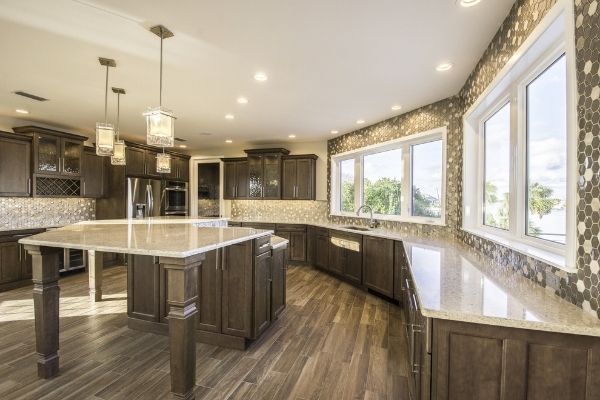 How Have You Gotten Your Kitchen Ready for Entertaining?
Have you tried out our five tips to get your kitchen ready for entertaining? Let us know – we'd love to see how you incorporated these helpful tips during your Cabinet World remodel. Tag us in photos of your new kitchen on Facebook or Instagram.
If you liked reading these five tips to get your kitchen ready for entertaining, then you'll want to see How to Create a Family Friendly Kitchen. Plus, check out the 9 Features to Make Your Kitchen More Efficient. Think a friend would benefit from this information? Feel free to share it with them, too.