Designing a new kitchen to eat and be merry in is an exciting opportunity! You may turn to the internet or magazines and start collecting pictures of other kitchens that you find beautiful and inspiring. While it's important that your new kitchen be beautiful, it's also important that it fits your lifestyle! We've compiled a few of the latest features available in custom kitchen cabinetry that may make your space more efficient for you!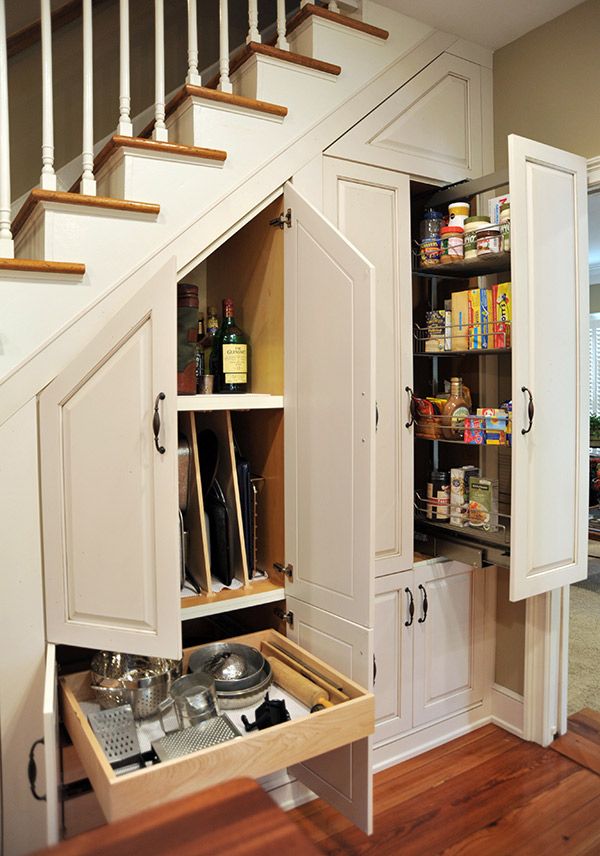 Storage Under the Stairs
If you need more pantry storage or a home for all your cookware, the first place to look is where space is being wasted! This cabinetry installed under the stairs doesn't take up any extra square footage but adds lots of storage space. This particular design makes things even more accessible with drawers that pull out as well as a cubby with tall dividers for oversized pots and pans.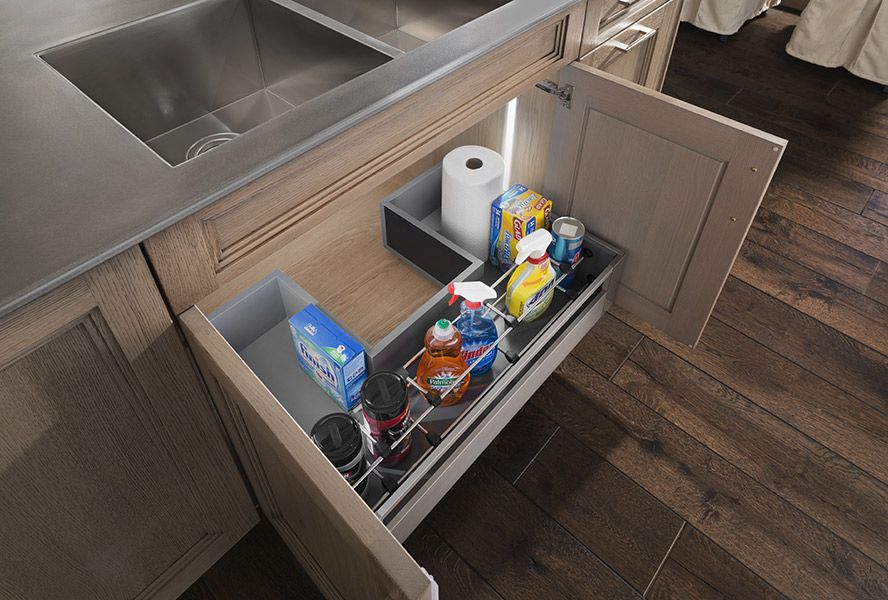 Storage Under the Sink
Another area in your kitchen where space may be wasted in underneath the sink. This pull-out drawer system will keep this area organized and make its contents easy to reach. No more digging into the back corners for that extra sponge or trash bag!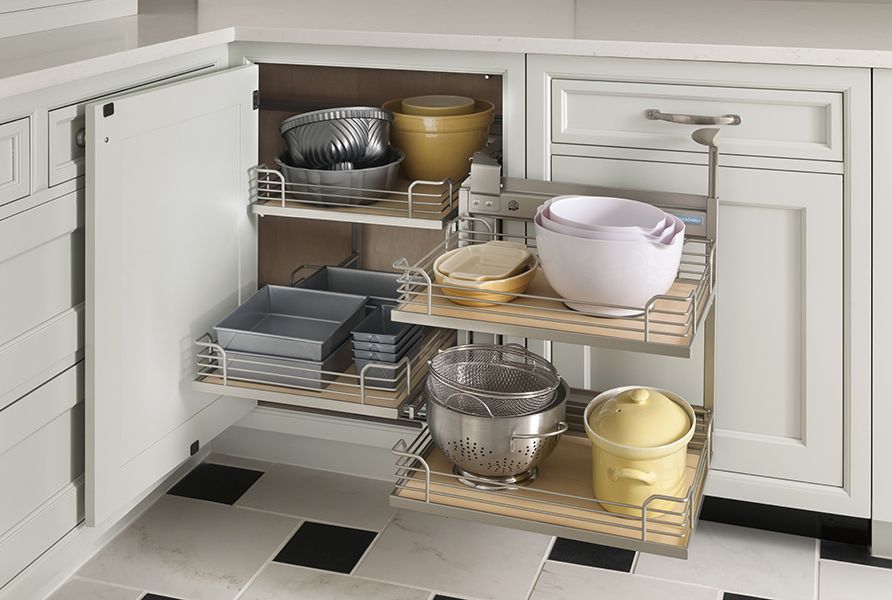 Magic Corner System
Speaking of accessing places that are normally hard to reach in a kitchen, the back of a corner cabinet is another culprit. The Magic Corner System will save you from having to get on your hands and knees to reach its farthest depths. This feature has two storage shelves that pull out of the corner to you in one fluid motion.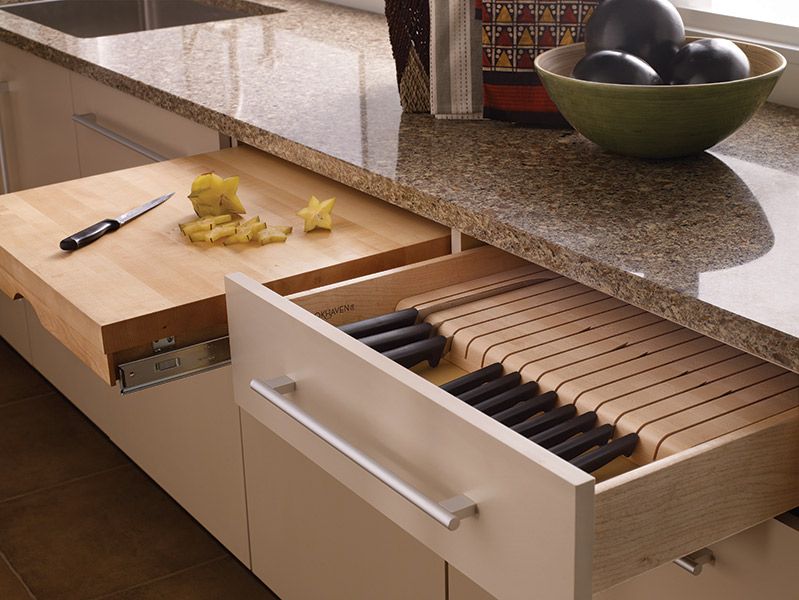 Knife Block and Chopping Block
Save space on your countertops by having pull-out cabinetry that stores your knives and serves as a chopping block. The chopping block can also serve as a handy landing space when your countertops are full and you're in a pinch!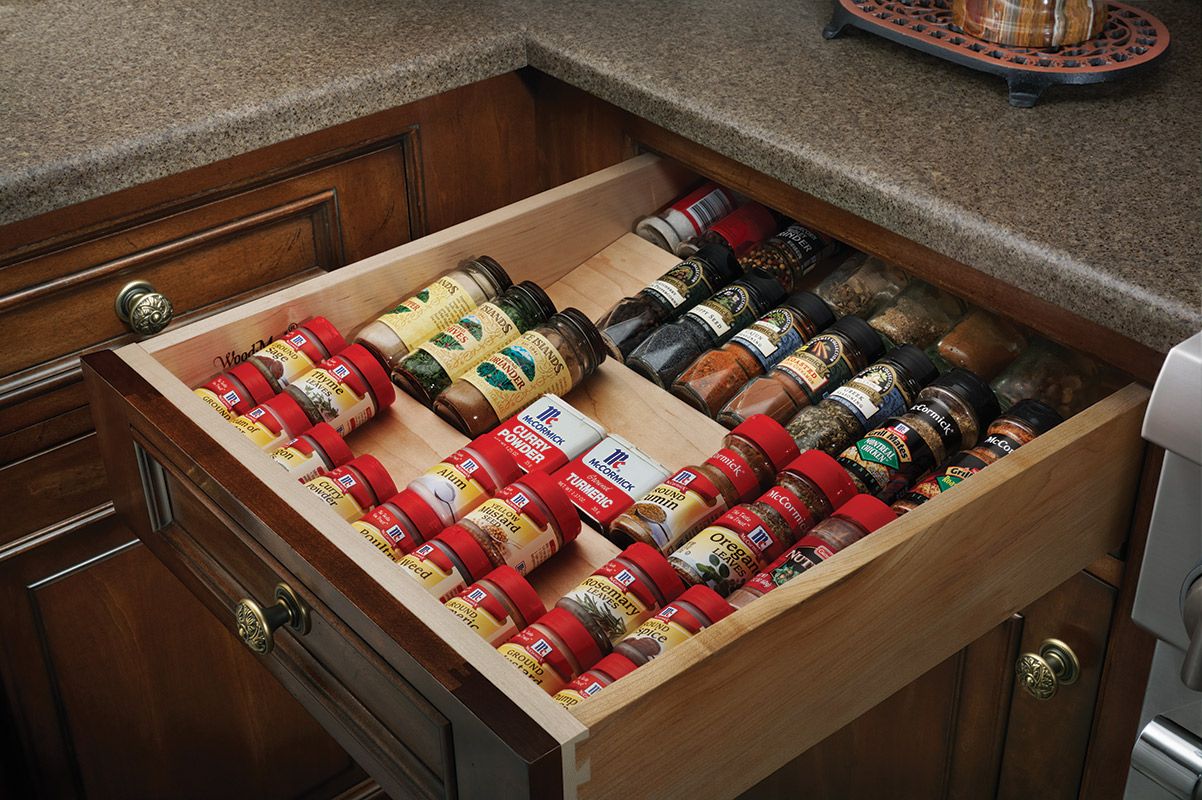 Spice Drawer
While spice drawers have been around for some time, they are an important feature to consider putting into your kitchen if you use them frequently. A flat drawer which is pictured here offers easy visibility to its contents while a vertical spice rack can be a great solution if your space is a little tight.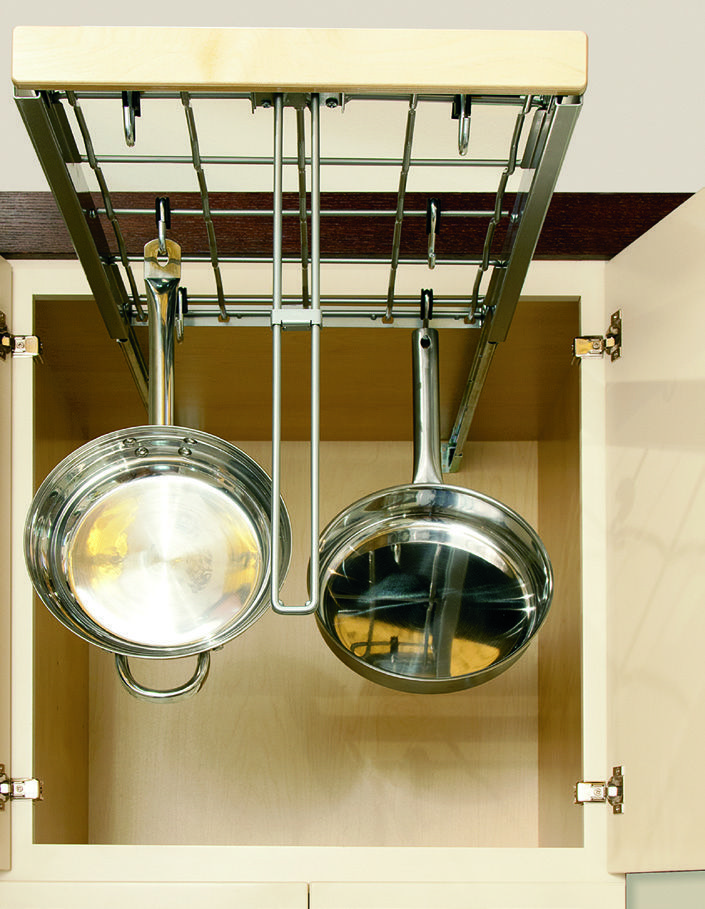 Hanging Pot Storage
If you're tired of undoing the Jenga puzzle of stacked pots in your cabinets, this hanging pot storage may be the perfect solution! It simply hangs your pots by the handle, and this system pulls out of your cabinet, so the pots hung in the back can be easily reached.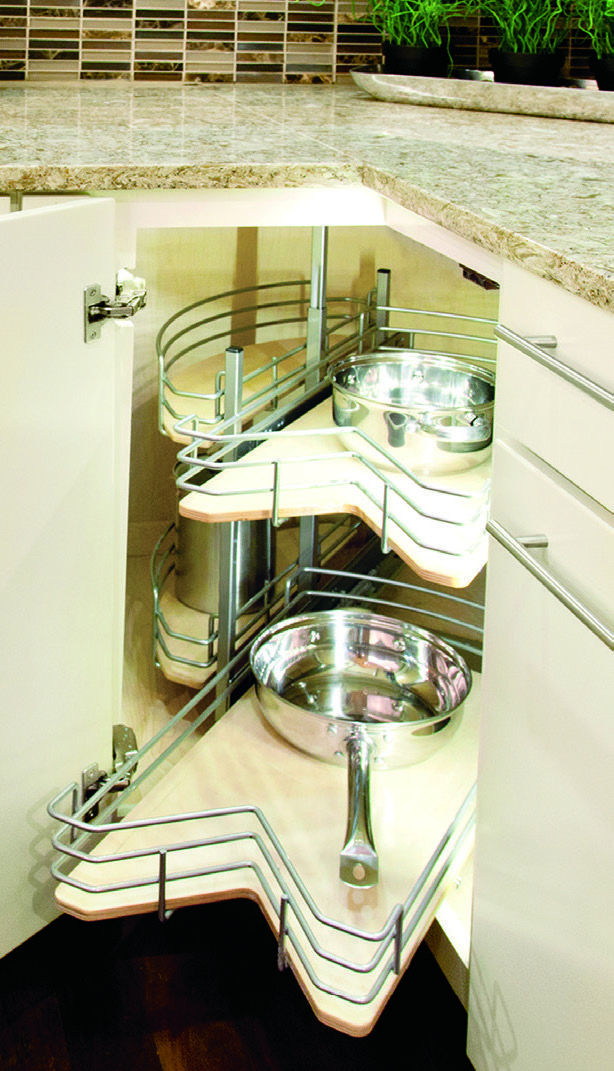 A New Take on the Lazy Susan
Installing the traditional turn-table, Lazy Susan system in the kitchen is a common way to maximize the corner cabinet space. But, there are alternatives! The drawers in these systems pull out to increase accessibility.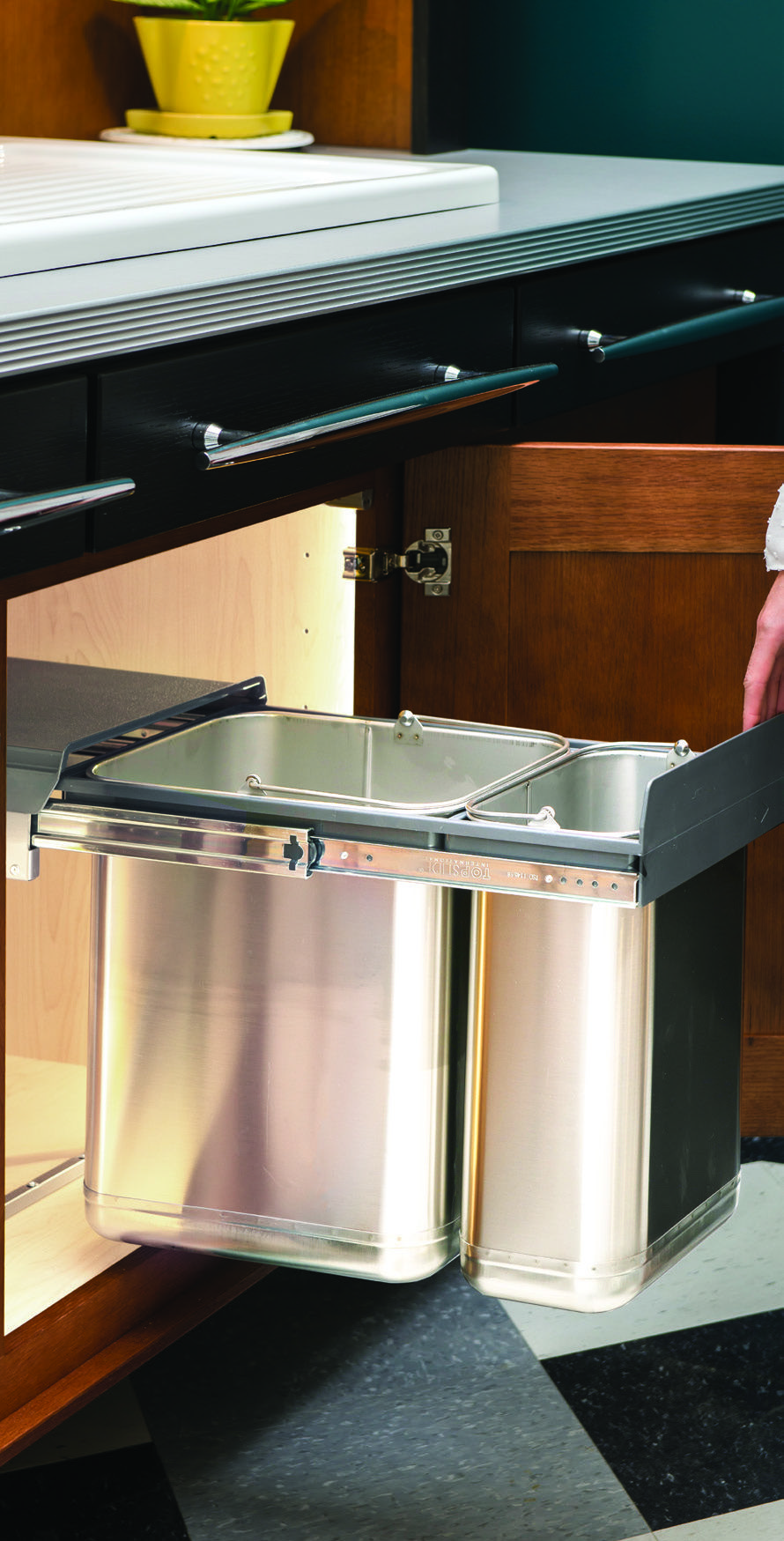 Waste and Recycling Bin Cabinetry
In a recent study by Houzz, pull-out waste and recycling bins is the #1 upgrade people who are renovating their kitchen want. This system offers many benefits, such as its seamless integration that puts your mess out of sight and out of mind, but still within reach for easy clean up.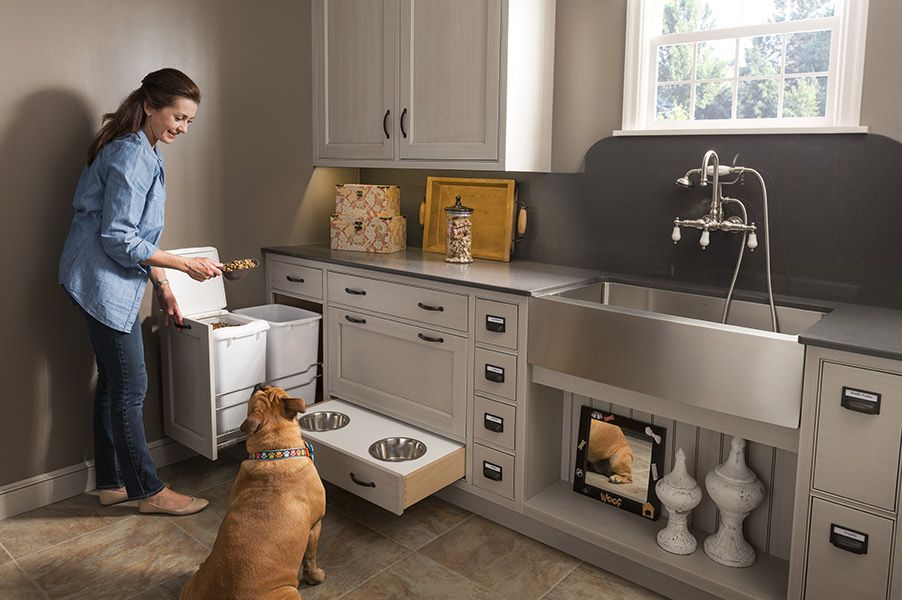 Dog Bowl System
When renovating or building your kitchen, remember your four-legged family members! The same system we mentioned above can be utilized for dog food storage as shown here. A pull-out dog bowl drawer is the perfect touch for putting away the bowls once their meal is over!