When designing your new kitchen, there are many decisions to make from the lighting to the floors and everything in between. It's not enough to pick colors, materials, textures, and styles – you also need to consider how all the things that make a kitchen work together to create a gorgeous space that works functionally for you.
Of course, this isn't a journey that you need to undergo alone. Thanks to our Personalized Design experience, we'll be with you every step of the way from kitchen design to construction.
During the design phase, our team of professional interior designers will use their knowledge and experience to arrange all of your kitchen's components in a way that is both efficient and stylish. There are many considerations to make when creating the best kitchen layout possible. For example, the room's ventilation, lighting, and even placement of the sink, refrigerator, and stove are best when meticulously planned. Another trick of the trade to designing a kitchen with a great layout is paying attention to the three zones of kitchen storage. Doing so will help you find a place for everything that your kitchen needs to hold. If you're asking yourself, "What kind of storage space do I need?", the answer can be found by taking a look at these three zones. We'll delve into what each of these zones are and the importance they play in kitchen design.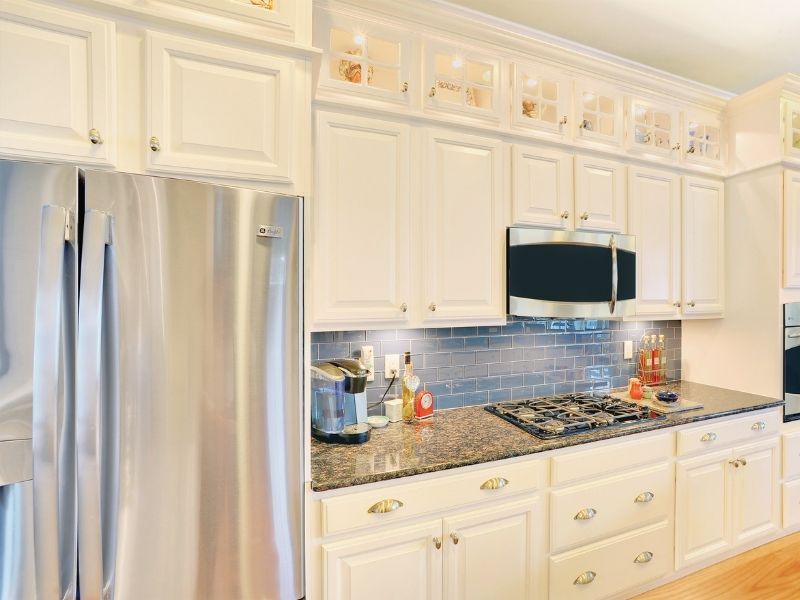 Kitchen Storage Zone 1: The Refrigerator
Did you know that the average person opens their fridge 22 times a day? It's no wonder – the fridge often holds all of our favorite snacks and beverages, as well as ingredients necessary to prep meals.
As your refrigerator serves as a place to store groceries, having the refrigerator close to your kitchen's entrance is ideal. Furthermore, having a countertop close by to sit your groceries on as you put them away will save you time and effort.
When it comes to meal prep, storing your other staple ingredient items near the refrigerator can make the job faster. Dry goods (such as cereal) and the refrigerator's contents will all be within easy reach if placed together. Since this zone is the first stop of food preparation, it is best to place other small tools commonly used close by. This may include but certainly isn't limited to coffee makers, food processors, blenders, mixing bowls, measuring cups, and even recipe books. These items can be left out on the counter, placed in a drawer, or even hidden behind an appliance garage for a sleek look.
Once the meal is over, leftovers usually find their way into the fridge. Placing storage containers in this zone will make clean-up a breeze. The refrigerator zone is also a great place to store brooms, mops, and dustpans.
BONUS TIP #1: But where should you place your cutting boards? Our recommendation is storing them at a midpoint between your refrigerator and the second zone of kitchen storage – the sink. Doing so will allow you to access the cutting boards on your way from the fridge to the sink, where cutting and dicing often takes place.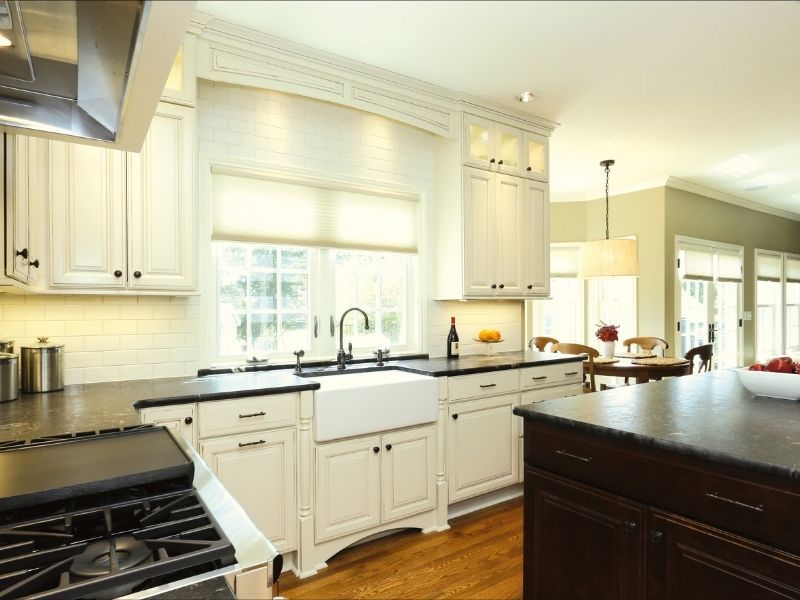 Kitchen Storage Zone 2: The Sink
The kitchen design "Triangle Theory" says the refrigerator, sink, and stove should form a triangle to make meal prep as easy as possible. The three zones of kitchen storage fall in line with that way of thinking, suggesting that the sink should be in between the refrigerator and stove zones for optimal efficiency. Sinks actually get the most use out of any area in the kitchen, so the way that the storage works around it is especially important.
Sinks are also critical to prepping meals, so having uncluttered countertop space around it is important. This will assist you when you're cleaning and cutting your ingredients. To take the area's efficiency a step further, placing waste and recycling bins within reach can help you dispose of things effortlessly. Waste and recycling bins can be built into your cabinetry, hiding food scraps and other undesirable objects from pets, children, or even guests. If you're interested in other routes to a family-friendly kitchen design, take a look at our article on the subject here.
The sink zone is an excellent place to house your dishwasher as well. This will let you place used dishes immediately into the dishwasher from the sink. To make unloading the dishwasher as easy as possible, store your flatware, knives, glassware, and dishes in this zone as well. As many hand wash and dry some of their kitchen elements, it's also important to include space to store sponges, towels, and other cleaning or drying equipment in this area..
BONUS TIP #2: Although the points we're outlining here are important, these rules are not set in stone, and can vary depending on your needs. If your family has dedicated coffee drinkers and you place your coffee maker near the refrigerator, placing your mugs there may work better for you than storing them in the sink zone. Likewise, if your refrigerator has a water dispenser, placing glassware there may work best. Our Personalized Design experience will help determine where everything's proper place should be.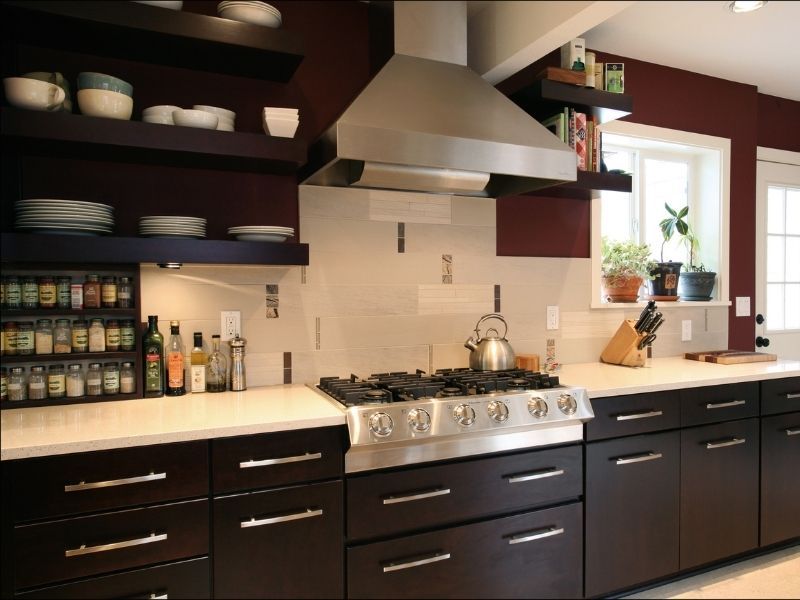 Kitchen Storage Zone 3: The Range & Oven Area
The last zone to consider in the kitchen design process is where the cooking happens! Your kitchen may have a range – a combination of a wall oven and cooktop. Regardless, this zone needs to house all of your cooking needs.
Pots, pans, spices, stirring utensils, potholders, and warming appliances need to be nearby. There are many configurations of storage solutions to help this happen. Spices can be placed in a spice drawer or pull-out spice cabinet. The same can be said for any type of stirring utensil. Depending on the type of oven area you have, pots and pans may be able to be placed under your cooktop in drawers. This allows you to access your desired tool and place it on the stove in seconds.
Once the food is prepared, you may need to quickly set it down. Having heat-proof surfaces and ample countertop space is important in this zone. It's beneficial to have anything necessary for serving in this zone as well, such as bread bins, bowls, and platters.
BONUS TIP #3: To get hot food onto the table quickly, place this zone close to your dining area.
The best kitchen is one that makes your life easier. When you chose our Personalized Design experience, we'll help you achieve just that, evaluating how you use your kitchen to determine what storage solutions you'll benefit from most. If you're ready to get started, visit one of our Kitchen & Bath Design Centers in the Pittsburgh area or request a free consultation.
Are you looking for more tips and tricks? Take a look at Five Custom-Built Updates that'll add function to your kitchen. If style is just as important to you as function, see what Kitchen Design Trends to keep an eye out for in 2021. Or, if you're ready to start your kitchen remodel, learn what 10 Kitchen Remodeling Myths we've debunked.