Bringing some color into your kitchen can brighten it up and make it a more enjoyable place for you and your family to spend time. Color is a way to reflect your personality and can even affect your mood.
The options are endless for adding a certain hue to your space. Adding color to your kitchen can be accomplished in many ways – take a look at our recommendations for incorporating color in your kitchen.
One of the biggest ways to impact your kitchen design is by incorporating colorful cabinets. White kitchens aren't for everyone, and we have a wide range of alternatives for you to consider when you're ready for new kitchen cabinets. From traditional wood stains to pretty much whatever color you can imagine, such as bright Ruby Red painted cabinets, we offer something for every taste and style. Consider one of the ten choices outlined below for your kitchen design.
It can be hard to consider cabinet color options and knowing what will look good in your space, but that's where our team of professional designers comes in. During our Personalized Design experience, they will visit your home, take a look at your space, discuss options with you, and offer stylish solutions that will have you loving your new kitchen for years to come.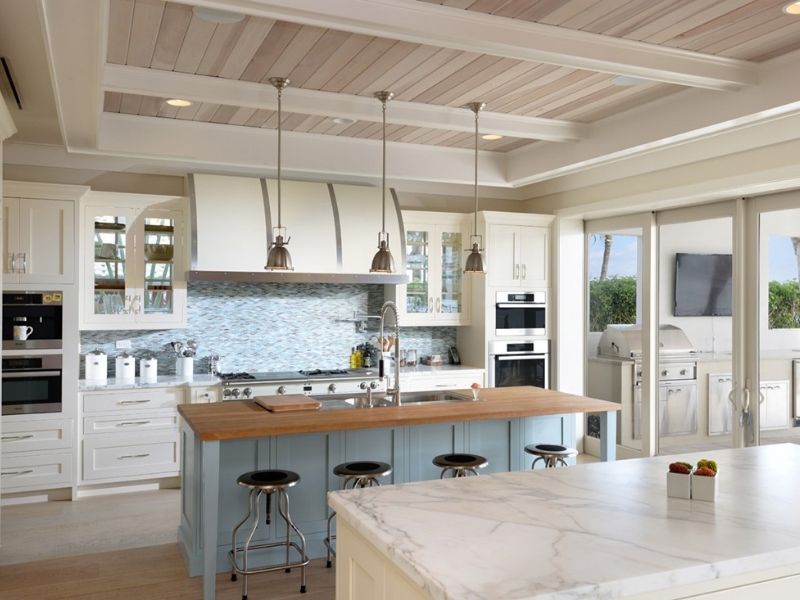 Two-Toned Kitchen
If you're not ready to commit to a bold color in your kitchen design, a two-toned kitchen may be the perfect choice for you. What is a two-toned kitchen? It features two different colors or styles of cabinets in one space. Achieving the two-toned look can be done in a variety of different ways.
The two-tone look typically has a lighter, more neutral colored cabinet on top and darker or more colorful cabinetry on the lower cabinets. Having the neutral or lighter colored cabinetry up top is beneficial, as the position makes them out of reach of most messes. The design then allows you the flexibility to bring color into your bottom cabinets. The high-contrast look of two-toned cabinets can achieve a pop of color without the full commitment of going with a single-toned colorful cabinet design.
Another popular implementation of two-toned cabinets is creating a focal point that's a contrasting or complimentary color or design from the rest of your cabinets. This focal point is typically the kitchen island. Set apart your island by choosing a fun cabinet color or mix up the space by pairing lighter cabinets with a dark hued island to achieve a strong contrast.
Two-toned kitchens don't need to include color. White or neutral cabinetry paired with a wood stain or even a darker brown color scheme paired with stainless steel cabinets can be a nice modern look.
Finding the right hues to pair together to achieve a two-toned kitchen is a big task, but it's something that our team will work with you to decide during our Personalized Design experience, ensuring that your cabinet choices will look great in your home for years to come. We will consider things like wall color, flooring, cabinet use, and more to find the right match for your household.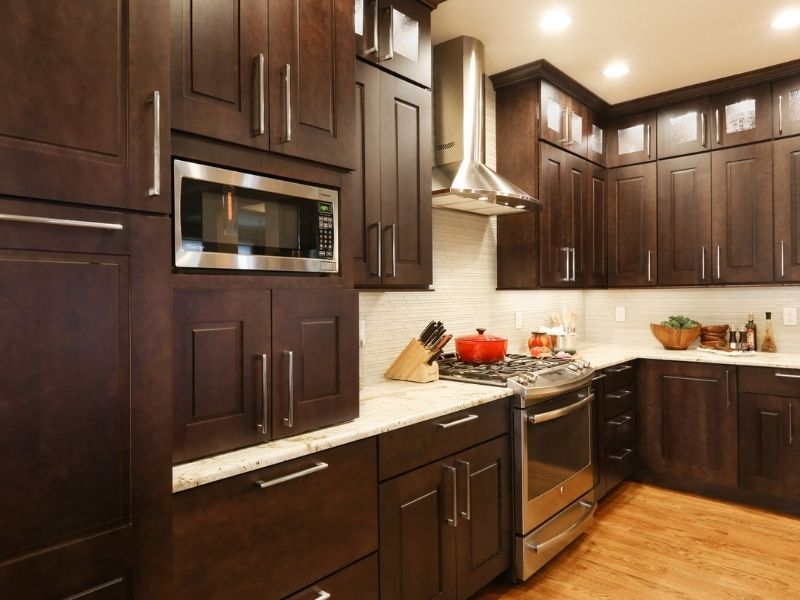 Wood Stain
Classic wood-stained cabinetry is a choice that will be in style for ages and it's going to become an especially big trend this year. At Cabinet World, we offer a wide range of wood tones from the lightest Honey Glow to the darkest Espresso and Coffee shades. Whether you want your wood stained cabinets to exude tradition or you're looking for a kitchen that's modern from the ceiling to floor, our team will find a cabinet choice that's stained to perfection for your home.
The idea of a completely white kitchen can be scary when it comes to thinking about kitchen messes. Having a family friendly-kitchen is important for many people, and white cabinets just won't do the trick. Bringing in wood stain cabinets can be an effective way to disguise messes. Explore the rest of these tips for achieving a family-friendly kitchen.
Wood cabinets bring warmth and beauty to your kitchen unlike many other cabinet choices. These cabinets are also traditionally easier to maintain and easier to clean than painted cabinets.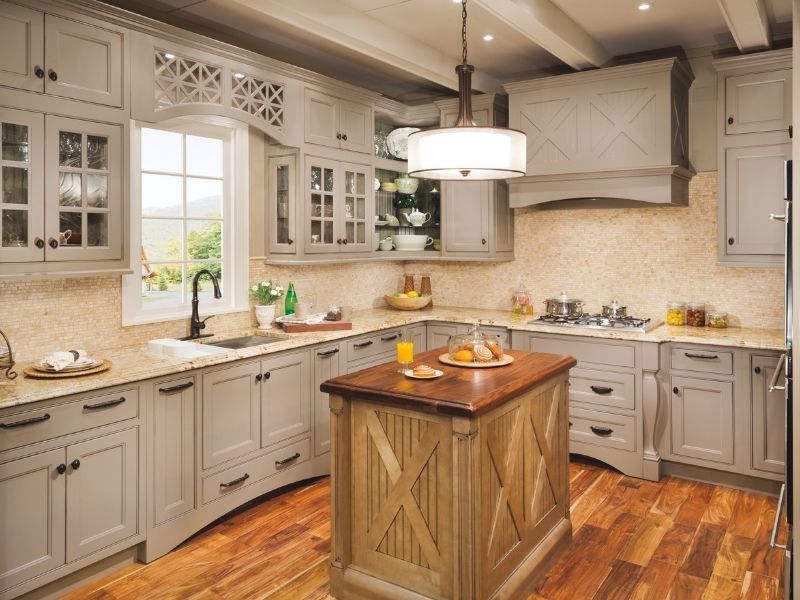 Greige
Greige is an extremely versatile color choice for your cabinets. This neutral color is a combination of gray and beige. The best part? Greige compliments both warm and cool colors, offering tons of opportunity for bringing color accents in the rest of the space.
Greige offers a slightly warmer finish than just gray cabinetry. Cooler tones bring a more contemporary result while warmer ones achieve a more traditional look.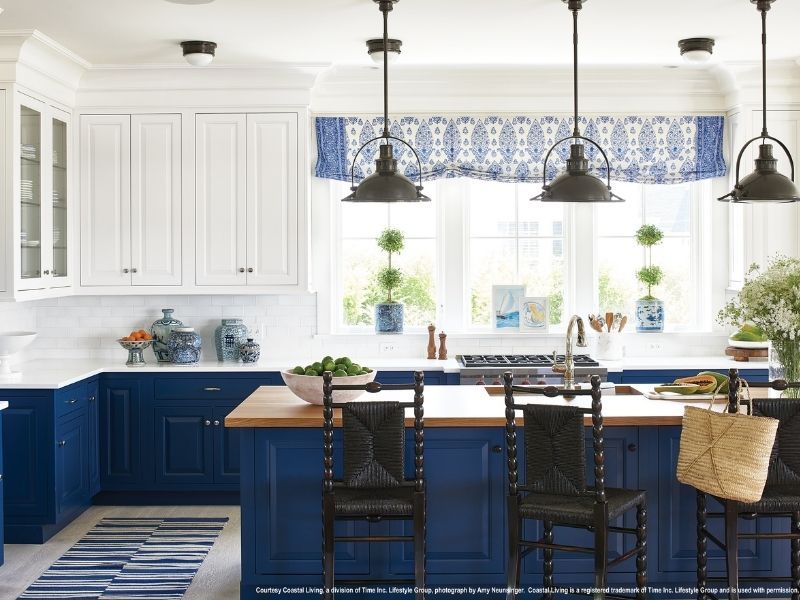 Navy Blue
Navy blue kitchen cabinets have been growing in popularity over the years. This darker blue shade can function as a neutral in the kitchen and offer new life to your kitchen design. Navy pairs well with a vast variety of colors, offering lots of options for design.
Navy blue is a classic color that's easy to care for and easy to look at. Navy can be paired with white to achieve a dramatic contrast, or accented with a large variety of other colors – going for a two-toned cabinet look with a navy island or lower cabinets. Metal accents look gorgeous with navy.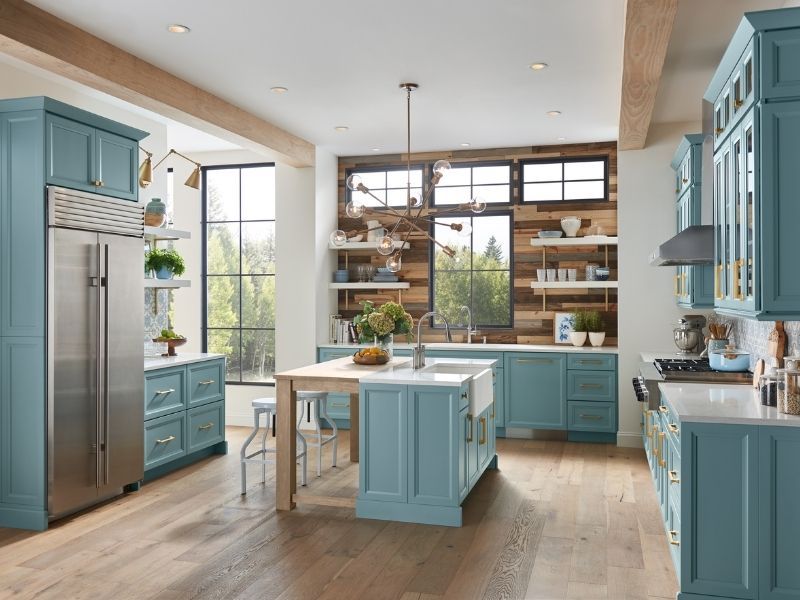 Robin's Egg Blue
This is another blue hue that pairs well with white and can look incredible in the kitchen. Robin's Egg Blue pairs well with white cabinets and gray walls. This is a softer and more elegant color that we love. If you're going for a farmhouse kitchen look, this color compliments that design style well.
Lighter blues in the kitchen are a great way to add warmth, especially if you're working with a smaller kitchen space.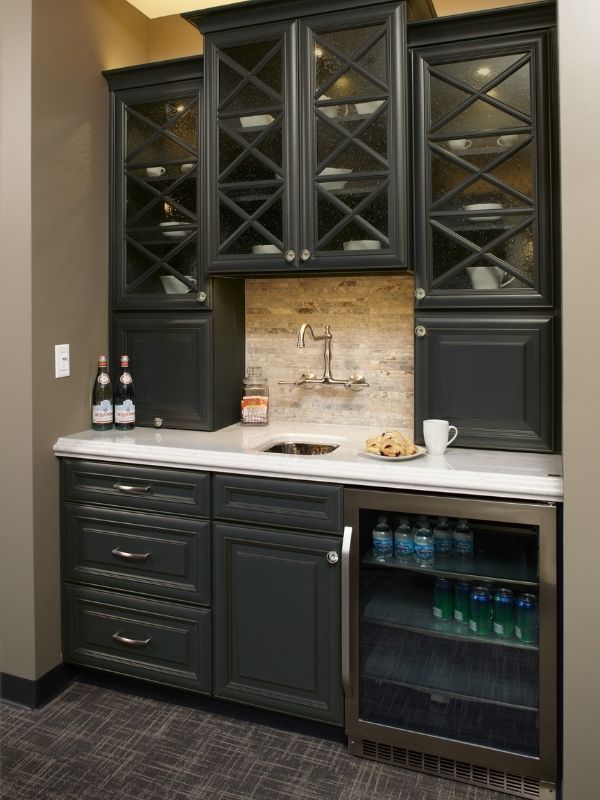 Black
While black may not be the first thing that comes to your mind when it comes to color, it's a unique and gorgeous choice for kitchens. Whether you're bringing black cabinets in to achieve a traditional or modern design aesthetic, this color choice offers a lot of options.
With a modern-yet-classic look, black cabinetry can still feel bright when paired with a white backsplash and countertops. Keep in mind that black doesn't necessarily mean pitch black as a large variety of black finishes are available.
If you're not quite ready to go for the all black kitchen, consider adding color in an accent piece like a wet bar or island.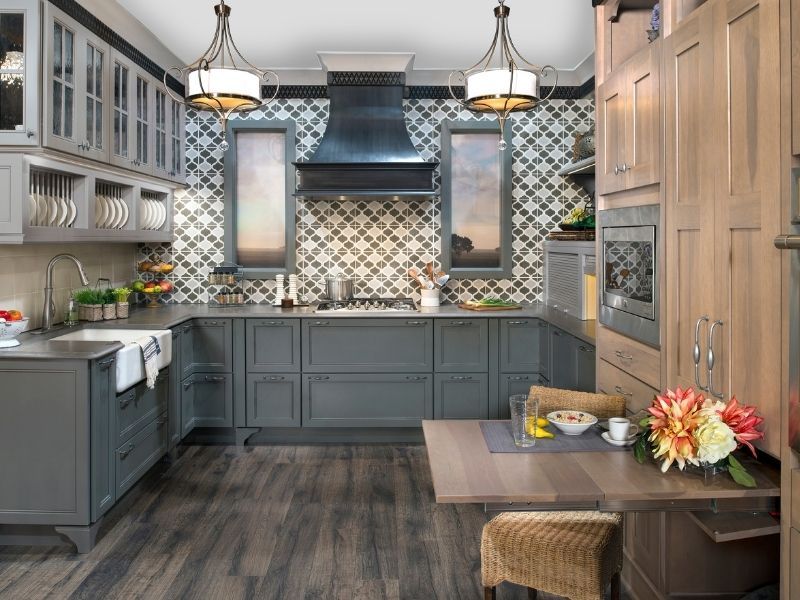 Gray
Gray is one of the most popular cabinet choices and it offers lots of possibilities. This classic and dependable color looks strong with wood floors and marble or granite countertops. Gray goes well with many style and hardware choices, allowing for a creative license in other areas of the kitchen.
Gray is unique in that although it is a neutral color, it can bring warmth to a kitchen. Extra warmth can be added to the space in things like hardware and a wood-stained island.
The great thing about gray is that it comes in a multitude of gorgeous shades. From soft hues to dark, charcoal, a gray kitchen can be achieved in many ways.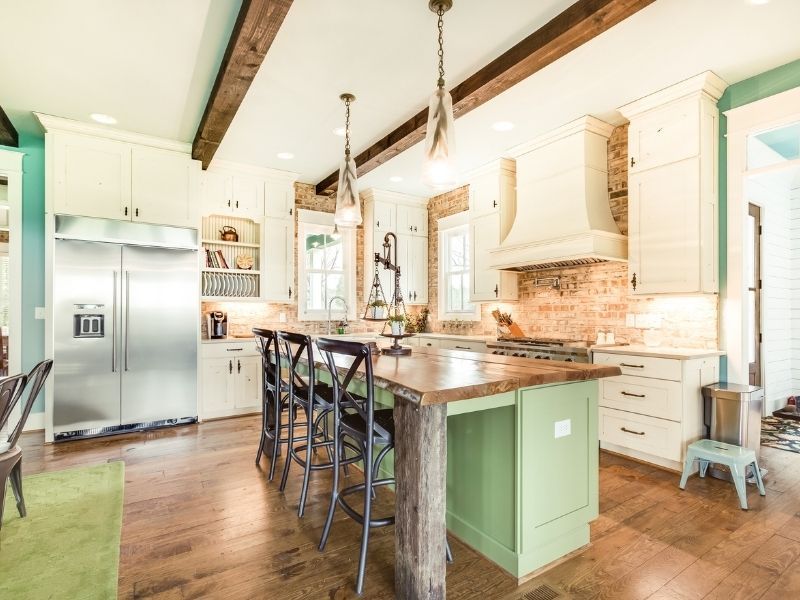 Sage Green
Using a soft green in your cabinets brings a fresh feel that exudes cheerfulness, but still offers a feeling of coziness in your space.
Green – especially softer shades like sage green – can bring a lively feeling to your space while remaining versatile and easy to add decor to. The cool tone of green gives a refreshing yet calm feeling that achieves a welcoming atmosphere.
A lighter green color works well in many kitchens, but particularly shines when paired with a light brick wall and creamy neutrals. Consider sage green cabinets for a unique and stunning look.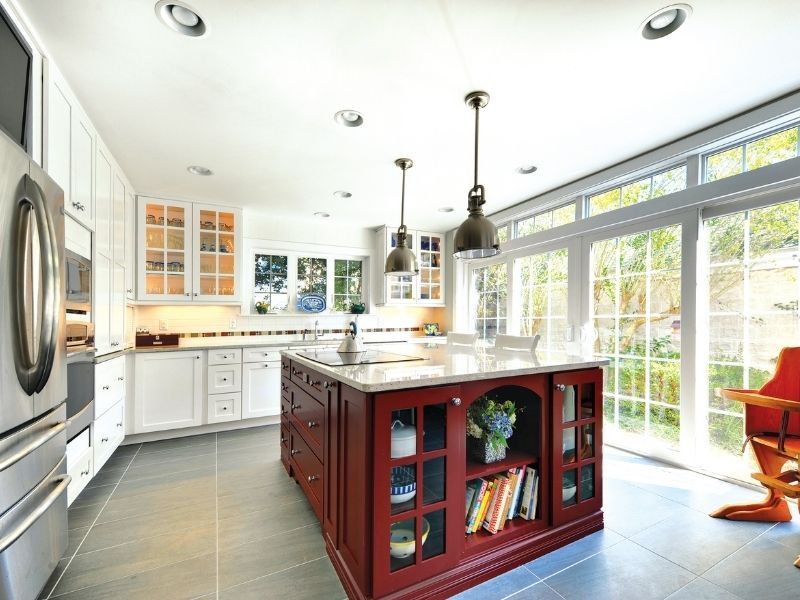 Ruby Red
Going with a bold red is a power choice for your space. Bringing instant energy and life to your space, Ruby Red can be a strong pick. When you go big with a color like Ruby Red, it's important to make sure it's well-balanced throughout the kitchen so it doesn't overwhelm the space.
A color like Ruby Red can also function well in accents and appliances instead of cabinets. This design choice still achieves the boldness and beauty of this powerful shade.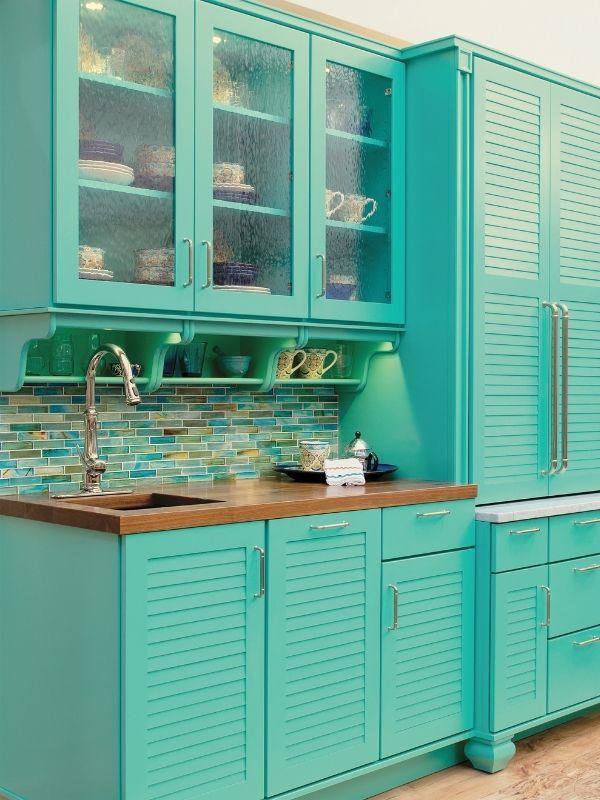 Personalized Color
We also offer custom colors so we can find the hue that's perfect for you. With ColorInspire from Wellborn Cabinets, certain door styles allow you to choose from thousands of colors in any of the Benjamin Moore, Sherwin Williams or Valspar color decks for that just right hue in your space.
If white kitchens aren't your fancy, no need to worry. More homeowners are choosing to stray away from the traditional white kitchen and are going for a look that's more unique. With hundreds of options and textures in our cabinetry, the possibilities are endless for taking creative steps. Browse our online Kitchen gallery to see more of the gorgeous cabinet colors our expert team of designers brought to life in our client's homes.
Visit our site now to request a free consultation to learn more about how the Cabinet World team can assist you in finding the cabinet color of your dreams or visit one of our three conveniently-located Kitchen & Bath Design Centers in the Pittsburgh area to see what we can do.
In the meantime, learn more about selecting kitchen cabinets, see how to budget your kitchen remodel, check out these creative storage solutions that can be installed with your new cabinetry, and be wowed by five custom-built updates that can add value and function to your kitchen.